Vale John Fahey 1945-2020
The Honourable John Fahey AC, GCSG
Chancellor appointed under Clause 20.1 of ACU Constitution
Mr Fahey was appointed as the fourth Chancellor of ACU in 2014 and in 2019 accepted an invitation to serve a second term of five years to 2024. Mr Fahey was New South Wales Premier from 1992-95 before entering federal politics and serving as the Minister for Finance and Administration. As Chairman of the bid team, he was instrumental in securing the 2000 Sydney Olympic Games. In 2002 Mr Fahey was made a Companion of the Order of Australia for his work in the political arena and for facilitation of industry growth and industrial relations reform. Five years later, Mr Fahey became President of the World Anti-Doping Agency, a position he held until November 2013. He chaired the Australian Government Reconstruction Inspectorate between 2011 and 2015, which oversaw state reconstruction projects following natural disasters. In the commercial sphere, Mr Fahey serves as a Company Director and is on the Advisory Council of a US Investment Bank.
---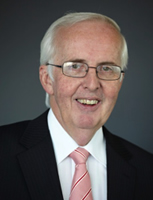 Mr Julien O'Connell AO
Pro-Chancellor appointed under Clause 20.2 of ACU Constitution
As a distinguished executive and businessman, Mr O'Connell has built a successful career in insurance, accounting and risk management. In addition to his role as Chairman of the CEO Institute (Syndicates), which provides mentoring to CEOs and Chairs of member companies, Mr O'Connell is Chairman of the Fraynework Board, member of a number of boards and finance councils and supports Enterprise Ireland in Victoria in their endeavours to promote and encourage trade between Ireland and Australia. Mr O'Connell was Chairman of Mercy Health from 2008 to 2019. He is a board member of Catholic Health Australia and for 20 years has served on the Finance Committee of the Catholic Archdiocese of Melbourne.
---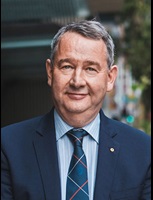 Professor Greg Craven AO, GCSG
BA LLB(Hons) LLM (Melb)
Vice-Chancellor and President appointed under Clause 21 of ACU Constitution
Vice-Chancellor and President of ACU since 2008, Professor Craven is recognised as one of Australia's leading constitutional scholars and a champion of higher education policy. Prior to joining ACU, Professor Craven was Foundation Dean and Professor of Law at the University of Notre Dame Australia, Deputy Vice-Chancellor (Strategy and Planning) at Curtin University of Technology in Western Australia and served as Executive Director of the John Curtin Institute of Public Policy. This followed an extensive academic and legal career where he held leadership, research and teaching positions at the University of Melbourne, Monash University, Curtin University and the Victorian Parliament. He is a Fellow of the Australian Academy of Law, Consultor to the Holy See's Congregation of Catholic Education, member of the National Catholic Education Commission and the National School Resourcing Board, member of the Club of Ambassadors for the Pontifical Foundation Gravissimum Educationis, the Board of the Association of Catholic Colleges and Universities, and a member of the Teacher Education Expert Standing Committee. He is also a member of the Expert Panel for Performance-Based Funding for the Commonwealth Grant Scheme and the Committee for the Transformation of Catholic Higher Education IFCU. Professor Craven's contributions to higher education, law, policy and the Church, have seen him awarded as an Officer in the General Division of the Order of Australia, appointed by Pope Francis as a Consultor to the Holy See's Congregation for Catholic Education and as a Knight Grand Cross of the Order of St Gregory the Great.
---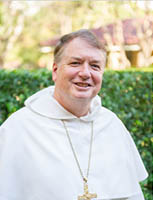 Most Reverend Anthony Fisher OP
Archbishop of Sydney
Cleric nominated by the Australian Catholic Bishops Conference under Clause 13.2 (e) of ACU Constitution
Archbishop Fisher received degrees in history and law from the University of Sydney, before joining the Dominican Order in 1985, and becoming a priest in 1991. Later, Archbishop Fisher achieved a doctorate from Oxford and lectured at several universities including ACU, the University of Notre Dame, Australia, and the John-Paul II Institute in Melbourne, Australia, where he was founding Director.
Archbishop Fisher was appointed Auxiliary Bishop of Sydney in 2003, Bishop of Parramatta in 2010 and in 2014, became the Archbishop of Sydney.
In 2018, Archbishop Fisher participated in the worldwide Synod of Bishops on Youth, Faith and Vocational Discernment and was elected Vice-President of the Australian Bishops and Chair of the Bishops Commission for Catholic Education. Until late 2018, Archbishop Fisher was Chair of the Bishops Commission for Family, Youth and Life and as Bishops' Delegate for Youth.
Currently, Archbishop Fisher is Chancellor of the Catholic Institute of Sydney, a Corporation Member of ACU Ltd, a Member of the Congregation of the Doctrine of the Faith and an ordinary Member of the Pontifical Academy for Life.
Archbishop Fisher has published extensively on ethical, bioethical, legal and theological subjects. He has also published nine books on topics ranging from A History of Solicitors in NSW (1984) to My Dear Young Friend (2018), which is a collection of letters to young people. Archbishop Fisher's interests include cooking, reading, watching movies, and tennis.
---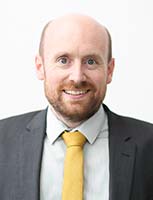 Professor Tim McKenry
PhD, MMus, BMus(Hons), AMus
Chair of Academic Board appointed under Clause 13.2 (d) of ACU Constitution
On staff at ACU since 2009, Timothy McKenry is professor of music with expertise in music composition, music theory and musicology. Prior to joining ACU he lectured in music at the University of Melbourne for 10 years. At ACU he has undertaken a range of leadership roles including Deputy Head of the National School of Arts and acting Associate Dean (Learning, Teaching and Governance) in the Faculty of Education and Arts. He has served on multiple Faculty- and University-level committees, led the development and review of courses, supervised and mentored staff and helped implement a range of new initiatives in ACU's academic programs. In 2014 he was awarded an Office of Learning and Teaching Citation for Excellence in Teaching and in 2015 he won the ACU Vice Chancellor's Teaching Award for Teaching Excellence. In addition to his scholarly and teaching work, he is a composer and organist whose work has been performed internationally.