It's rewarding to study what you love - but it can also be expensive. So that you can budget accordingly, here's a list of other expenses you may have to pay on top of your tuition fees.
Meet the Student Services and Amenities Fee (SSAF)
What is the SSAF?
The student services and amenities fee (SSAF) helps fund your non-academic services and amenities, including services such as:
Student advocacy
Campus amenities
National clubs and societies
A full list of how we reinvest the SSAF back to you is available on this page.
How much is it?
2023 SSAF Schedule
Full-time students: $163 per half year ($326 annually)
Part-time students: $122 per half year ($244 annually)
Executive Education students: $45 per term of enrolment (maximum charge of $315 annually)
ACU Online students enrolled in 10 credit points or less: $60 flat rate per study period
ACU Online students enrolled in more than 10 credit points: $81 flat rate per study period
How do I pay it?
For domestic students, the SSAF will be charged along with your tuition fees and will be displayed on your tuition fee invoice.
For further information regarding tuition fee invoice dates, as well as payment due dates, visit the enrolments and fee dates page.
When is it due?
SSAF fees are due in line with the fee due dates listed on the enrolments and fee dates page.
* Students may be liable for the Student Services and Amenities Fee (SSAF) if withdrawing after the Census Date.
Can I defer the SSAF?
You could be eligible to apply for SSAF deferment through the SA-HELP scheme.
Learn more about financing your studies
What if I'm an international student?
If you're an overseas student paying a full international tuition fee, the SSAF will be included in your fees.
Do other universities charge the SSAF?
All Australian universities are able to charge a student services fee to help cover the costs of non-academic services and facilities.
We distribute the SSAF according to guidelines set by the Commonwealth Government.
Understand other expenses
Late fees

Late re-enrolment after the first re-enrolment period: $100*

Late re-enrolment after the second re-enrolment period: $150*

Late payment fee: $200

Late addition of unit fee: $50

*The corresponding re-enrolment periods are published for current students on the student portal.

Reinstatement of enrolment

$150

Replacement ACU student card

$20

Transcripts

Current students: $15

Past students: $16.50 (inc. GST)

Replacement testamurs

Domestic: $150 (inc. GST)

Overseas, if postage is required: $175 (inc. GST)

Dishonoured cheque

$5

Graduation

Ceremony attendance, including graduand and three guests: $165

Additional ceremony guest tickets: $30

For further information about graduation fees, including academic dress hire, visit our ceremony fees and guest tickets page.
Investing the SSAF in you
How we invest the SSAF
We charge and administer the SSAF according to the Commonwealth Government's legislation and guidelines.
To read more about these guidelines, visit the Department of Education and Training's SSAF website
How your voice is heard
It's important to us that we consult our students on priorities for SSAF expenditure and its budget, and to be as transparent as we can.
This is done annually through a student survey, as well as elected student representatives from the ACU National Student Association and the ACU Postgraduate Association. We welcome feedback from other student groups too.
Keep an eye out for an announcement for the next student survey in your student email. You can also reach out to your local student association representative.
Visit our student associations page for contact details
Track how your money is spent
We post recent survey results in the Student Portal for current students to read and provide feedback.
We also provide cost breakdowns below of how we are investing the SSAF back into our students, as well as details about funded facilities, services and activities.
Prioritising SSAF funds
Students' top three priorities have been similar over the past few years. In the 2021-22 survey, the top priorities for SSAF spending were in areas related to:
health and wellbeing
food and drink
employment and career advice
What we can spend the SSAF on
Development
Helping students develop study skills outside their enrolled course
Services
Childcare for children of students
Student legal services
Provision of food and drink to students on campus
Student advocacy for matters arising under ACU's rules
Non-academic libraries and reading rooms
Activities
Sports and recreation
Debating
Artistic activity
Student clubs and societies
Production and distribution of student media
Assistance and support
Promoting student health and welfare
Helping students secure accommodation
Employment or career advice
Financial advice
Insurance advice
Orientation information
Matters arising under ACU's rules
International student support including welfare, accommodation and employment
Annual budgets
We propose a budget for the year ahead based on your feedback regarding the SSAF.
SSAF is spent on new and improved student services, activities, and facilities in the following categories:
Student Participation: Student associations and clubs and societies on campus, including the ACU National Student Association (ACUNSA), the Campus Student Association, and the Postgraduate Association (ACUPGA). ACUNSA and ACUPGA are formally consulted on the SSAF budget. Other leadership groups on campus are also supported by SSAF separately under Health, Sport and Wellbeing, and Social and Cultural Activities.
Student Services: Significant student programs and their staffing, including the Careers and Employability, Student Jobs on Campus, Student Advocacy, and student legal service. This also includes services such as the ACU App, residential advisory service and medical services on some campuses.
Social and Cultural Activities: A range of student programs and events which enhance student life on campus such as oratory, drama, art, photography, choir, language classes, recreational reading and movies from the library, orientation activities across all campuses and online.
Sporting Programs: Social and community sporting activities, sport clubs, gyms, major university sporting events, and the Elite Athlete and Performer Program.
Infrastructure Projects: Capital such as campus amenities, and sporting and cultural facilities. Spending in this category is matched dollar-for-dollar by the university.
2022 SSAF Expenditures $
8,144,520
Further breakdown of SSAF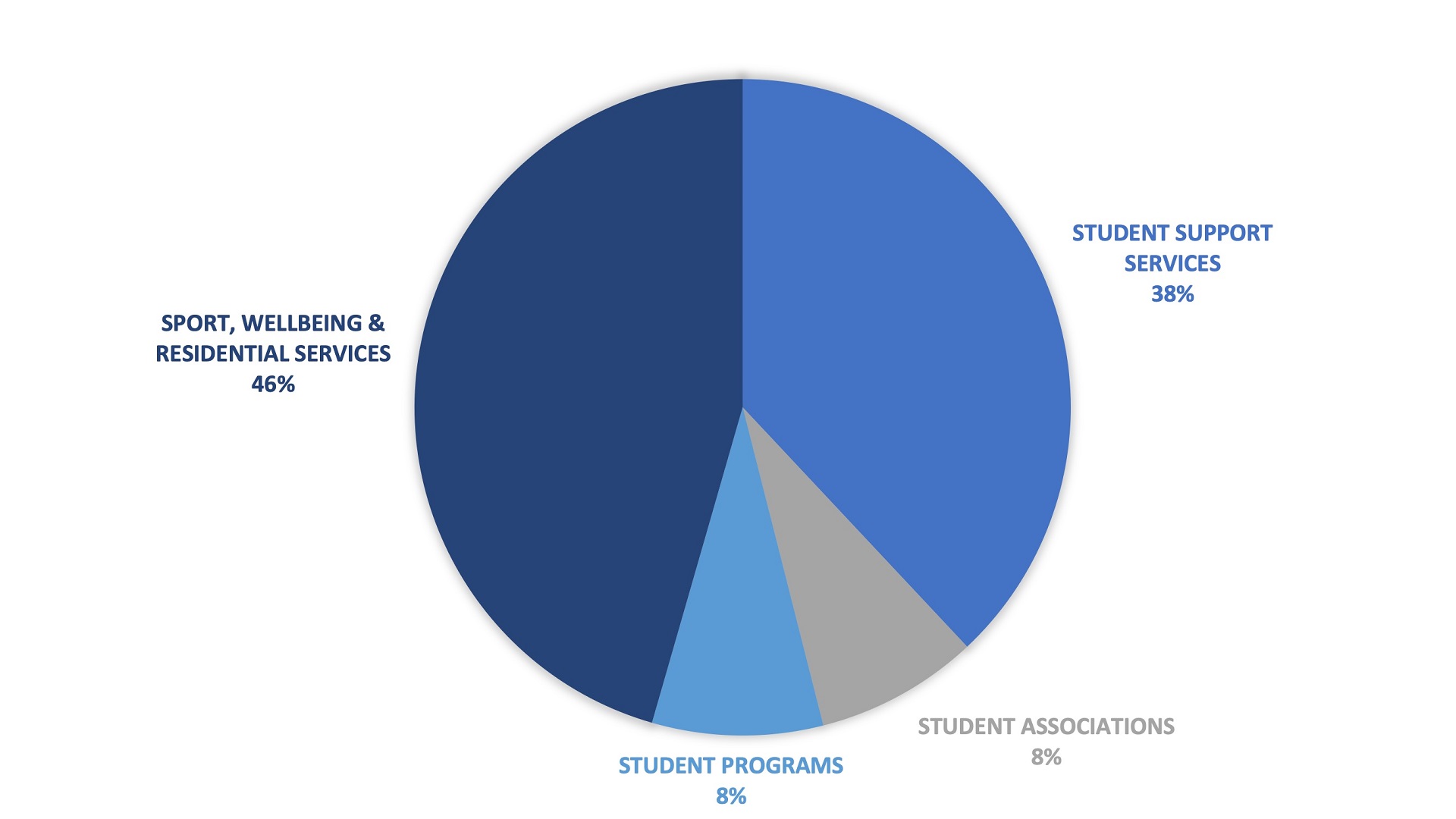 Services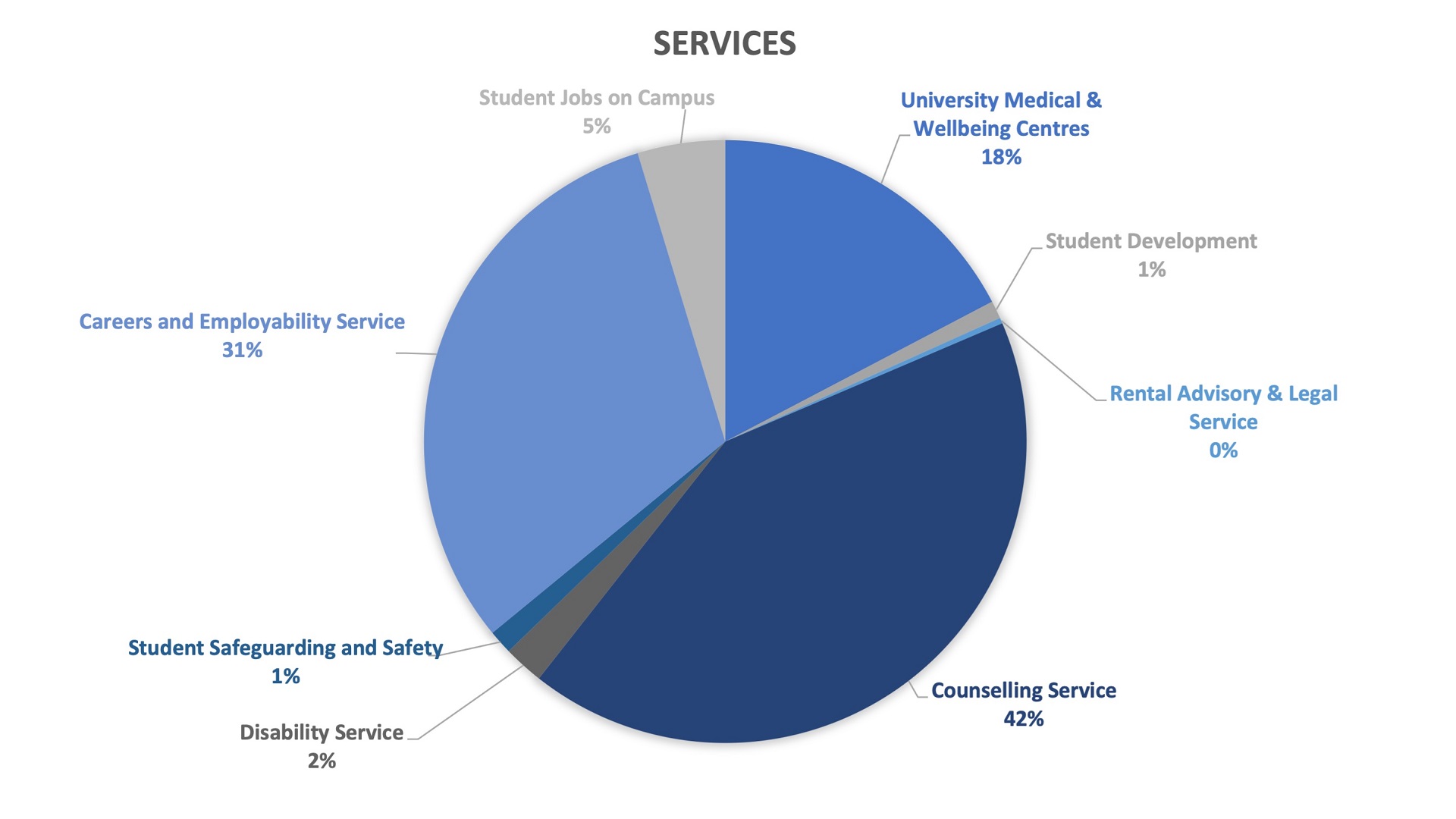 Social and cultural activities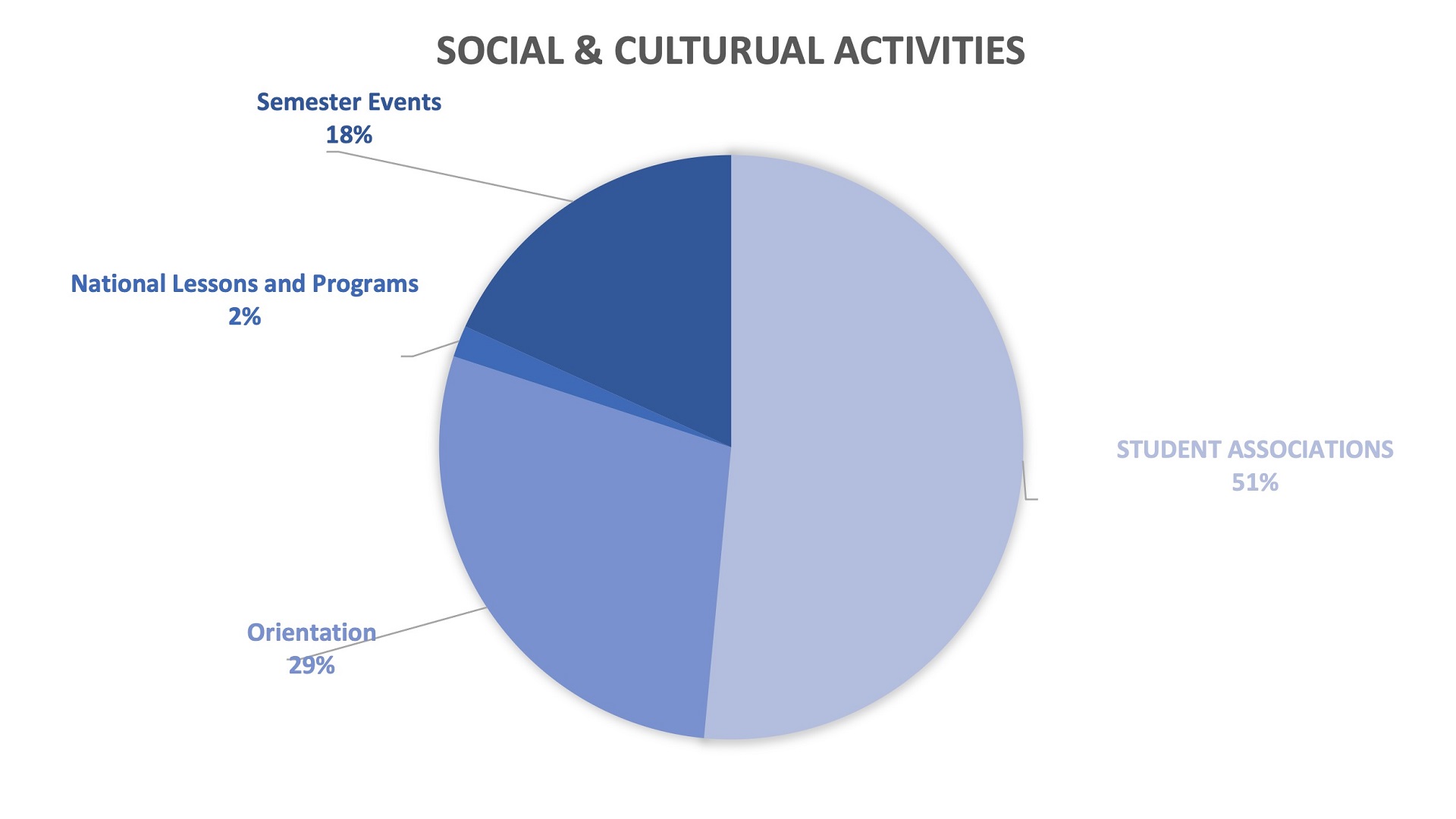 Sport