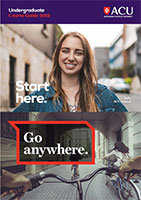 ACU focuses on the delivery of quality programs across a range of areas including education, arts, business, health sciences, law and theology and philosophy.
An undergraduate degree at ACU will equip you with the skills to bring about real change in your community and be guided by social justice principles; you will learn to question the world around you and determine how you can make a valuable contribution.
This course guide lists the 60+ undergraduate courses we offer throughout ACU's seven campuses.