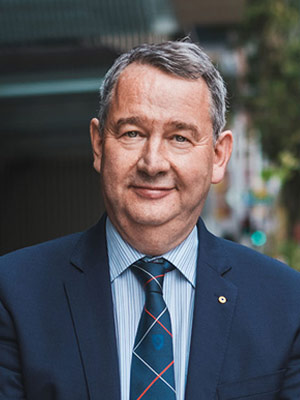 Professor Greg Craven AO, GCSG
---
Professor Greg Craven is the Vice-Chancellor and President of Australian Catholic University (ACU), a position he has held since 2008.
Professor Craven is recognised as one of Australia's leading constitutional scholars and a champion of higher education policy. Under his leadership the University has embedded a culture of performance and service excellence, continuing a legacy of Catholic intellectual tradition, faith and reason.
Prior to joining ACU, Professor Craven was Deputy Vice-Chancellor at Curtin University, and prior to that Provost and Dean of Law at the University of Notre Dame Australia.
This followed an extensive academic and legal career where he held leadership, research and teaching positions at the University of Melbourne, Monash University, Curtin University and the Victorian Parliament.
He serves on a range of public bodies, including:
Expert Panel for Performance-Based Funding for the Commonwealth Grant Scheme
Teacher Education Expert Standing Committee (TEESC), Australian Institute for Teaching and School Leadership (AITSL)
NSW Education Standards Authority Board's (NESA) Initial Teacher Education (ITE) Committee
Director, Uphold and Recognise
Museum of Australian Democracy, Democracy DNA Exhibition Advisory Panel
He has also served on the following committees:
National School Resourcing Board (NSRB) (2017 - 2020)
Chair, Standing Group on Quality and Regulation for Universities Australia (2013 – 2018)
Elected Board Member, Universities Australia, 2011- 2015
Vice-President, Australian Higher Education Industrial Association (AHEIA) (2011- 2015)
Deputy Chair, COAG Reform Council (2014 – 2015)
Teacher Education Ministerial Advisory Group (TEMAG) (2012 – 2014)
He has also fostered strong relationships within the Catholic community, ensuring the University plays a significant role on the global Catholic higher education stage. He is a member of the:
National Catholic Education Commission
The Committee for the Transformation of Catholic Higher Education, International Federation of Catholic Universities (IFCU)
International Representative, Association of Catholic Colleges and Universities (ACCU)
Truth Justice and Healing Council (2013 – 2018)
Club of Ambassadors for the Pontifical Foundation Gravissimum Educationis
The Vice-Chancellor's contributions to higher education, law, policy and the Church have seen him awarded as an Officer in the General Division of the Order of Australia and appointed by Pope Francis as a Consultant to the Holy See's Congregation for Catholic Education and as a Knight Grand Cross of the Order of St Gregory the Great.