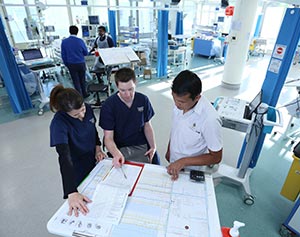 The NRI is focused on improving patient outcomes and health systems with a particular emphasis on implementation science research, that is, the scientific study of methods to promote the systematic uptake of research findings and other evidence-based practices into routine practice.
Our mission
Conduct high-quality, multidisciplinary health research focused on improving patient outcomes and research translation.
Build research capacity through training and mentoring of research students, clinicians and career researchers.
Advise, collaborate and consult on health services and translational research with clinicians, the health industry, government and consumers.
Create and sustain a collegiate, supportive and high-performance research culture attractive to the best researchers and research students.
The institute's research spans systematic reviews, trials, surveys, mixed-methods and qualitative research with a focus on:
acute and chronic care
stroke care
pressure injury prevention
models of care.
The NRI offers both postgraduate students and SVHAS clinicians opportunities to participate in our research program. NRI researchers have been awarded approximately $40 million in grants and awards and have published over 160 peer-reviewed journal articles.