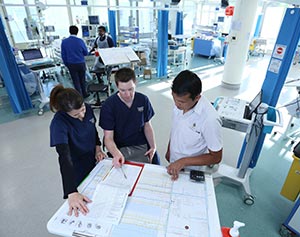 The NRI is focused on improving patient outcomes and health systems with a particular emphasis on implementation science research, that is, the scientific study of methods to promote the uptake of evidence-based care for optimal patient outcomes.
Our mission
Conduct high-quality, multidisciplinary health research focused on improving patient outcomes and research translation.
Advise, collaborate and consult on health services and translational research with clinicians, the health industry, government and consumers.
Build research capacity through training and mentoring of research students, clinicians and career researchers.
Create and sustain a collegiate, supportive and high-performance research culture attractive to the best researchers and research students.
The Institute's research spans systematic reviews, trials, surveys, mixed-methods and qualitative research with a focus on health systems, de-implementation of low-value nursing care, and clinician behaviour change to improve patient outcomes. Some of our topic areas are:
improved patient assessment and communication
hospital-acquired complications
stroke management
pressure injury prevention and treatment
The NRI offers both postgraduate students, and clinicians and early career researchers opportunities to participate in our research program.