Author: Kristy Porter
Photographer: All images used with permission.
It's the time you spend outside of class that helps make your university experience. Our Brisbane Campus is designed to offer a caring environment where you can succeed academically. It also offers a range of fun activities, so you can unwind when it's time for a study break.
We spoke to McAuley Student Association Brisbane (MCASA) President and Bachelor of Arts/Education (Secondary) student Storm Douglas about studying at ACU in the river city.
1. There are tons of social activities
"There are dedicated groups of students and staff creating a wide range of social events. If you want some free food, games days, or even DIY activities then MCASA has event calendars for each semester filled with weekly social opportunities.
For those looking to celebrate their faith (whatever it may be) in a social setting, Campus Ministry holds social events throughout the year. A favourite for students is their sunset sessions where they come together on campus to discuss their lives, stresses, studies, and faith.
For even more social activities make sure you join one of our amazing clubs or societies. You'll connect with students in your degree or who may have the same interests as you. No matter your interests or background there are lots of chances every week, even every day, for you to connect and get social on campus."
2. It's a beautiful campus with a relaxed vibe
"Our Brisbane Campus has the best vibe, and because of our large grounds, we have a range of places to study or hangout inside or outside. With its inviting and relaxed vibe, Brisbane makes people feel at home. It's also very Instagram friendly so that's always a bonus."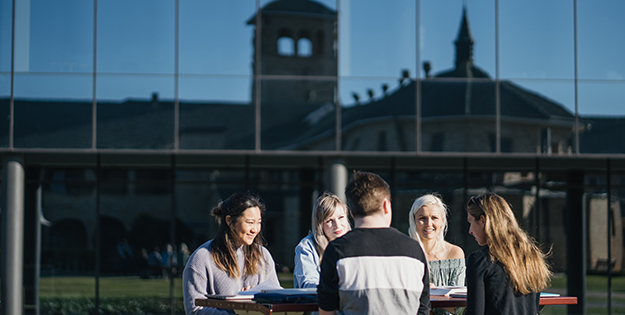 3. There are many support services for students
"Here at ACU, the staff recognise turning up to classes is not the only thing that counts. It's also a very caring environment. We are lucky enough to have a bulk billed medical centre for students, two counsellors, a team of academic skills developers, career development services, legal and financial aid, student advocacy staff, disability support, and more. These support systems are there for all students to access. No matter your background or your needs the staff here will help you find the right services to best support you."
4. It has plenty of places to chill
"One place you can always find me is in the MCASA common space, with couches, a kitchen, and music. You can go into the quiet room to work or socialise and play pool and table tennis. This is one of the first places I would hang out when I was in my first year and where I still can be found by any of my friends.
If I'm not there then I'm in our campus library. Newly renovated, this beautiful building offers places to charge everything you forgot to charge the night before, and gives you an opportunity to sit down and study somewhere quiet."
5. It's close to lots of great places to hang out or shop
"The campus is located in north Brisbane, surrounded by shops and only 20 minutes away from central Brisbane, so there are lots of places for students to catch up outside of university. A favourite for myself and other students is Westfield Shopping Centre Chermside. As one of the largest shopping centres in Queensland there is a range of options for students from small cafes, take-away, bars, cinemas, arcade/bowling, and so much more. Plus, with lots of smaller shopping centres and local owned pubs and restaurants surrounding our campus, no student is short of places to catch up with friends outside of uni."
6. There are loads of options for food and drink
"We are in a great spot, so you have a range of options when it comes to food before, during, or after class. We have a few cafes on campus which offer a range of delicious food and drink options – including a bar.

Down the hill from campus we have a service centre where students can fuel their car and themselves with a range of quick food options, also there is a Subway opposite campus that offers ACU student discounts. But if you are done for the day or want some time away from classes students can drive or catch the free shuttle bus to ether Toombul or Chermside Shopping Centres where there are even more food options for all dietary requirements."
7. Keeping active is encouraged
"On campus we are lucky to have a gym for students to join at a discounted rate and utilise the same faculties that our exercise science students use during their classes. Run by ACUSport students can fit their fitness in around study, whether that be in the gym, at one of their classes, or even in our pool that has a lifeguard daily. If you are more interested in playing a team sport for fitness or for social interaction there are tons of social and competitive teams."
8. It's easy to get to
"There are a range of transport options for getting to campus. If you drive, we offer free on-campus parking for students, with four different parking lots and street parking. For those using public transport, not only are we close to the Banyo train station, a short walk away from campus, but if you travel to popular points such as Toombul, Northgate or Chermside, ACU runs a free shuttle bus that picks up students and takes them to and from campus."
9. You'll have support with your studies
"If you are struggling or just need advice there is a team of ACU staff dedicated to academic skills. They help with developing skills in academic writing and referencing, they can read your assessments and offer advice, and post-results they can help you understand what you need to do to improve your work. There are daily drop-in sessions that you can attend, which are small group sessions focusing on different skills needed by all university students. Or, you can book individual sessions where you can address your personal worries and get the support you need."
10. You can take advantage of all that beautiful Brisbane has to offer
"Brisbane is a multi-cultural hub. We host many festivals including Burger Fest, ChocFest, Riverfire, and more alongside countless sporting events. There is something to do every weekend for those who are looking to further their culture experiences. As someone from a remote area who came to Brisbane for a fresh start, I love its ability to blend everything and everyone together.

If you are looking for university where you are more then a number, where lecturers know your name, a university where they listen to the students, opening as many doors as they can for their graduates, and where you are a part of community on campus – then ACU Brisbane is the university for you. And we can't wait to see you here on your first day."
Want to get a taste of life on campus? Experience uni before you start with one of our free tours and events.