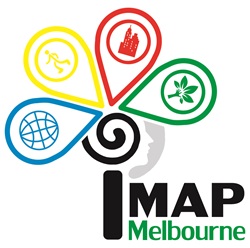 Factors of interest in this study include:
Exposure to noise and air pollution
Opportunities for physical, intellectual and social activities (e.g., parks, walkable footpaths, entertainment venues, community and local services)
Exposure to green (trees, grass and plants) and blue (water) spaces
The quality and size of social networks
The iMAP study aims to develop recommendations for planning authorities and individuals for delaying cognitive decline and optimising cognitive health as people age. This study will involve adults aged 50 to 79 years living in different parts of Melbourne and will be conducted during the period 2019 to 2022.
Led by the Australian Catholic University, this international study is also being conducted in Hong Kong (China) and Barcelona (Spain). Across two years we will recruit and test residents from 120 neighbourhoods across Melbourne.
Keep your eye out for an invitation from the iMAP study team with instructions for how to sign up to the study!
The iMAP study is an initiative of the International Cognitive Health & Environment Network (ICHEN). It is managed from the Mary Mackillop Institute for Health Research at the Australian Catholic University.
---
Contact us:
Email: imap@acu.edu.au
Contact number: 03 9230 8460 or 0436 805 087
Funding acknowledgement: This study is supported by an Australian Catholic University Research Fund (ACURF18) awarded to Prof Ester Cerin.
Ethics: HREC 2018-191H