Dr Kai Chan
Program Manager
Behaviour, Environment and Cognition Research Program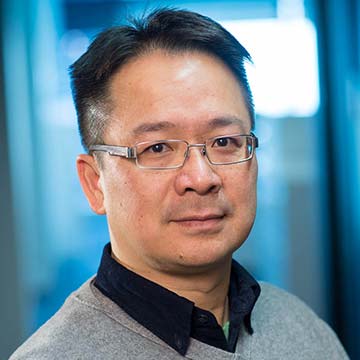 Areas of expertise:
Cardiovascular Disease
Diabetes
Metabolic Disease
Health Services Surveillance/Research
Applied Health Economics and Health Policy
ORCID ID: 0000-0003-3836-8145
Phone: +613 9230 8054
Email: yihkai.chan@acuedu.au
Location: ACU Melbourne Campus
Dr Kai Chan has extensive experience and training in clinical and medical research, particularly in conducting RCTs. He has been involved in all aspects of research from planning to dissemination of research findings and publications with respect to testing and applying innovative, cost-effective health interventions across the continuum of heart disease, diabetes, obesity and nutrition. During the past 8 years, Dr Chan has extensively collaborated with a multidisciplinary team of renowned Australian researchers and involved in successful completion of several integrated, multicentre Health Services Surveillance/Clinical Research Programs funded by two NHMRC Project Grants, two NHMRC Program Grants and one NHMRC Centre of Research Excellence Grant and several commercial research contracts. He has extensive experience in Applied Health Economics and Health Policy, Good Clinical Practice and Research Governance. Within this scope of research, Dr Chan is an Associate Investigator in the MOZART Disease Surveillance Study involving more than 8,000 ED presentations to three hospitals in South, Central and North Mozambique, where he oversees the quality standards for Data Collection and Data Management. Dr Chan has published more than 50 peer-reviewed papers in prestigious International medical, cardiology and diabetes journals (including the Lancet, Circulation, European Heart Journal and Diabetes).
---
Select publications
Top 5 Publications (in the last 5-years)
Chan YK,  … Stewart S. Applying Heart Failure Management to Improve Health Outcomes: But WHICH One? Cardiac Failure Review 2017; 3(2):113.
Scuffham PA, … Chan YK, et al. for the WHICH? II Trial Investigators. Standard vs. intensified management of heart failure to reduce healthcare costs: results of a multicentre, randomized controlled trial. European Heart Journal 2017;38(30):2340-2348
Stewart S, … Chan YK, et al. Impact of Nurse-Led, Multidisciplinary Home-Based Intervention on Event-Free Survival Across the Spectrum of Chronic Heart Disease: Composite Analysis of Health Outcomes in 1226 Patients From 3 Randomized Trials. Circulation 2016;133:1867-1877.
Stewart S, Chan YK, et al. Impact of a nurse‐led home and clinic‐based secondary prevention programme to prevent progressive cardiac dysfunction in high‐risk individuals: the Nurse‐led Intervention for Less Chronic Heart Failure (NIL‐CHF) randomized controlled study. European Journal of Heart Failure 2015;17(6):620-630.
Stewart S, … Chan YK, et al. Standard versus atrial fibrillation-specific management strategy (SAFETY) to reduce recurrent admission and prolong survival: pragmatic, multicentre, randomised controlled trial. Lancet 2015;385(9970):775-784.
Accolades and awards
Dr Chan's PhD program was supported by the University of Auckland Protemix Postgraduate Scholarship. He was awarded with a Post-Doctoral Fellowship from Novartis Australia (2011-12). Dr Chan has also been extensively involved in commercially funded Health Services Research Projects from Novartis Australia, Royal Flying Doctor Services Victoria, Bupa Australia, Sanofi Australia, Novo Nordisk Australia and MBF Foundation (2012-2017).
Public engagement
Dr Chan's primary research in Health Services and Clinical Research is mainly focused on addressing key substantive public health issue such as the escalating burden of cardiovascular disease in Australia. He aims to directly influence and promote public awareness, health policy and new health services research on this issue. He is one of the key authors of three Federal Parliamentary Reports: The Heart of Inequality (2017); Hidden Hearts: cardiovascular Risk and Disease in Australian Women (2016) and Rediscovering Heart Failure: the contemporary burden and profile of heart failure in Australia (2015) presented at Federal Parliamentary Event in Canberra. Each year, this event was attended by leading government officials (e.g. Federal Minister of Health) and attracted numerous leading National health experts/policy advisors (e.g. NHFA) that have resulted in raised awareness of heart disease and translational initiatives to address the issues identified by this program of research.
Appointments and affiliations
Research Fellow, Mary MacKillop institute for Health Research, Australian Catholic University, Melbourne, Australia (2014 -)
Post-Doctoral/Research Fellow, Preventative Cardiology, Baker IDI Heart and Diabetes Institute, Melbourne, Australia (2010 - 2014)
Lecturer, University of Auckland, Auckland, New Zealand (2009 - 2010)