Dr Eva Zopf
Research Manager
Exercise and Nutrition Research Program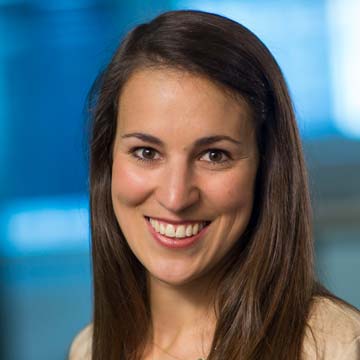 Areas of expertise: Exercise Physiology; Exercise as Medicine; Exercise Oncology; Cancer; Supportive Care; Randomized Controlled Trials
ORCID ID: 0000-0001-6250-0041
Phone: +613 9230 8105
Email: eva.zopf@acu.edu.au
Location: ACU Melbourne Campus
Dr Eva Zopf is an exercise physiologist whose research interest focuses on the role of exercise as medicine for the management of cancer. She graduated with a PhD in the field of Exercise Oncology at the German Sport University in Cologne, Germany and worked at the Edith Cowan University in Perth as a postdoctoral research fellow before joining the Australian Catholic University in July 2016. Aside from developing, conducting and evaluating exercise intervention studies in cancer patients, Eva is also dedicated to improving the supportive care services available for cancer survivors.
---
Select publications
Cormie P, Zopf EM. (2018). Exercise Medicine For The Management Of Androgen Deprivation Therapy Related Side Effects In Prostate Cancer. Urologic Oncology: Seminars and Original Investigations, doi: 10.1016/j.urolonc.2018.10.008.
Cormie P, Zopf EM, Zhang X, Schmitz KH. (2017). Exercise and Cancer: Systematic Review of the Impact of Exercise on Cancer Mortality, Recurrence and Treatment Related Side Effects. Epidemiologic Reviews, 39(1), 71-92.
Baumann FT, Bieck O, Oberste M, Kuhn R, Schmitt J, Wentrock S, Zopf E, Bloch W, Schüle K, Reuss-Borst M. (2016). Sustainable impact of an individualized exercise program on physical activity level and fatigue syndrome on breast cancer patients in two German rehabilitation centers. Support Care Cancer, 25(4), 1047-1054.
Zopf EM, Newton RU, Taaffe DR, Spry N, Cormie P, Joseph D, Chambers SK, Baumann FT, Bloch W, Galvao DA. (2016). Associations between aerobic exercise levels and physical and mental health outcomes in men with bone metastatic prostate cancer: a cross-sectional investigation. European Journal of Cancer Care, doi: 10.1111/ecc.12575.
Galvão DA, Taaffe DR, Spry N, Gardiner RA, Taylor R, Risbridger GP, Frydenberg M, Hill M, Chambers SK, Stricker P, Shannon T, Hayne D, Zopf EM, Newton RU. (2016). Enhancing Active Surveillance for Men with Prostate Cancer: The Potential Role of Exercise Medicine. Nature Reviews Urology, 13, 258-265.
Zopf EM, Bloch W, Machtens S, Zumbé J, Rübben H, Marschner S, Kleinhorst C, Schulte-Frei B, Herich L, Predel H-G, Braun M, Baumann FT. (2015). Effects of a 15-month supervised exercise program on physical and psychological outcomes in prostate cancer patients following prostatectomy- Results of the ProRehab Study. Integrative Cancer Therapies, 14(5), 409-18.
Streckmann F, Zopf EM, Lehmann HC, May K, Rizza J, Gollhofer G, Bloch W, Baumann FT. (2014). Exercise intervention studies in patients with peripheral neuropathy – a systematic review. Sports Medicine, 44, 1289-1304.
Baumann FT, Bloch W, Weissen A, Brockhaus M, Beulertz J, Zimmer P, Streckmann F, Zopf EM (2013). Physical Activity in Breast Cancer Patients during Medical Treatment and in the Aftercare – A Review. Breast Care, 8, 330-334.
Baumann F, Zopf EM, Bloch W. (2012). Clinical exercise interventions in prostate cancer patients - a systematic review of randomized controlled trials. Supportive Care in Cancer, 20 (2), 212-233.
Baumann FT, Zopf EM, Nykamp E, Kraut L, Schüle K, Elter T, Fauser AA, Bloch W. (2011). Physical activity for patients undergoing an allogeneic hematopoietic stem cell transplantation: benefits of a moderate exercise intervention. European Journal of Haematology, 87, 148-156.
Projects
PREFERABLE – Project on Exercise for Fatigue Eradication in Advanced Breast Cancer to Improve Quality of Life
Funding Source: European Commission Research & Innovation Horizon 2020 SC1-BHC-2018-2020 Grant (3,983,347€, 1 January 2019- 31 December 2023) & National Health and Medical Research Council (NHMRC) European Union Collaborative Research Grant ($415,826 AUD, 1 June 2019 – 31 May 2024)
EX­MED Cancer: A Community Based Exercise Program for Cancer Survivors
Funding Source: Victorian Department of Health and Human Services ($299,890 AUD, October 2016- October 2019)
EXERCISE THERAPY: Counteracting Mental Health Issues in Men with Prostate Cancer through Exercise
Project Partners: Australian Catholic University, St Vincent's Hospital Melbourne, Austin Health, Peter MacCallum Cancer Centre, Goulburn Valley Health
ACE Trial: Feasibility and Efficacy of Exercise in Patients with Advanced Cancer and Cachexia
Project Partners: Australian Catholic University, St Vincent's Hospital Melbourne,
EX-HEART Trial: Evaluating the Impact of Exercise on Cardiac Remodeling in Men with Prostate Cancer undergoing Androgen Deprivation Therapy
Project Partners: Australian Catholic University, Baker Heart and Diabetes Institute, Alfred Health, Austin Health, Peter MacCallum Cancer Centre
EX-IMPACT: Integrating Exercise Interventions within Routine Healthcare: A Plan to Inform Policy and Practice
Project Partners: Australian Catholic University, Macquarie Hospital, Headspace Bentleigh/Elsternwick, Peter MacCallum Cancer Centre, Chris O'Brien Lifehouse, Concord Repatriation General Hospital