Dr Enwu Liu
Senior Research Fellow
Bone Health and Fractures Research Program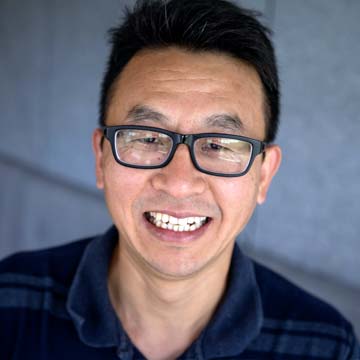 Areas of expertise: epidemiology, clinical trials, mathematical statistics
ORCID ID: 0000-0003-2580-3523
Phone: +613 9230 8392
Email: Enwu.liu@acu.edu.au
Location: ACU Melbourne Campus
Institute for Health Research, Australian Catholic University. Dr Liu also holds an Adjunct Senior Lecturer position in the College of Medicine and Public Health at Flinders University. Dr Liu received his Bachelor of Medicine degree from North China University of Science and Technology, Bachelor of Science in Mathematics from Beijing Normal University, Master of Science in Epidemiology and Biostatistics from Peking Union Medical College and a PhD in Epidemiology from the University of California, Los Angeles (UCLA).
Dr Liu has intensive experience in managing large and complex data using Oracle, SQL Server, and Access. In addition, Dr Liu has written browser-based, desktop based and client-server based data collection software using high-level computer languages. Dr Liu was involved in different types of Epidemiology and clinical studies including clinical trials, large cohort studies and cross-sectional studies.
Dr Liu is interested in developing accurate and practical predictive models to help clinicians and patients to make their treatment decisions. Dr Liu is also interested in the counting process for survival analysis and Bayesian analysis.
---
Select publications
Liu E, Dyer SM, Whitehead C, O'Donnell LK, Gnanamanickam ES, Harrison SL, Milte R, Crotty M. "Patterns of Medication Prescription by Dementia Diagnosis in Australian Nursing Home Residents: A Cross‐Sectional Study." Journal of Pharmacy Practice and Research 49, no. 1 (2019): 33-40.
Kanis, JA, H Johansson, NC Harvey, M Lorentzon, E Liu, F Borgström, and EV McCloskey. "Correspondence in Response to Osin-D-18-00831 Quantifying Imminent Risk." Osteoporosis International 30, no. 2 (2019): 525-26.
Harvey NC, Kanis JA, Liu E, Johansson H, Lorentzon M, McCloskey E. "Appendicular Lean Mass and Fracture Risk Assessment: Implications for Frax® and Sarcopenia." Osteoporosis International  (2019).
Crotty, Maria, Maggie Killington, Enwu Liu, Ian D Cameron, Susan Kurrle, Billingsley Kaambwa, Owen Davies, et al. "Should We Provide Outreach Rehabilitation to Very Old People Living in Nursing Care Facilities after a Hip Fracture? A Randomised Controlled Trial." Age and Ageing  (2019).
Chotiyarnwong, Pojchong, Nicholas C Harvey, Helena Johansson, Enwu Liu, Mattias Lorentzen, John Kanis, and Eugene V A McCloskey. "Temporal Changes in Access to Frax® in Thailand between 2010 and 2018." Archives of osteoporosis 14, no. 1 (2019): 66.
Suzanne M, Dyer, Enwu Liu, Gnanamanickam Emmanuel S, Milte Rachel, Easton Tiffany, Harrison Stephanie L, Bradley Clare E, Ratcliffe Julie, and Crotty Maria. "Clustered Domestic Residential Aged Care in Australia: Fewer Hospitalisations and Better Quality of Life." The Medical Journal of Australia 208, no. 10 (2018): 433-38.
Stephanie L. Harrison , Clare Bradley , Rachel Milte , Enwu Liu , Lisa Kouladjian O ' Donnell , Sarah N. Hilmer, Maria Crotty. "Psychotropic Medications in Older People in Residential Care Facilities and Associations with Quality of Life: A Cross-Sectional Study." BMC Geriatrics 18, no. 60 (2018).
Harrison, Stephanie L, L Kouladjian O'Donnell, Rachel Milte, Suzanne M Dyer, ES Gnanamanickam, C Bradley, Enwu Liu, Sarah N Hilmer, and Maria Crotty. "Costs of Potentially Inappropriate Medication Use in Residential Aged Care Facilities." BMC geriatrics 18, no. 1 (2018): 9.
Harrison, Stephanie L, Lisa Kouladjian O'Donnell, Clare E Bradley, Rachel Milte, Suzanne M Dyer, Emmanuel S Gnanamanickam, Enwu Liu, Sarah N Hilmer, and Maria Crotty. "Associations between the Drug Burden Index, Potentially Inappropriate Medications and Quality of Life in Residential Aged Care." Drugs & aging 35, no. 1 (2018): 83-91.
Gnanamanickam, Emmanuel S, Suzanne M Dyer, Rachel Milte, Stephanie L Harrison, Enwu Liu, Tiffany Easton, Clare Bradley, et al. "Direct Health and Residential Care Costs of People Living with Dementia in Australian Residential Aged Care." International journal of geriatric psychiatry 33, no. 7 (2018): 859-66.
Projects
Appointments and affiliations
Adjunct Senior Lecturer, College of Medicine and Public Health, Flinders University
Research Fellow, Rehabilitation Aged & Extended Care, Flinders University

Associate Lecturer, Research Unit for Schizophrenia Epidemiology, UNSW
Epidemiologist and Biostatistician, National Center for AIDS/STD Control and Prevention, China CDC
International journal review panel
Journal of the American College of Cardiology

American Journal of Physical Medicine & Rehabilitation

Drugs & Aging

Statistical Applications in Genetics and Molecular Biology

Biomedical and Environmental Sciences

Drug and Alcohol Review

Journal of Substance Abuse Treatment