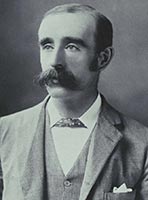 Photo: National Library of Australia: obj-144618567
Born in Gort, County Galway in Ireland in 1855, Glynn demonstrated an aptitude for learning from an early age, winning academic prizes at school in Dublin. He graduated with a Bachelor of Arts from Trinity College Dublin in 1878 and studied law at the Middle Temple in London. In 1879, he was called to the Irish Bar and the following year he sailed to Australia. On arrival, he was given temporary admission to the Victorian Bar and in 1883 was admitted as a practitioner of the South Australian Supreme Court.
What followed was a robust legal and political career. From his first experience in public life as an elected member of the House of Assembly for the Seat of Light in South Australia, Glynn became known for his exceptional oratory, his immense learning and his deeply held convictions. He was not afraid to oppose popular opinion, arguing against legislation restricting Chinese immigration to South Australia.
Glynn was one of the ten delegates from South Australia chosen to take part in the 1897 Federal Convention, and successfully carried the case for the phrase 'humbly relying on the blessing of Almighty God' to be included in the preamble of the Australian Constitution. After Federation, Glynn's career continued to flourish. He had prominent roles in three federal governments as Attorney-General under Alfred Deakin (1909–10), Minister for External Affairs under Joseph Cook (1913–14) and Minister for Home and Territories under Billy Hughes (1917–19).
Glynn supported the miners during the 1892 Broken Hill strike, and believed in a 'healthy form of Socialism', favouring selective land nationalisation, and government ownership of public utilities, as well as large businesses which threatened to become dangerous monopolies. He also supported free trade and government funding for denominational schools, and was a strong advocate for the right of women to vote, along with preferential voting and proportional representation. As editor of the Kapunda Herald from 1883 to 1891, Glynn published nearly nine hundred editorials on an enormously diverse range of topics drawn from the issues of the day.
Glynn was deeply respected by friends and opponents as a man of great integrity and deep humanity. He was devoted to the quest for knowledge, and was admired for his generous and gregarious nature. He was immensely popular with the public and his constituents, even though his views, often deeply informed by his Catholic faith, were not always favoured by his contemporaries. Through his many achievements he provides an outstanding example of leadership in public life, of the Catholic contribution to Federation, and of how conviction and service can be brought together in politics.