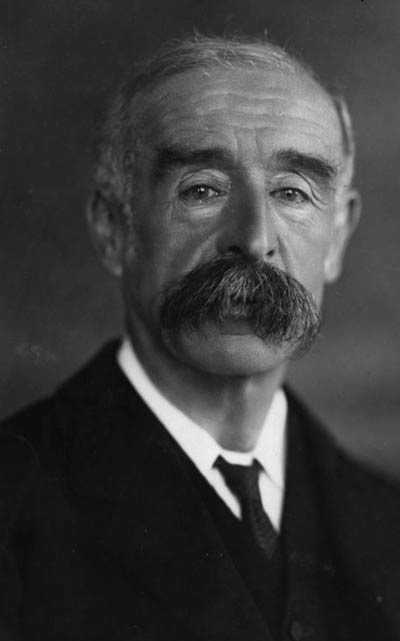 He was born in Gort, County Galway in Ireland in 1855, and died in Adelaide in 1931. He commenced his parliamentary career when he was elected to the House of Assembly for the Seat of Light in South Australia in 1887. Glynn was one of the delegates for South Australia in the 1897 Federal Convention, at which he successfully carried the case for including the phrase 'humbly relying on the blessing of Almighty God' in the preamble of the Australian Constitution.
After Federation, Glynn served in three federal governments as Attorney-General under Alfred Deakin (1909-10), Minister for External Affairs under Joseph Cook (1913-14) and Minister for Home and Territories under Billy Hughes (1917-19). He was one of the last of the Founding Fathers serving in the Commonwealth Parliament when he was defeated in his last election in 1919, and he was one of three surviving members of the first federal parliament to attend the opening of the new Parliament House in Canberra in 1927.
Glynn was deeply respected by friends and opponents as a man of great integrity and deep humanity. He was deeply learned and widely admired for his oratory and for his generous and gregarious nature. He provides an outstanding example of leadership in public life, of the Catholic contribution to Federation, and of how conviction and service can be brought together in politics.
The affection and esteem in which Glynn was held by the public and by all sides of politics in his day is reflected in this profile, published in The Lone Hand in January 1913.
"Swift, and rather long in his stride, slight and erect, with a prominence of one shoulder, Mr. Glynn's carriage and figure have the nervous alertness, his face has that blending of melancholy and whimsical humor typical of the Irishman. Celtic, too, are his tastes and temperament. The acute penetration of the logician is busily at work side by side with the vague emotional stirrings of the poet.
To the Arts, especially literature and music, Mr. Glynn is supremely sensitive, and he still has time to withdraw from the noise of politics and the aridity of law to seek rest and refreshment at these quiet sources. He has been, and long, we hope, may he be, essayist and lecturer, notable alike for just discrimination and equity of judgment, dignity and grace of expression. He has enlivened the South Australian press with the ablest of leaders.
But although these rare and delicate qualities may pass unnoticed by a people in love with robust open-air virtues, one of Glynn's private pursuits will speak in a loud and confident tone to all Australians, good or bad. He loves a horse; he has ridden in steeplechases; he hunted for years, and wrote hunting sketches of raciness unsurpassed in the annals of South Australian journalism. His strictures on Pater's prose, his admiration for the rush and swing of Swinburne's verse may be simply vanity; but the fracture of his collar-bone a-hunting is an indubitable claim to Australian affections. Still, when his learning and ability are all, in their best and fullest, at the service of the State, Australians may well pause to admire that depth of understanding and width of knowledge which form so remarkable a part of Glynn's equipment.
Parliamentary committees, whose business carries them into far and unhomely regions, know how to use and value this plentiful store. The first accumulations of the hoard were made at the French College, Dublin, continued at the University of that city, where Glynn took degrees in Law and Arts, and gained a medal for oratory. He was called to the Irish Bar in 1879. He came to Victoria in 1880, and settled in South Australia in 1882.
In the law he has specialised in two branches bearing most heavily on questions of statesmanship. His authority is great on matters of Constitutional Law, that bewildering plexus of rights, duties and powers which binds together State and Commonwealth, State and State, and limits and regulates the various executive and legislative bodies which carry on the anxious business of government. Higher still, perhaps the highest in Australia, stands his authority on the riparian laws. Three States at least will turn with interest and anxiety to hear what Glynn has to say about the great waterways of Australia.
His apprenticeship to practical politics was served in South Australia. There he contested several elections, sometimes with success, sometimes with failure. At one time he was clad in brief authority as Attorney-General for about a week, so swiftly spins the whirligig of politics.
In the Federal House of Representatives Glynn has found a wider scope and worthier objects for his unique abilities and attainments.
As a draughtsman he brings to his work all his sedulous care, his hatred of sloppy workmanship, his great capacity for research, his gift of adequate and precise expression. As an orator he turns all these attributes from the service of the written to that of the spoken word, touches them with a lively emotion, and when his sympathies are aroused (here, the touch of the artistic temperament) can sway the vote of the House by the seduction and power of his eloquence. The rich qualities of his intellect are justly esteemed, but is there not a finer value in his absolute and unwavering integrity, in his fair-mindedness and searching honesty, which never condemn a measure because cause of its party origin, but probe and try it, judge and test it by its worth for the service of the Commonwealth?"
Mr. Patrick McMahon Glynn, M.H.R. (1 January 1913)' 1913-01-01. The Lone hand, vol. 12, no. 69, National Library of Australia https://trove.nla.gov.au/work/234029627