Professor Elizabeth McInnes
Deputy Director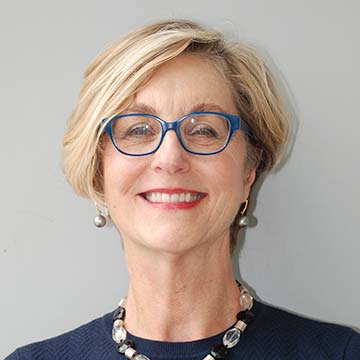 Areas of expertise: nursing research, qualitative research, pressure injuries, wound care, disinvestment
ORCID ID: 0000-0002-0567-9679
Phone: +61 459 807 377
Location: ACU Melbourne Campus
Professor Elizabeth McInnes is Deputy Director of the Nursing Research Institute (NRI); a partnership between St Vincent's Health Network Sydney, St Vincent's Hospital Melbourne and Australian Catholic University. She is also Professor of Nursing Research at St Vincent's Hospital Melbourne. Professor McInnes began her professional career working in social welfare and then as a registered nurse. Her postgraduate qualifications include a PhD from the University of Manchester and a Master of Public Health from the University of Sydney. She has over 80 published research articles and has been chief investigator on a number of NHMRC and other grants. Her research areas focus on evidence uptake and clinician behaviour change in acute care settings and factors that influence the uptake of evidence-based interventions. She has experience in systematic reviews, trials and qualitative research.
---
Select publications
Latimer S, Chaboyer W, Thalib L, McInnes E, Bucknall T, Gillespie BM. Pressure injury prevalence and predictors among older adults in the first 36‐hours of hospitalisation. Journal of Clinical Nursing 2019. Published online 19 June 2019. doi:https://doi.org/10.1111/jocn.14967
Craig LE, Middleton S, Hamilton H, Cudlip F, Swatzell V, Alexandrov AW, Lightbody E, Watkins C, Philip S, Cadilhac DA, McInnes E, et al. Does the Addition of Non-Licence Inclusion and Exclusion Criteria for rtPA Impact Treatment Rates? Findings in Australia, the United Kingdom and the United States of America. Intervention Neurology 2019; 8:1–12. doi:10.1159/000493020
McInnes E, Jammali-Blasi A, Bell-Syer SE, Leung V. Support surfaces for pressure ulcer treatment. Cochrane Database of Systematic Reviews 2018, Issue 10. Art. No.: CD009490. doi: 10.1002/14651858.CD009490.pub2
See all Professor McInnes's publications
Selected grants and projects
Perry L, Center J, Harris I, Clifton-Bligh R, Hassett G, Nguyen T, McInnes E, White C, Frost S. Translation of best practice osteoporosis refracture prevention: stopping fragility fractures to keep Australians out of hospital. ID: APP1176600 NHMRC MRFF. Funds requested: $897,729.90
Fasugba O, McInnes E, Middleton S. A systematic review of the effect of increased fluid intake in the prevention of urinary traction infection. Cardinal Health. Total funds awarded: $5,000
Douglas C, Middleton S, Gardner G, Kelly P, Morton R, McInnes E, Windsor C. Transforming nursing assessment in acute hospitals: cluster randomised controlled trial of an EvideNce-based CORE assessment protocol (the ENCORE study). ID:1145859 NHRMC Partnership Grant. Total funds awarded: $1,069,267.
CIs: Westbrook J, Braithwaite J, Day R, Middleton, S, Scott D, Rapport F, Mitchell R, Taylor N. (McInnes E as Associate Investigator). Creating a culture of safety and respect: a controlled, mixed-methods study of the effectiveness of a behavioural accountability intervention to reduce unprofessional behaviours. NHMRC Partnership Grant. (ID 1134459) Total funds awarded: $875,978.
Middleton S, Dale S, McInnes E, Levi C, Cheung W, Grimshaw J, D'Este C, Cadhilac D, Quinn C. QASC Europe: A proposal to implement and evaluate nurse-initiated evidence-based stroke care in Europe, to manage fever, hyperglycaemia and swallowing difficulties. European Stroke Organisation. Total funds awarded: $1,251,731.
Gawthorne J, Middleton S, McInnes E. Can emergency nurses safely and effectively insert ultrasound guided fascia iliac blocks compared to medical practitioners for patients with fractured neck of femur. Clinic Foundation Multidisciplinary Grant. Total funds awarded: $25,000.
Accolades and awards
Relative Citation Index (2.45) Exceeds word standard 2015, 2016, 2018.
Nursing Top 25 Most Downloaded Articles 2013 – Elsevier journals: McInnes E, Jammali-Blasi A, Bell-Syer S, Dumville J, Cullum, N. Preventing pressure ulcers - are pressure-redistributing support surfaces effective? A systematic review and meta-analysis. International Journal of Nursing Studies 2012; 49:345-359.
ACU's best researcher 2010 based on publications in Nursing FoR
Journal Vascular Nursing Writing Award 2010 ($500)
Appointments and affiliations
Member, NRI Steering and Management Committees
Member, St Vincent's Hospital Pressure Injury Working Party
Member, St Vincent's Health Australia Sydney Nursing Advisory Council
Member, St Vincent's Health Australia Sydney Research Council
Member, St Vincent's Health Australia Sydney Clinical Council
Member, Deputy Director, SPHERE Implementation Platform
Member, SPHERE Nursing and Midwifery Academy
Member, Australian Catholic University, Faculty of Health Sciences Research and Research Training Committee
Member, Australian Catholic University, Faculty of Health Sciences Research Workload Allocation Panel
Member, Australian Catholic University, Faculty of Health Sciences Research Funding Grant Review Panel
Chair, ACU SONMP Research & Research Training Committee