---
Introducing the successful projects from our 2021 round of Expressions of Interest
Following a competitive selection process, the SESU has funded seven community-initiated research projects from across Australia.
We wish to congratulate the successful organisations and look forward to working with them to plan and deliver their projects. We would also like to thank all organisations that applied in this round–our Advisory Group were greatly encouraged by the quality of submissions they received.
Catholic responses to family violence
Bringing together Caritas Australia, Catholic Social Services Australia and Catholic Health Australia, this project will map the unique work of Catholic agencies in responding to and preventing family violence.
Project team: Ms Zhi Yan, Advocacy, Policy and Research Lead, Caritas Australia; Ms Monique Earsman, Executive Director, Catholic Social Services Australia; Ms Rebecca Burdick Davies, Director, Strategy and Mission and Ms Stephanie Panchision, Senior Health Policy Advisor, Catholic Health Australia; Professor Susan Broomhall, Institute for Humanities and Social Sciences and Dr Mary Noseda, School of Theology, ACU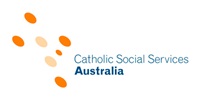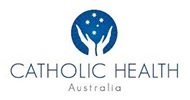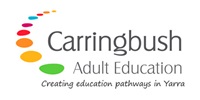 Digital teaching strategies for adult learners at beginner-level English
Carringbush Adult Education's project seeks to develop and implement digital learning and teaching strategies to support their English language programs for adult learners who are from refugee, migrant and low socio-economic backgrounds and adjusting to digital learning environments.
Project team: Ms Margaret Corrigan, CEO, Ms Rei Chin, Community Development Manager, Ms Hayley Black, EAL teacher and Digital Capacity Advisor and Ms Elizabeth Keenan, EAL Teacher and Teacher Mentor, Carringbush Adult Education; Ms Laurine Hurley, School of Behavioural and Health Sciences, ACU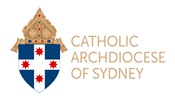 Domus Links: Modern anti-slavery training for the future workforce
Initiated by the Archdiocese of Sydney's Anti-Slavery Taskforce, this project will produce training resources to enable future professionals to identify and respond to modern slavery in the workforce. The efficacy of the modules will be measured through a pilot with ACU students enrolled in undergraduate courses.
Project team: Ms Jenny Stanger, Executive Manager, Ms Alison Rahill, Executive Officer and Mr Carsten Primdal, Business Engagement and Remediation Advisor, Anti-Slavery Taskforce; Dr Gemma Cruz and Dr Christiaan Jacobs-Vandegeer, School of Theology, ACU

Impact of a peer-group program for Aboriginal and Torres Strait Islander mums
Gunawirra's project will assess the mid- to long-term impact of their peer group program for Aboriginal and Torres Strait Islander mothers and their children. The project will also make recommendations for the program's future operation and expansion.
Project team: Mr Graham Toomey, CEO, Ms Miriam Cavanagh, Chairwoman and Cultural Consultant and Ms Katrina Ikonomou, Program Coordinator, Gunawirra; Dr Renata Cinelli, School of Education and Ms Kate Robinson, School of Nursing, Midwifery and Paramedicine, ACU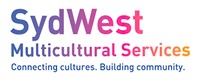 Impact of employment-focused interventions for people from a refugee or migrant background and for people living with a disability
SydWest Multicultural Services is evaluating the employment services delivered through their Settlement Engagement and Transition Support program. The project will assess how the program helps their clients become more employable and will make recommendations for future program improvement.
Project team: Mr Clement Meru, Community Engagement and Disability Services Manager and Mr Saurav Shrestha, Settlement Services Team Leader, SydWest Multicultural Services; Dr Haydn Aarons, School of Arts and Mrs Caroline Allen, ACU Engagement, ACU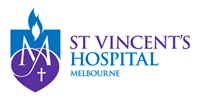 Implementing a trauma-informed model of care in the Emergency Department
St Vincent's Hospital Melbourne's project will support hospital staff to develop and implement a trauma-informed model of care that prioritises Aboriginal and Torres Strait Islander understandings of health and aims to prevent re-traumatisation of patients and their families in the hospital setting.
Project team: Ms Deborah Barnes, Aboriginal Health Services Coordinator, Ms Linda Di Sipio, Formation and Mission Education Lead and Dr Jennie Hutton, Emergency Physician, St Vincent's Hospital Melbourne; Associate Professor Diane Jacobs, School of Allied Health and Ms Sandra Hyde, School of Nursing, Midwifery and Paramedicine, ACU

Xavier School of Preaching for the Church of the 21st century
The Archdiocese of Canberra-Goulburn seeks to raise up a new generation of preachers in the mission of the Australian Catholic Church. The project will pilot and evaluate innovative face-to-face and online training for ministers, priests and laypeople to better support their ministry in parishes, communities and schools.
Project team: Fr Tony Percy, Vicar-General and Mr Huw Warmenhoven, Youth Ministry Coordinator, Archdiocese of Canberra-Goulburn; Dr Maeve Louise Heaney, School of Theology and Xavier Centre for Theological Formation, ACU
---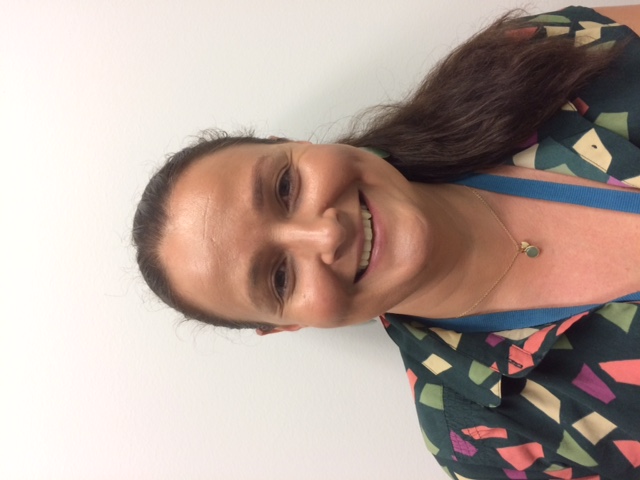 Introducing our newest Advisory Group member
The SESU recently welcomed Ms Carla Zafiriadis, Employment Manager at Multicultural Australia, to its Advisory Group as one of three external representatives. The Advisory Group to the SESU has the roles of selecting projects to be funded and driving the strategic direction of the Unit. Read more about Carla's background and what she brings to the Advisory Group.
Carla Zafiriadis is originally from Portugal where she completed a double degree in Economics and Business with the Portuguese Catholic University. In Portugal, Carla worked in banking and finance, marketing and human resources.
She migrated to Australia in 2010 with her young family and started volunteering at Dress for Success supporting women experiencing disadvantage with getting back to the workforce. This volunteering opportunity was the start of her great passion: community development and the not-for-profit sector.
In Australia, Carla has worked several years with young people with disabilities supporting them on pathways to employment and higher education.
She has been with Multicultural Australia for 5 years, supporting refugees and new Queensland communities into building social and economic participation in society to increase their sense of belonging and wellbeing. She started in the Youth Program supporting young people on their settlement journey and is now managing the Employment Team where she works to showcase the talent that refugees bring to a new society.
She is a genuine people person and fast learner with a strong ability to build relationships and a true passion for supporting those experiencing the most marginalisation and vulnerability in society to achieve their greatest potential.
---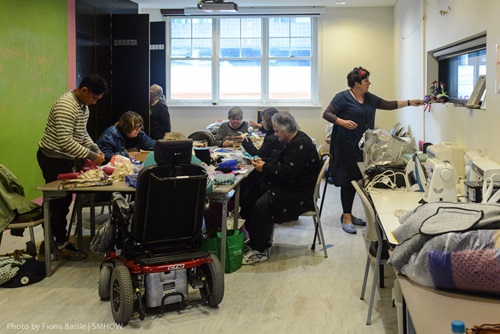 Partnering with the SESU to optimise engagement in an NDIS program for adults with a psychosocial disability
For more than 60 years, St Mary's House of Welcome has provided care and essential services to people experiencing disadvantage through a walk-in service as well as through a targeted program. St Mary's House of Welcome and ACU have partnered together on a project that aims to optimise client engagement with their National Disability Insurance Scheme (NDIS) psychosocial program. We asked St Mary's House of Welcome CEO Ms Robina Bradley about the aims behind the project and her experience of partnering with the SESU to deliver the project.
Tell us a little about your project and what it aims to achieve
We have run an NDIS program among adults aged 19-70 with a psychosocial disability for many years. Our clients with a psychosocial disability have complex needs–they are often dealing with some combination of mental illness, homelessness, discrimination, physical illnesses and economic or social disadvantage. We are aware that they face complex barriers to engagement.
We want to understand what gets in the way of some people taking part in the NDIS activities we offer and what might help them to participate, as well as understand what the benefits of the program are to participants. By speaking with both our service users and our staff and volunteers who run the program, we hope to be able to build a program that is even more responsive to the needs of this part of the community.
What is different about how this project is being undertaken?
When designing the project it was important to us that the participants of the program have agency to impact the design of the program at St Mary's House of Welcome.
We are engaging them as consultants where they will also form part of a key stakeholder group–along with our staff–who will help advise the ACU research team as they develop a framework to enhance future engagement in the program.
We wanted to recognise their unique perspectives and give them the opportunity to help shape the program for participants to come.
What has been your experience of partnering with the SESU on this project to date?
St Mary's House of Welcome has welcomed the opportunity to partner with the SESU on this vital work. The experience has been very rewarding, especially given how the outcomes will result in improved lives for the people who rely on us for help. This work aligns with our strategic objectives to strengthen our research and advocacy through collaboration with ACU.
---
Have a great idea for a research project?
If you have a research project in mind, you haven't missed out. The SESU will call for expressions of interest (EOIs) again in our 2022 round. Organisations working in areas central to ACU's Mission and ethos will be able to apply.
You'll be notified when the call for EOIs opens, but until then you might want to familiarise yourself with our application process.
Organisations may put forward applications for one or both types of project:
a) Organisation-specific project: a project that aims to inform, evaluate or enhance one of your programs or services; or
b) Sector project: a project that aims to address a broad or systemic issue that multiple organisations face in the community sector.
The SESU is designed to support projects that can be completed within a period of 12 months from their start date. However, if you have a larger project in mind, we recommend you consider segmenting the project into smaller phases or projects and submitting an EOI that focuses on the first phase or on one of these smaller projects.
If you are considering submitting an EOI, we encourage you to begin by reading our online FAQs. Here you will find application guidelines–including how EOIs will be assessed–information that will help you determine whether your project is a good fit for the SESU, and tips on submitting a competitive EOI. You will also find information on the kinds of contributions your organisation will be expected to make to the project, which you will be asked about in the EOI form.
---
The SESU will be featured in a keynote panel presentation at the upcoming ACU and DePaul online Conference on Community Engagement and Service-Learning: Pandemic, Pivots and Potentials
This biennial conference, created in partnership with DePaul University, Chicago, celebrates the significant achievements that stem from partnerships between university and community and explores some of the contemporary challenges of university-community engagement and service-learning.
The 2021 conference aims to explore the current 'state of play' for universities in responding to the challenges and opportunities for service-learning and university-community engagement in a 'post-COVID' world while taking the time to reflect on the responses and learnings from the efforts of the field during the pandemic.
The keynote session will begin with a presentation exploring the history, purpose and activities of the SESU and show how it provides a structured approach to collaborative community-engaged scholarship. Delegates will then have the opportunity to hear directly from key SESU stakeholders, through a panel discussion with Professor Sandra Jones, Pro Vice-Chancellor (Engagement), ACU, Netty Horton, Executive Director, CatholicCare Victoria, David Stefanoff, Finance Director, CatholicCare Sydney, and Vivien Cinque, Manager Stakeholder Engaged Scholarship Unit, ACU.
The conference will also feature presentations from SESU teams about their projects.
5-7 October 2021
The 2021 conference will be delivered online across three days with a range of optional sessions available each day. There is no cost to attend.
For more information and to register, please click here
---
Other ways ACU can support you
Do you need support in areas other than research? ACU supports organisations through the community engagement student placement program and the staff community engagement time release initiative.
Student placements that benefit community organisations and student learning
Every year, 4600+ ACU students participate in a community engagement activity, as part of the ACU Core Curriculum. These activities are a unique and crucial part of our students' education, which connect course work to community action and support the development of ethically informed graduates committed to recognising individual dignity and human diversity.
In 2021, the ACU Engagement team is proud to partner with 67 community organisations, each providing essential support across education, health and social services. Working collaboratively with our community partners, we promote the roles needed in their organisation and complement this with students seeking to explore these areas of interest and passion further. Click here to see our current list of opportunities.
The experience is highly formative for our students. After finishing their community engagement placement, one student commented:
"I did get what I had hoped for from the experience but I also got more than I had bargained for. This experience has made me question my career path now I have more knowledge."
Another student said:
"This has been an eye opening experience for me and shown me how hard teaching in a low socio-economic area is. There are more factors to quality education than I had anticipated."
Interested in hearing more about how students work with community? Want to know how this may benefit your organisation or the impact for students learning through community action? Take a look at our collaborative video project with Emmanuel City Mission, capturing these different perspectives.
If you feel you have an initiative that would benefit from community engagement placements, please contact our team for a conversation.
ACU staff volunteer their time to support community organisations, through a university-supported initiative
ACU's Community Engagement Time Release Policy entitles staff to up to 5 days per calendar year to participate in community-based activities that contribute to the common good, address social justice issues, and help those in our communities who are experiencing disadvantage or marginalisation. This initiative has proven very beneficial to our partners and those they support.
In the Summer of 2020/2021, New South Wales experienced some of the worst bushfires ever seen in Australia. The South Coast region was particularly badly impacted with the town of Cobargo being all but destroyed in the early hours of New Year's Eve. The efforts to rebuild both the township and the lives of those who call it home have taken time but thanks to a group of ACU staff, who accessed their time release and volunteered through Australian Business Volunteers, funding was secured through the Federal Government Black Summer Bushfire Recovery Grants to help rebuild the main street of Cobargo along with a range of other projects in the region. In total, over $14 million worth of funding was secured through the round of grants in late 2020 that our staff were integral in assisting with.
Australian Business Volunteers have turned to ACU once again to support the next round of grant applications as well as to assist with any future rounds. If you are an ACU staff member interested in knowing more, or an organisation wanting support from ACU staff please reach out to the ACU Engagement team.