Author: Jennifer Chandler
Photographer: All images used with permission.
Wondering what's life is like on ACU's Melbourne Campus? We spoke to first-year Bachelor of Commerce student, Natalie Pierson, to find the best places to grab a coffee, study and, most importantly, nap.
The best thing about the Melbourne Campus, says Natalie, has to be the location.
"It's all easy, no matter where you live, it's just a matter of which train or tram line you prefer." It also doesn't do any harm that it's surrounded by the best cafes and cheap eats venues that Fitzroy and Collingwood have on offer.
"There are heaps of cafes nearby, like Archie's All Day which does a $3 coffee if you bring a Keep Cup. But you don't even need to leave campus. There are two cafes in the Mary Glowery Building and then the rooftop café on the top of the Daniel Mannix Building.
"That is one of the best spots to start the day – it has views right across Melbourne. And it's one of the best sunset spots I know. I like to go there to bask in golden hour and get some work done, or just enjoy the view. It's truly something special."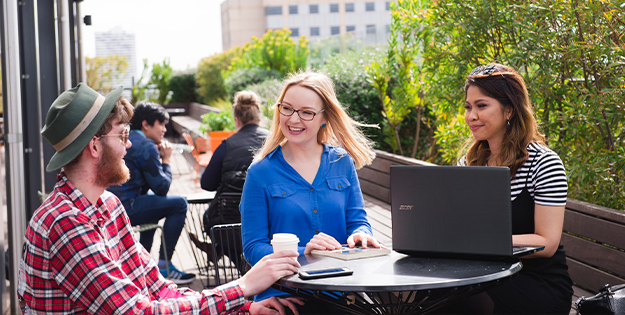 Hitting the books
Between lectures Natalie often finds herself in the library. "It's an incredible space. There's room for discussion upstairs with plenty of desks and spots to sit and chat. If you really need to get stuff done, downstairs is completely silent, full of motivated individuals and lots of books. Perfect for those 'the assignment is due tomorrow and I thought I had another week' evenings. "The library is also stocked with textbooks and chargers, everything the average forgetful student needs. And just outside is a fantastic café, with hot lunches for those days you're on a roll with your studies but need a feed."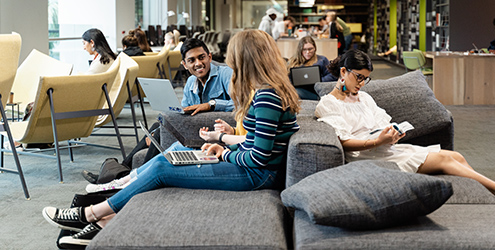 Spaces to relax
Feel like less of the study and more of the napping? Natalie knows the perfect spots for that.
"I have been known to nap in the park in between lectures," she said, "We're surrounded by green here – Fitzroy, Carlton and Parliament Gardens. Perfect for a picnic or quick lie in the sun.
"There's also a great gym on campus that has student rates, so you can fit in a class between lectures and let off some steam.
"Or, if you want something different there's a student wellbeing space called The Track where you can join clubs or play some table tennis. Sometimes they put on events like free ice skating or dance competitions."
Day and night life
After a late lecture or workshop, Natalie recommends making the most of the uni's central location to head out. "I like to head to Brunswick Street or Smith Street for some cheap eats and drinks and maybe a gig."
Jobs on campus
If you need to fund your uni lifestyle, Natalie said there are a range of paid student jobs available on campus. "Keep an eye on the ACU noticeboard, both on campus and online. There's often all sorts of jobs going. Working where you study is so convenient, and they get you're a student and need to have a flexible timetable. They also pay very nicely."
Want to get a taste of life on campus? Experience uni before you start with one of our free tours and events.