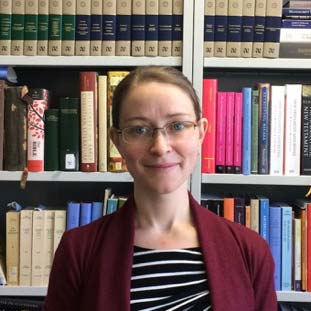 Dr Sarah Gador-Whyte
Biblical and Early Christian Studies. Affiliate: Medieval and Early Modern Studies
sarah.gadorwhyte@acu.edu.au
ATCL, BASc, DipArts (Ancient Greek), BA (Hons), PhD (Melb)
After studying classics and applied mathematics at the University of Melbourne, I completed a PhD on a late-antique hymnographer, Romanos the Melodist. This project, which studied the rhetoric and thought of a significant Byzantine liturgical writer, combined rhetorical and theological analysis with a historical understanding and awareness of the performative nature of his compositions. My book, Theology and Poetry in Early Byzantium, which arose out of my PhD dissertation, is published by Cambridge University Press.
I am interested in cultural interactions in late antiquity. My work on Romanos placed him in the complex context of late antique liturgical writings, focusing on religious clashes, theological disputes and inheritance and literary influences, and explored the use of dialogue as an investigative, exploratory and exegetical tool. I have also worked on dialogue texts in times of religious conflict: the forced baptism of Jews under the emperor Heraclius.
My current project will again be focused on religious interaction through dialogue, this time at the beginning of Islamic rule.
---
Key publications
Books

Theology and Poetry in Early Byzantium: the Kontakia of Romanos the Melodist. Cambridge: Cambridge University Press, 2017.

Book chapters

'Changing Conceptions of Mary in Sixth-Century Byzantium: The Kontakia of Romanos the Melodist'. In Questions of Gender in Byzantine Society, edited by Bronwen Neil and Lynda Garland, 77-92. Farnham: Ashgate, 2013.

'Christian-Jewish conflict in the light of Heraclius' forced conversions and the beginning of Islam'. In Religious Conflict from Early Christianity to Early Islam, edited by Wendy Mayer and Bronwen Neil, 201-214. Berlin: De Gruyter, 2013.

'Procopius and Justinian's Propaganda'. In Basileia: Essays on Imperium and Culture in Honour of E.M. and M.J. Jeffreys, ByzAus 17, edited by G. Nathan and L. Garland, 109-119. Brisbane: AABS, 2011.