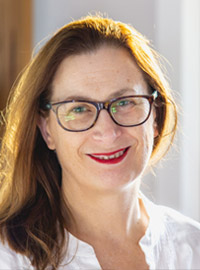 Associate Professor Robyn Horner
Religion and Theology. Affiliate: Philosophy
BA (Melb), DipEd (Melb), A.Mus.A (AMEB), BTheol (Hons) (MCD), PhD (Monash), Graduate Certificate in Higher Education (Monash)
Associate Professor Robyn Horner is a teaching and research academic within the School of Theology, and a member of the Institute for Religion and Critical Inquiry. From 2010 until 2015, she held the position of Associate Dean (Learning and Teaching) of the Faculty of Theology and Philosophy.
The aim of her research is to find new ways of thinking religious phenomena within contemporary Western contexts, characterised as such contexts are by the immense cultural challenges of secularisation, pluralisation, and detraditionalisation. She investigates this area both theoretically (especially through the use of hermeneutic phenomenology, together with a variety of post-structuralist tools of critique), and practically (in collaboration with researchers in Belgium who have developed scales for measuring individual and communal religious expressions of identity: the Enhancing Catholic School Identity Project). Her distinct contribution to the field is the way in which she approaches the signification of religious phenomena by means of affection or disturbance, and interprets them contextually. She is currently working on a monograph on revelation, and is part of a major project: Atheism and Christianity: Moving Past Polemic.
Robyn Horner teaches and supervises in the area of enhancing Catholic identity, post-structuralism and French phenomenology, and theological re-contextualisation.
---
Key publications
Books
Jean-Luc Marion: A Theo-Logical Introduction. Aldershot, Hants: Ashgate, 2005.
Rethinking God as Gift: Marion, Derrida and the Limits of Phenomenology. New York: Fordham University Press, 2001.
Book chapters
"Jesus and the Woman Caught in Adultery: Phenomenology as Lectio Divina." Phenomenologies of Scripture, edited by Adam Wells. New York: Fordham University Press, 2017. 114-24.
"The Gifted Self: Theological Anthropology and the Challenges of Contemporary French Thought." Questioning the Human: Towards a Theological Anthropology for the 21st Century, edited by Lieven Boeve, Yves de Maeseneer, and Ellen Van Stichel. New York: Fordham University Press, 2014.
"À Saint Jacques." The Postmodern Saints of France: Refiguring 'The Holy' in Contemporary French Philosophy. Ed. Colby Dickinson. London: Bloomsbury T & T Clark, 2013. 95-108.
"The Weight of Love." Counter-Experiences: Reading Jean-Luc Marion, edited by Kevin Hart. South Bend, IN: University of Notre Dame Press, 2007. 235-251.
Journal articles
"Towards a Hermeneutic Phenomenological Methodology for Theology." International Journal of Practical Theology 22.2 (Forthcoming, 2018).
"Words that Reveal: Jean-Yves Lacoste and the Experience of God." Continental Philosophy Review 51.2 (2018): 169-92.
"Murdering Truth: 'Postsecular' Perspectives on Theology and Violence," International Journal of Philosophical Studies 24.5 (2016): 725-743.
"Theology After Derrida." Modern Theology 29.3 (2013): 230-247.
"Jean-Luc Marion and the Possibility of Theology." Culture, Theory and Critique 52.2 (2011): 335–350.