Professor Christopher Ocker
Director
Medieval and Early Modern Studies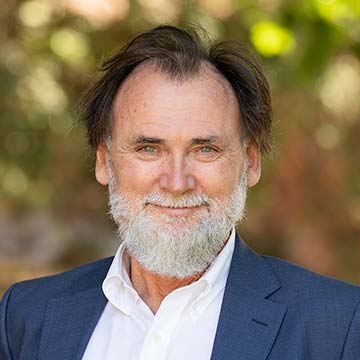 Areas of expertise: late medieval and early modern Europe; Central Europe; the Reformations; religious conflict; property; politics; theology; biblical interpretation
ORCID ID: 0000-0002-1736-835X
Phone: +61 3 9230 8420
Email: chris.ocker@acu.edu.au
Location: ACU Melbourne Campus
A historian of religion in medieval and early modern Europe, Professor Ocker's research and publications focus on Christianity before the Enlightenment. He has special interest in the Reformation, its background, and the gradual change of religious and intellectual cultures in the medieval and early modern periods.
Before coming to ACU, Professor Ocker was Chair of the Department of Cultural and Historical Studies of Religion at the Graduate Theological Union at Berkeley and Professor of History at the San Francisco Theological Seminary. He has been a von Humboldt fellow at the Max-Planck-Institute for History, fellow of the Institute of European History in Mainz and the Institute for Advanced Study in Constance, and a visiting scholar at Cambridge and the American Academy in Rome.
---
Select publications
Luther, Conflict, and Christendom: Reformation Europe and Christianity in the West. Cambridge University Press, 2018.
Church-Robbers and Reformers in Germany, 1525-1547: Confiscation and Religious Purpose in the Holy Roman Empire. Leiden: E.J. Brill, 2006.
Biblical Poetics before Humanism and Reformation. Cambridge University Press, 2002.
Johannes Klenkok: A Friar's Life, c. 1310-1374. Volume 83, part 5 of the Transactions of the AmericanPhilosophical Society. Philadel­phia: American Philosophi­cal Society, 1993.
"Sexual Crime and Political Conflict: An Alsatian Nobleman Is Burned to Death with His Male Lover in 1482." Sourcebook of Early Modern History: Life, Death, and Everything in Between. In Honor of Susan C. Karant-Nunn, ed. Ute Lotz-Heumann. New York: Routledge, 2019, No. 27.
"Spirit, Writers, and Biblical Readers in 'the Practical Circumstances of Life': A Political Hermeneutic." Pages 59-82 of Sola scriptura heute. Ed. Stefan Alkier. Tübingen: Mohr Siebeck, 2018.
"Anti-Judaism and Anti-Semitism." Oxford Encyclopedia of Martin Luther, ed. Derek Nelson, Paul Hinlicky. New York: Oxford University Press, 2017.
Explaining Evil and Grace." Pages 23-46, Oxford Handbook of the Reformation, ed. Ulinka Rublack. Oxford: Oxford University Press, 2016.
"The Physiology of Spirit in the Reformation: Medical Consensus and Protestant Theologians.
Pages 115-156 of Miracle Stories Revisited. Edited by Annette Weissenrieder, Stefan Alkier. Tübingen: Mohr Siebeck, 2013.
"Taverns and the Self at the Dawn of the Reformation." Pages 215-236, Image and Imagination of the Religious Self in Late Medieval and Early Modern Europe, edited by Reindert Falkenburg and Walter Melion. Turnhout: Brepols, 2007.
"German Theologians and the Jews in the Fifteenth Century." Pages 33-65, Jews, Judaism and the Reformation in Sixteenth-Century Germany, edited by Dean Phillip Bell and Stephen G. Burnett. Leiden: E.J. Brill, 2006.
"After the Peasants War: Barbara von Fuchstein Fights for Her Property." Renaissance and Reformation / Renaissance et Reforme 40(2017):141-159.
Co-authored with Kevin Madigan, "After Beryl Smalley: Thirty Years of Medieval Exegesis, 1984-2013," Journal of the Bible and Its Reception 2(2015):87-130.
"The German Reformation and Medieval Thought and Culture," History Compass 10(2012):13-46.
http://onlinelibrary.wiley.com/doi/10.1111/j.1478-0542.2011.00816.x/abstract
"Ritual Murder and the Subjectivity of Christ: A Choice in Medieval Christianity." Harvard Theological Review 91(1998):153-192.
"Augustine, Episcopal Interests, and the Papacy in Late Roman Africa," The Journal of Ecclesiastical History 42(1991):179-201.
Public engagement
Editorial roles
Studies in Medieval and Reformation Traditions, member of editorial board, 2009-present; Journal of the American Academy of Religion, associate editor, 2017-present. Journal of the Bible and Its Reception, editor, 2015-present (managing co-editor, 2015-2017); Arbeiten zur Kirchengeschichte,editor, 2019-present.