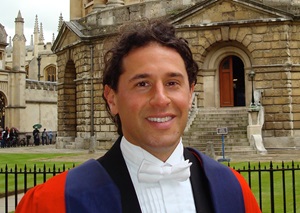 Dr Michael P. Theophilos
Biblical and Early Christian Studies
michael.theophilos@acu.edu.au
BTh (BCV), MA (BCV), ThM (Regent), MA (Macquarie), GCHE (ACU), MSt (Oxon), DPhil (Oxon)

Dr Michael P. Theophilos is senior lecturer in Biblical Studies and Ancient Languages in the Faculty of Theology and Philosophy. He is currently writing a volume for the Papyrologische Kommentare zum Neuen Testament [Papyrological Commentary on the New Testament] series, to be published by Vandenhoeck & Ruprecht, Göttingen. This work, and much of his research, focuses on the corpus of Greek papyri, ostraca and tablets that are able to illuminate the historical, social and linguistic context of the New Testament. He is also writing a monograph on the use of numismatic inscriptions in Greek lexicography. Dr Theophilos has lectured in North America, Europe, the Middle East and Asia Pacific. In 2012 he was awarded the Australian Government Citation for Outstanding Contributions to Student Learning for the adoption of innovative and exciting approaches to teaching biblical languages and history.
---
Key publications
'The Numismatic Background of ΧΑΡΑΚΤΗΡ in Hebrew 1:3', Australian Biblical Review 64 (2016): 69-80.

'Κτίστης (1 Peter 4:19) in Light of the Numismatic Record'. In Greek Lexicography, edited by T. Evans and J. Aitken, 191-205. Leuven: Peeters, 2015.

'The Roman Connection: Paul and Mark'. In Paul and Mark, edited by O. Wischmeyer, D. C. Sim, and I. Elmer, 45-71. Beihefte zur Zeitschrift für die neutestamentliche Wissenschaft 198. Berlin: De Gruyter, 2014.

'New Evidence from the Papyri: The Portrayal of "The Woman" in Revelation 2:22'. In Men and Women in the Early Christian Centuries, edited by W. Mayer and I.E. Elmer, 93-110. St. Paul's Publications: Strathfield, 2014.

'The Portrayal of Gentiles in Jewish Apocalyptic Literature'. In Attitudes to Gentiles in Ancient Judaism and Early Christianity, edited by D. C. Sim and J. S. McLaren, 72-91. LNTS 499. London: T&T Clark International, 2013.

and A. M. Smith, 'The Use of Isaiah 28:11-12 in 1 Corinthians 14:21'. In Religious Conflict from Early Christianity to Early Islam, edited by W. Mayer and B. Neil, 23-45. Arbeiten zur Kirchengeschichte. Berlin: De Gruyter, 2013.

The Abomination of Desolation in Matthew 24:15. London: T&T Clark International, 2012.

Jesus as New Moses in Matthew 8-9: Jewish Biographical Typology in First Century Greek Literature. New York: Gorgias Press, 2011.

'Multispectral Imaging of Greek Papyrus Fragments from Oxyrhynchus'. In Lire les papyrus du Nouveau Testament dans leur contexte, edited by C. Clivaz and J. Zumstein, 269-280. Bibliotheca Ephemeridum Theologicarum Lovaniensium. Leuven: Peeters, 2011.