Dr Michael Hanaghan
Research Fellow
Biblical and Early Christian Studies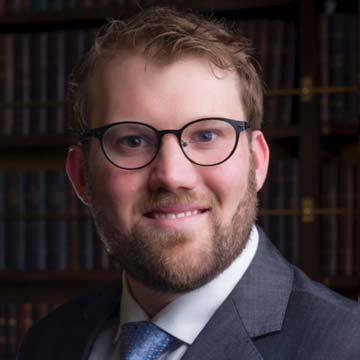 Areas of expertise: Latin epistolography; historiography; panegyric
ORCID ID: 0000-0002-5055-703X
Phone: +613 9953 3147
Email: michael.hanaghan@acu.edu.au
Location: ACU Melbourne Campus
Prior to joining ACU I was an Associate Lecturer in Classics at the University of Exeter (2016-2016), then an Irish Research Council Postdoctoral Fellow (2016-2018) and the principal investigator of an IRC funded project which examined the letters of Sidonius Apollinaris.
I completed my PhD in Classics and Ancient History at the University of Sydney in 2015, following a B.A (Advanced), B.A (Hons I), and Grad. Cert (Ancient World). I also hold a Postgraduate Certificate in Academic Practice (Exeter). I am a fellow of the Higher Education Academy (UK) and a Charlemont Scholar of the Royal Irish Academy.
My first monograph Reading Sidonius' Epistles, was published by Cambridge University Press in February 2019. I have published article length studies on epistolography, panegyric, and historiography with a particular focus on the Late Latin West. I am currently writing a monograph, which examines how Christian writers used the Classical tradition throughout Late Antiquity to critique Greco-Roman divinatory practice.
---
Select publications
Books
Reading Sidonius' Epistles, Cambridge University Press, 2019.
Journal articles
"Sidonius Apollinaris contra Claudianus Mamertus: Jerome, Julianus Pomerius, and the Subversion of Praise, Journal of Early Christian Studies (forthcoming)
"Competing at Otium? A Juxtaposed Reading of Sidonius' Baths," Journal of Late Antiquity (forthcoming 2020).
"Ammianus Marcellinus' Future Signs, A Historiographical Study." Historia: Zeitschrift für Alte Geschichte 68.2, 2019, pp. 233-255.
"Pliny's Epistolary Directions" Arethusa 51.2, 2018, 137-62.
"A Metaliterary Approach to Ursicinus' Outburst (Amm. Marc. 20.2.4)" Philologus, Zeitschrift für antike Literatur und ihre Rezeption 162.1, 2018, 115-136
"Note de lecteur: The Temporality of Seneca's Epistles" Latomus 76.1, 2017, 203-6.
"Avitus' Characterisation in Sidonius' Carm. 7." Mnemosyne 70.2, 2017, 262-280.
"Micro Allusions to Pliny and Virgil in Sidonius' Programmatic Epistles." International Journal of the Classical Tradition 24, no. 3, 2017, 249-61.
"Ammianus' Rainbows and Constantius' Fate" Hermes. Zeitschrift für Klassische Philologie 145.4, 2017, 445-57
"Latent Criticism of Anthemius and Ricimer in Sidonius' Epistula 1.5." Classical Quarterly 67.2, 2017, 631-49
Chapters
"Sidonius Apollinaris and the Making of an Exile Persona" in Mobility and Exile at the End of Antiquity, D. Rohmann, J. Ulrich and M. Vallejo Girvés (eds), Peter Lang, 2018, 259-272.
Reviews
"Review: R. Poignault and A. Stoehr-Monjou, Présence de Sidoine Apollinaire." Journal of Roman Studies 107, 2017, 466-8.
"Papers on Sidonius Apollinaris." Classical Review 65, no. 1, 2015, 163-165.
Projects
Accolades and awards
Charlemont Award, Royal Irish Academy (2018)
Dean's Citation for Teaching Excellence, University of Exeter (2016)
Australian Postgraduate Award, University of Sydney (2011-2014)
James Kentley Memorial Scholarship, University of Sydney (2013)
Appointments and affiliations
Research Fellow (Latin Christianity in Late Antiquity), Institute for Religion and Critical Inquiry, Australian Catholic University (September 2018 - ongoing)
Humboldt Research Fellowship, Goethe-Universität Frankfurt (2020)
Irish Research Council Postdoctoral Fellow, Department of Classics and Ancient History, University College Cork (October 2016 to September 2018)
Erasmus Teaching Exchange Fellow, Rijksuniversiteit Groningen (March 2017)
Associate Lecturer in Classics, Department of Classics and Ancient History, University of Exeter (September 2015 to September 2016)
Postdoctoral Research Assistant, Ancient North Africa Research Network, University of Sydney (July 2014-August 2015)
Editorial roles
Editorial Assistant: The Donatist Schism, Controversy and Contexts, R. Miles (ed.), Liverpool University Press, 2018.