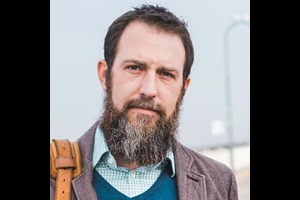 Associate Professor Matthew Crawford
Biblical and Early Christian Studies
BA (Union), MDiv (SBTS), PhD (Durham)

Matthew Crawford completed a PhD in the History of Christianity and Historical Theology in 2012 at Durham University, with a doctoral thesis examining the biblical exegesis and Trinitarian theology of the fifth-century bishop Cyril of Alexandria. A revised version of the thesis was published in 2014 in the series Oxford Early Christian Studies. From 2012 until 2015 he was employed as a postdoctoral researcher, also at Durham, on the project "The Fourfold Gospel and its Rivals," which was funded by a grant from the UK Arts and Humanities Research Council. In late 2015 he moved to Melbourne to begin a new post as Research Fellow in the Institute for Religion and Critical Inquiry. He has recently finished a monograph on the Canon Tables created by Eusebius of Caesarea for the fourfold gospel, which will be published in early 2019 by Oxford University Press. The book will focus especially on the origins of the paratextual system in classical literary scholarship, and on the reception of the marginal apparatus in the later Latin, Syriac, and Armenian traditions. In November 2017 he was awarded a Discovery Early Career Researcher Award from the Australian research Council. His DECRA project focuses on Cyril of Alexandria's treatise Contra Iulianum, and will result in an English translation produced together with Aaron Johnson and an accompanying monograph placing the work in the context of pagan and Christian interaction in fifth-century Alexandria. He also remains interested in Tatian, the second-century Roman Christian, as well as his gospel version (the so-called Diatessaron), and continues to produce articles related to these topics.
---
Key publications
Cyril of Alexandria's Trinitarian Theology of Scripture, Oxford Early Christian Studies. Oxford: OUP, 2014.

'The Diatessaron, Canonical or Non-canonical? Rereading the Dura Fragment', New Testament Studies 62 no. 2 (2016): 253-77.

'"Reordering the Confusion": Tatian, the Second Sophistic, and the so-called Diatessaron', Zeitschrift für Antikes Christentum 19 (2015): 209-36.

'Ammonius of Alexandria, Eusebius of Caesarea, and the Origins of Gospel Scholarship', New Testament Studies 61 (2015): 1-29.

'Reading the Diatessaron with Ephrem: The Word and the Light, the Voice and the Star', Vigiliae Christianae 69 (2015): 70-95.

'On the Diversity and Influence of the Eusebian Alliance: The Case of Theodore of Heraclea', Journal of Ecclesiastical History 64 (2013): 227-57. Winner of the 2013 Eusebius Essay Prize.