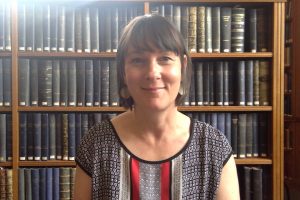 Dr Kylie Crabbe
Biblical and Early Christian Studies
kylie.crabbe@acu.edu.au
BA (Melb.), BTheol, AdvDipMin, MTheol (MCD), DPhil (Oxon.)

After undergraduate study in Psychology, Criminology, and Theology, and a Master of Theology in New Testament in Melbourne, I completed my doctorate at the University of Oxford.

I work in biblical and early Christian studies. My doctoral work focused on ancient writers' accounts of hope, discipleship, and politics. In particular, I was interested in how ancient writers portray the structuring of history—that is, how their understandings of the past inform their expectations for the future and their experience in the present. My forthcoming book Luke/Acts and the End of History (De Gruyter, 2019) considers these (much contested) themes in the New Testament texts Luke and Acts, in comparison with diverse contemporaneous texts, (five Jewish and five non-Jewish, spanning from the histories of Polybius, Diodorus Siculus, and Tacitus, to Virgil's Aeneid, Josephus's Jewish War, and 4 Ezra).

My current work in the "Texts, Traditions, and Early Christian Identities project" at ACU considers questions of impairment and identity in early Christian texts, with a focus on New Testament texts, Apocryphal Acts, early Christian apocalypses, and the Apostolic Fathers. I am also working on a smaller project which considers the intellectual and social context of post-war German biblical scholarship—particularly that of Hans Conzelmann, which continues to dominate Lukan scholarship.

I am an ordained Minister in the Uniting Church in Australia and was in congregational ministry in Melbourne prior to moving to Oxford. While at the University of Oxford I taught in a wide variety of New Testament and related areas, including Gospels, Pauline Literature, Second Temple Judaism, and biblical Greek.

I am available to supervise graduate students, and would welcome inquiries from students wishing to pursue research into the texts of the New Testament, their Graeco-Roman, Jewish, and early Christian literary environment(s), and the texts of Second Temple Judaism, as well as other hermeneutical approaches such as reception history, disability studies, or feminist interpretation. All prospective graduate students are strongly encouraged to contact me prior to submitting their application directly to the University.
---
Key publications
2017 'Luke/Acts and the End of History.' D.Phil. diss., The University of Oxford.

2016 'Accepting Prophecy: Paul's Response to Agabus with Insights from Valerius Maximus and Josephus.' Journal for the Study of the New Testament 39.2: 188-208.

2015 'Being Found Fighting Against God: Luke's Gamaliel and Josephus on Human Responses to Divine Providence.' Zeitschrift für die neutestamentliche Wissenschaft 106.1: 21-39.

2011 'A Sinner and A Pharisee: Challenge at Simon's Table in Luke 7:36-50.' Pacifica 24.3: 247-266.

2010 'Transforming Tables: Meals as Encounters with the Kingdom in Luke.' M.Theol. diss., Melbourne College of Divinity.

Encyclopedia entries

2017 'Lasea.' In Encyclopedia of the Bible and Its Reception. Edited by Allison, Helmer, Schröter, Römer, Seow, Walfish, and Ziolkowski. Berlin/Boston: De Gruyter; vol. 15: 830.

'Lystra.' In Encyclopedia of the Bible and Its Reception. Edited by Allison, Helmer, Schröter,Römer, Seow, Walfish, and Ziolkowski. Berlin/Boston: De Gruyter; vol. 16.

Forthcoming

2018 'Gospels and Acts.' In The Biblical World. Revd. ed. Edited by Katharine Dell. Routledge, Taylor & Francis.