Dr Alison Fitchett-Climenhaga
Research Fellow
Religion and Theology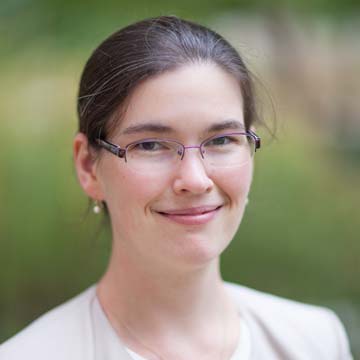 Areas of expertise: Christianity in Africa (especially 19th C-present); world Christianity; missiology/mission history; Pentecostal-charismatic Christianity; lay formation and leadership; popular devotions; religion and healing; religion, conflict, and peacebuilding; interreligious engagement; women and religion.
Phone: +61 3 9230 8132
Email: alison.fitchettclimenhaga@acu.edu.au
Location: ACU Melbourne Campus
Ph.D. (University of Notre Dame, World Religions/World Church), M.T.S. (University of Notre Dame, Systematic Theology), B.A. (Messiah College, Humanities/Peace and Conflict Studies)
Utilizing ethnographic, archival, and oral history methods, I specialize in the history and contemporary practice of Christianity in eastern Africa, especially among Catholic communities in Uganda and Rwanda.
My current book project, Networks of Devotion, Landscapes of Faith: Catholic Charismatic Movements in Western Uganda analyzes how Catholic charismatic lay associations form and sustain different styles of Catholic practice, contributing to internal differentiation of the Catholic tradition at both local and global levels. Drawing on extensive ethnographic and archival research in Uganda, I compare the ritual life, institutional structures, and outreach practices of two different Catholic associations devoted to the Holy Spirit in Uganda, one transnational and the other regional. I argue that the two associations' healing ministries, organizational cultures, and devotional habits nurture contrasting sensibilities about the nature and scope of ecclesial participation and belonging, offering insight into the informal ecclesiologies that animate global Catholic practice.
More broadly, my work explores how devotional practices and healing ministries interact with development efforts and contribute to post-conflict social reconciliation in Uganda and Rwanda. My research also examines gendered patterns of religious practice and leadership in eastern Africa and women's history in the region, including a project investigating the history of Catholic women religious in Rwanda.
---
Select publications
Edited Book

(forthcoming 2021) Kirsteen Kim, Knud Jørgensen and Alison Fitchett-Climenhaga, eds. The Oxford Handbook of Mission Studies (under contract with OUP)

Peer-Reviewed Articles

2018 "Pursuing Transformation: Healing, Deliverance, and Discourses of Development among Catholics in Uganda," Mission Studies 35, no. 2: 204-224.
2014 "Heathenism, Delusion, and Ignorance: Samuel Crowther's Approach to Islam and Traditional Religion," Anglican Theological Review 96, no. 4: 661-681.

Book Chapters

(forthcoming 2020) "Ajayi Crowther." In Christian-Muslim Relations. A Bibliographic History, Africa (1800-1914), edited by David Thomas and John Chesworth et al. (Leiden: Brill, forthcoming).
2014 "The Huei tlamahuiçoltica: Responding to Pastoral Challenges in Light of Our Lady of Guadalupe," in New Frontiers in Guadalupan Studies, edited by Virgilio Elizondo and Timothy Matovina (Eugene, OR: Pickwick Publications), 65-88..
Accolades and awards
Kellogg Institute for International Studies (2017- 2018)
Society for the Scientific Study of Religion, Student Research Award (2017)
Andrew W. Mellon Foundation Grant for Religion Across the Disciplines (2016)
Kellogg Institute for International Studies, Graduate Research Grants (2016)
Institute for Scholarship in the Liberal Arts, Graduate Student Research Award (2016)
Editorial roles
American Society of Missiology Scholarly Monograph Series Editorial Committee