Giving at-risk adolescents skills to navigate life's journey and make a difference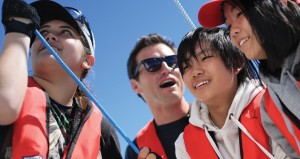 This project aims to investigate how to keep able, but disadvantaged, youth engaged in school and give them the psychological tools they need to succeed. It proposes a randomised control and extended baseline control testing of a combined personal coaching and outdoor education (sailing) program. This is designed to foster positive psychological outcomes by developing goal strategies, resilience, self-regulation, and hope.
The study aims to be extensive and novel, capturing the experiences of not just the participants but their peers, parents, teachers, and alumni mentors. Both traditional survey and experience sampling data will be collected.
Media Enquiries
Team Leader
Researchers
Professor Herb Marsh, Professor Joseph Ciarrochi, Dr Philip Parker, Professor Felicia Huppert, Dr Travis Kemp
Start Date
1 July 2014
End Date
30 June 2017
Funding Body
ARC Linkage Grant and The Helmsman Project Limited
---
Download Fact Sheet (PDF, 834KB)