Professor Claire Wyatt-Smith
Institute Director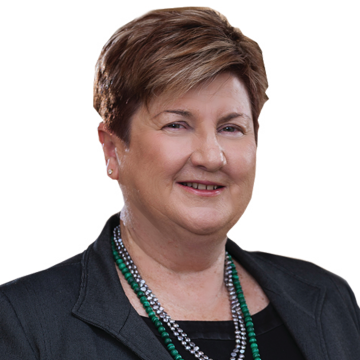 Areas of expertise: assessment standards; initial teacher education; assessment and learning analytics; human judgment and moderation practice; language and literacy education; digital assessment
ORCID: 0000-0003-1190-9909
Email: claire.wyatt-smith@acu.edu.au
Location: ACU Brisbane Campus
Claire Wyatt-Smith is the Director of the Institute for Learning Sciences and Teacher Education at the Australian Catholic University and Professor of Educational Assessment and Literacy. Her research addresses standards and the use of professional judgements to improve learning and the role of digital technologies in educational assessment and evaluation.
She is currently leading a large scale study of reform in initial teacher education involving 14 Australian Higher Education Institutes as partners in the study spanning six states and territories. She is also undertaking major studies into the teaching of writing, large scale standardised testing and the impact of new technologies on classroom learning.
Current work includes a review of NAPLAN involving Queensland, New South Wales, Victoria and the Australian Capital Territory. Other work includes research on digital learning assessment, big data and learning analytics. Outcomes from this include the UNESCO paper on digital learning assessment, big data and learning analytics.
Her work has attracted funding from the Australian Research Council (Discovery and Linkage Schemes), and governments at national and state levels, as well as international educational agencies. This funding has supported her extensive publications in leading international journals and publishing houses including Routledge, Sage and Springer. She is the Foundation Editor of two book series with Springer Publishing in the fields of educational assessment and teacher education: Teacher Education, Learning Innovation and Accountability (2018) and The Enabling Power of Assessment (2014). A further book titled A Performance Assessment, Standards and Evidence: Professionalising Teacher Education and Teaching is in preparation (Routledge).
Claire enjoys collaborations with a wide range of Universities and educational authorities including the National Council for Curriculum and Assessment, Ireland and Hong Kong University, working in the Faculties of Education and Dentistry.
---
Select Publications
Authored monographs
Wyatt-Smith, C., Adie, L., Haynes, M. & Day, C. (in preparation). Performance assessment, standards and evidence: Professionalising teacher education and teaching. London, England: Routledge.
Klenowski, V., & Wyatt-Smith, C. M. (2014). Assessment for education: Standards, judgement and Moderation. London, England: Sage.
Edited books
Wyatt-Smith, C., & Adie, L. (Eds.). (2018). Innovation and accountability in teacher education: Setting directions for new cultures in teacher education. Singapore: Springer.
Wyatt-Smith, C., Klenowski, V., & Colbert, P. (Eds.). (2014). Designing assessment for quality learning. Foundation book in the series: The enabling power of assessment. Dordrecht, The Netherlands: Springer.
Selected publications
Wyatt-Smith, C. & Adie, L. (2019). The development of students' evaluative expertise: Enabling conditions for integrating criteria into pedagogic practice. Journal of Curriculum Studies. doi:10.1080/00220272.2019.1624831
Wyatt-Smith, C., & Klenowski, V. (2013). Explicit, latent and meta–criteria: Types of criteria at play in professional judgement practice. Assessment in Education: Principles, Policy and Practice, 20(1), 35–52.
Wyatt-Smith, C. M., Klenowski, V., & Gunn, S. (2010). The centrality of teachers' judgement practice in assessment: A study of standards in moderation. Assessment in Education: Principles, policy & practice, 17(1), 59–75.
Wyatt-Smith, C., & Adie, L. (2018). Assessment: The trilogy of standards, evidence and judgement in Australian education reform. In A. Reid, & D. Price (Eds.), The Australian Curriculum: Promises, problems and possibilities (pp. 163–176). Canberra, Australia: Australian Curriculum Studies Association.
Wyatt-Smith, C., & Looney, A. (2016). Professional standards and the assessment work of teachers. In D. Wise, L. Hayward, & J. Pandya (Eds.), The SAGE handbook of curriculum, pedagogy and assessment (pp. 805–820). London, England: Sage.
Projects
Selected studies with ARC funding
2018-2021, Australian Research Council, Linkage Scheme: Adie, L., Wyatt-Smith, C., Humphry, S., Cumming, J., Andrich, D., DeLuca, C., & Gallagher, T., Improving teacher assessment capability using scaled annotated exemplars of achievement standards in online moderation. $858,658
2015-2018, Australian Research Council, Discovery Scheme: Cumming, J., Wyatt-Smith, C.M., Dickson, E., Webster, A., Harris, K., & Graham, S., Raising the Bar not the Barrier: Effective, Enriching and Enabling School-Based Assessments and Optimal Adjustments for Secondary School Students with Disabilities. $310,900
2011-2014, Australian Research Council, Discovery Scheme: Ng, C., Wyatt-Smith, C. M., & Bartlett, B., Improving disadvantaged students? Reading outcomes through overcoming reading avoidance and building reading engagement. $492,725
2011-2013, Australian Research Council, Discovery Scheme: Cumming, J. J., & Wyatt-Smith, C. M., An investigation of school and teacher use of National Assessment Program Literacy and Numeracy (NAPLAN) for student learning improvement. $230,000
2011-2013, Australian Research Council, Linkage Scheme: Mayer, D., Doecke, B., Dixon, M., Kostogriz, A., Allard, A. C., White, S. J., Walker Gibba, B. M., Rowan, L. O., Wyatt-Smith, C. M., & Bates, R. J., Investigating the effectiveness of teacher education for early career teachers in diverse settings: a longitudinal study. Industry Partners: Queensland College of Teachers, Queensland Department of Education and Training, Victorian Department of Education and Early Childhood Development, Victorian Institute of Teaching. $293,000
Selected industry funded studies
2019, New South Wales Education: Wyatt-Smith, C., NAPLAN Review.
2019, United Nations Educational, Scientific and Cultural Organization (UNESCO): Wyatt-Smith, C., & Lingard, B., Digital Learning Assessments and Big Data. €6,000
2019, Australian Curriculum, Assessment and Reporting Authority (ACARA): Wyatt-Smith, C., Review and evaluate the current writing assessment marking rubrics in National Assessment Program – Literacy and Numeracy (NAPLAN). $50,000
2019, Victorian Department of Education and Training, Wyatt-Smith, C., Adie, L., & Du Plessis, A., Guiding principles for curriculum supports. $50,000
2018, Australian Research Council, Linkage Scheme (LP180100046): Adie, L., Wyatt-Smith, C., Humphry, S., Cumming, J., Andrich, D., DeLuca, C., & Gallagher, T., Improving teacher assessment capability using scaled annotated exemplars of achievement standards in online moderation. Industry partners: Queensland Department of Education and Training, Western Australia School Curriculum and Standards Authority, Catholic Education Office of Western Australia, Queen's University, Kingston. $922,132
2017, Australian Institute for Teaching and School Leadership (AITSL), Teaching Performance Assessment Grant Program: Wyatt-Smith, C., Nuttall, J., Cumming, J., & Adie, L., Building an evidence base of teacher quality and classroom readiness: A focus on teaching performance assessments. (The Standards Project: Graduate Teacher Performance Assessment (GTPA) Trial). $350,000. See video
2016, Queensland Department of Education and Training (Education Horizon) & Queensland Department of Education and Training (State Schools – Performance Division): Wyatt-Smith, C., Cumming, J., Unsworth, L., Humphrey, S., Adie, L., Neville, M., & Jackson, C., Research Partnerships and Improvement Science: Using data to inform the teaching of writing and assessment. $170,000
Accolades and Awards
ACU Vice-Chancellor's Staff Excellence Medal Winner: Excellence in research and research partnerships, 2018
Australian Council for Educational Leaders, Queensland Honorary Fellowship Award, 2015
Research Excellence Award, Griffith University Griffith University, Arts, Education and Law Faculty Group, 2012
Appointments and Affiliations
Director, Institute for Learning Sciences & Teacher Education (formerly Learning Sciences Institute Australia), Australian Catholic University, 2014 -
Executive Dean, Faculty of Education and Arts, Australian Catholic University, 2013 - 2014
Group Dean (Academic) Arts, Education and Law Group, Griffith University, 2010 – 2013
Dean, Faculty of Education, Griffith University, 2006 – 2010