We're here to help you connect with students, academics and industry partners.
Contact us at ACU Catalyst to discuss partnership opportunities.
Meet our team

Professor Myriam Amielh
Dean, Innovation and Industry Engagement
Professor Myriam Amielh is Australian Catholic University's inaugural Dean, Innovation & Industry Engagement, having commenced this role in February 2021. With deep understanding of and numerous engagements with industry over her career, Professor Amielh is planning and implementing extensive industry engagement strategies across ACU.
Professor Amielh has worked in senior roles in the Higher Education sector in Australia since 2016, and prior to this held leading roles in Research and Development for the commercial sector. Professor Amielh holds a PhD and Masters in Computer Sciences and Mathematics, which she studied in France and Canada.
Career highlights include the establishment of UTS' prototyping unit (UTS Rapido), which has delivered research translation to multiple UTS industry partners, and the creation of the Wanago program to address STEM gaps for over twenty NSW High Schools. Professor Amielh also coordinated the development of UTS' strategy for 'Precinct, partners and community', delivered new Work-Integrated-Learning programs as well as a large industry and government consortium for future secure research facilities in NSW. Additionally, Professor Amielh is credited with the creation of numerous patents, through leading teams in both Philips and Canon.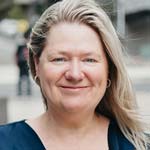 Angela Burke
Innovation and Industry Manager
Angela Burke currently provides strategic and managerial support to ACU's inaugural Dean, Innovation and Industry Engagement. Angela joined ACU in 2012, in the Office of the Provost and has contributed to a number of Provost-led initiatives, including establishing and operating the ACU Rome Campus and ACU Brisbane Leadership Centre and many large projects spanning all Faculties and Directorates. Angela holds a BA, (Communication - Theatre/Media) from Charles Sturt University, and has background in providing high level executive support to Company Directors in the market research, human resources, insurance and property industries.

Stefan Orfanos
Administrative Assistant
Stefan Orfanos has extensive ties within the ACU Community. Not only as a student undertaking a Bachelor of Psychological Sciences & Bachelor of Laws on the Melbourne campus, but also in his various co-curricular roles. Stefan has developed a strong passion for leadership and service as the President of the St Patrick's Psychology Society and the President of ACU Cheerleading Melbourne. He assists the Innovation and Industry Engagement team in a part-time role as an Administrative Assistant, where he is driven to give back for the support and opportunities that ACU has provided him. Stefan is motivated in delivering a service to enrich ACU's services and curriculum.

Lara Al Amri
Administrative Assistant
Lara Al Amri is a student undertaking a Bachelor of Business Administration at ACU North Sydney and she works part-time as an Administrative Assistant in Innovation & Industry Engagement, where she has been able to build on her skill set and tap into her creativity. Lara has a plethora of experience connecting to audiences over social media and brings these skills to the Innovation and Industry Engagement team to connect ACU with potential industry partners via various social media platforms.