Professor Shona Halson
Deputy Director & Recovery Program Lead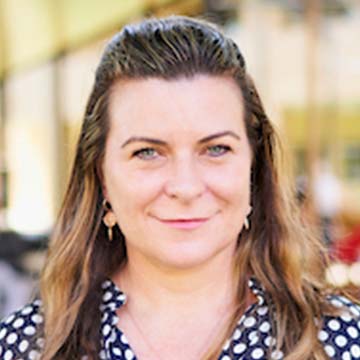 Areas of expertise: sleep; recovery; overtraining; jetlag
HDR Supervisor accreditation status: Full
ORCID ID: 0000-0002-1047-3878
Email: shona.halson@acu.edu.au
Location: ACU Brisbane Campus
Professor Shona Halson from ACU's School of Behavioural and Health Sciences has been a mainstay of Australia's high performance sport network. She was the Head Recovery Physiologist at the Australian Institute of Sport from 2002 to 2018 and has been a part of three Olympic campaigns with the Australian Olympic Committee. Professor Halson was named as one of Exercise and Sport Science Australia's three Female Leaders in Exercise and Sports Science on International Women's Day 2019. Her research focuses on recovery, fatigue and sleep and she has published over 130 peer-reviewed articles and multiple book chapters. Shona has a particular interest in maximising recovery and monitoring and improving sleep in elite athletes. Shona is an Editor for the International Journal of Sports Physiology and Performance, is co-chair of Exercise and Sport Science Australia's (ESSA) Research to Practice 2020/2021 Conference and is a member of ESSA's Research Committee. Shona also provides consultancy services to the Australian Open Tennis Tournament and Nike as part of the Nike Performance Council and she is a trusted advisor to countless elite teams and athletes both in Australia and internationally.
---
Select publications
Sleep and the athlete: narrative review and 2021 expert consensus recommendations. Walsh NP, Halson SL, Sargent C, Roach GD, Nédélec M, Gupta L, Leeder J, Fullagar HH, Coutts AJ, Edwards BJ, Pullinger SA, Robertson CM, Burniston JG, Lastella M, Le Meur Y, Hausswirth C, Bender AM, Grandner MA, Samuels CH.Br J Sports Med. 2020 Nov 3. doi: 10.1136/bjsports-2020-102025.
The Challenge of Maintaining Metabolic Health During a Global Pandemic. King AJ, Burke LM, Halson SL, Hawley JA. Sports Med. 2020 Jul;50(7):1233-1241. doi: 10.1007/s40279-020-01295-8.32449141
How to manage travel fatigue and jet lag in athletes? A systematic review of interventions. Janse van Rensburg DCC, Jansen van Rensburg A, Fowler P, Fullagar H, Stevens D, Halson S, Bender A, Vincent G, Claassen-Smithers A, Dunican I, Roach GD, Sargent C, Lastella M, Cronje T.Br J Sports Med. 2020 Apr 17:bjsports-2019-101635. doi: 10.1136/bjsports-2019-101635.
Changes in subjective mental and physical fatigue during netball games in elite development athletes. Russell S, Jenkins D, Halson S, Kelly V. J Sci Med Sport. 2019 Dec 23. pii: S1440-2440(19)31358-1. doi: 10.1016/j.jsams.2019.12.017.
Sleep Monitoring in Athletes: Motivation, Methods, Miscalculations and Why it Matters. Halson SL. Sports Med. 2019 May 15. doi: 10.1007/s40279-019-01119-4.
An Integrated, Multifactorial Approach to Periodization for Optimal Performance in Individual and Team Sports. Mujika I, Halson S, Burke LM, Balagué G, Farrow D. Int J Sports Physiol Perform. 2018 May 1;13(5):538-561. doi: 10.1123/ijspp.2018-0093.
Development of the athlete sleep behavior questionnaire: A tool for identifying maladaptive sleep practices in elite athletes. Driller MW, Mah CD, Halson SL. Sleep Sci. 2018 Jan-Feb;11(1):37-44. doi: 10.5935/1984-0063.20180009.
Recovery and Performance in Sport: Consensus Statement. Kellmann M, Bertollo M, Bosquet L, Brink M, Coutts AJ, Duffield R, Erlacher D, Halson SL, Hecksteden A, Heidari J, Kallus KW, Meeusen R, Mujika I, Robazza C, Skorski S, Venter R, Beckmann J. Int J Sports Physiol Perform. 2018 Feb 1;13(2):240-245.
Prevalence of illness, poor mental health and sleep quality and low energy availability prior to the 2016 Summer Olympic Games. Drew M, Vlahovich N, Hughes D, Appaneal R, Burke LM, Lundy B, Rogers M, Toomey M, Watts D, Lovell G, Praet S, Halson SL, Colbey C, Manzanero S, Welvaert M, West NP, Pyne DB, Waddington G. Br J Sports Med. 2018 Jan;52(1):47-53.
Trommelen J, Kouw IWK, Holwerda AM, Snijders T, Halson SL, Rollo I, Verdijk LB, van Loon LJC. Pre-sleep dietary protein-derived amino acids are incorporated in myofibrillar protein during post-exercise overnight recovery. Am J Physiol Endocrinol Metab. 2017 May 23:ajpendo.00273.2016. doi: 10.1152/ajpendo.00273.2016.
Martin K, Staiano W, Menaspà P, Hennessey T, Marcora S, Keegan R, Thompson KG, Martin D, Halson S, Rattray B. Superior Inhibitory Control and Resistance to Mental Fatigue in Professional Road Cyclists. PLoS One. 2016 Jul 21;11(7):e0159907. doi: 10.1371/journal.pone.0159907. eCollection 2016.
Sargent C, Lastella M, Halson SL, Roach GD. The validity of activity monitors for measuring sleep in elite athletes. J Sci Med Sport. 2015 Dec 12.
Nédélec, M, Halson, S.L, Abaidia, A. Ahmaidi, S, Dupont, G. Sleep Hygiene and Recovery Strategies in Elite Soccer Players. Sports Medicine. 2015 Nov;45(11):1547-59.
Sargent C, Lastella M, Halson SL, Roach GD. The impact of training schedules on the sleep and fatigue of elite athletes. Chronobiol Int. 2014 Sep 15:1-9.
Halson SL. Monitoring Training Load to Understand Fatigue in Athletes. Sports Med. 2014 Sep 9.
Projects
2021 – 2022 – Innovations Connections Grant - $ 100 000
2021 – 2023 – Australian Institute of Sport - $ 250 000
2021-2023 – Queensland Academy of Sport – $83 000
2014- 2016- PepsiCo- Nutrition and Sleep. $120,000
2014- 2016- Australian Sports Commission- Neurophysiology of the elite athlete $30,000
2012- 2018- 2XU- Investigating compression in elite athletes- $60,000 per year
2011- 2013- Australian Sports Commission BIG IDEA GRANT. Enhancing Sleep in Athletes- $135,000
2011- 2013- Australian Sports Commission/ Victoria University. Enhancing Recovery in Athletes- $50,000
2009- 2012- ARC Grant- Sleeping for Gold (UniSa and AIS)- $275,000
2002- 2014- General and Collaborative Research Grants- Australian Sports Commission- Combined $150,000+
Accolades and awards
Exercise and Sport Science Australia (ESSA) Female Scientist of the Year 2019
European College of Sport Science (ECSS) Young Investigator Award 2005
American College of Sports Medicine International Student Award 2002
Appointments and affiliations
Australian Institute of Sport
2002- 2018 Senior Physiologist/ Head of Discipline
Australian Olympic Team
Recovery Coordinator Beijing Olympics 2008
Recovery Director London Olympic Games 2012
Recovery Lead Rio 2016
Editorial roles
International Journal of Sports Physiology and Performance
2010-current
Associate editor
European Journal of Sports Science
2005-2008
Section Editor-Sport
International journal review panel
British Journal of Sports Medicine
Nutrients
Sports Medicine
International Journal of Sports Performance and Physiology
Medicine and Science in Sports and Exercise
Public engagement
Gatorade Sport Science Institute
Member of Inaugural GSSI Expert Panel (GSSIXP)
Sleep, Nutrition and Recovery
Member of GSSI Expert Panel (GSSIXP)
Monitoring in Athletes
Nike
Australian Open Tennis Tournament
Recovery Consultant 2019, 2020, 2021
British Journal of Sports Medicine Podcast