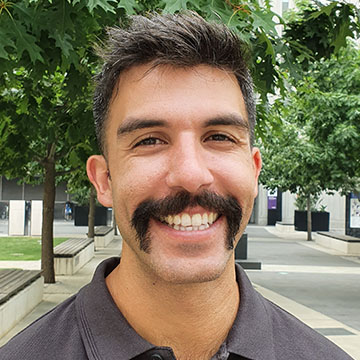 Dr Paul Tofari
Lecturer
Sports Performance, Recovery, Injury and New Technologies (SPRINT) Research Centre
Areas of expertise: fatigue; strength and power profiling; exercise testing and prescription.
Phone: +61 3 9230 8272
Email: paul.tofari@acu.edu.au
Location: ACU Melbourne Campus
HDR Supervisor accreditation status: Provisional
ORCID ID: 0000-0002-5498-4557
Dr Paul Tofari completed his honours' research in collaboration with the Victorian Institute of Sport and their cycling programs. This included providing sports science support at state and national competitions and training camps.
He received his PhD from ACU in 2018 for his thesis, The fatigue response following a team-sport match simulation and continues to publish work related to his PhD. Dr Tofari is also involved in other research projects at ACU in a supervisory capacity.
He is a Level 2 Australian Strength and Conditioning Association coach and holds a Level 1 Australian Weightlifting Federation coaching accreditation. He has a particular interest in strength and power training and assessment, providing consulting services to external clients through ACU.
Select publications
Tofari, P. J., McLean, B. D., Kemp, J., & Cormack, S. (2015). A Self-Paced Intermittent Protocol on a Non-Motorised Treadmill: A Reliable Alternative to Assessing Team-Sport Running Performance. Journal of Sports Science & Medicine, 14(1), 62. http://www.ncbi.nlm.nih.gov/pmc/articles/PMC4306784/
Edwards, R. B., Tofari, P. J., Cormack, S. J., & Whyte, D. G. (2017). Non-motorized Treadmill Running Is Associated with Higher Cardiometabolic Demands Compared with Overground and Motorized Treadmill Running. Frontiers in Physiology, 8, 914. https://doi.org/10.3389/fphys.2017.00914
Tofari, P.J., Opar, D., Kemp, J., Billaut, F., & Cormack, S. (2016). Reliability of measures of quadriceps muscle function using magnetic stimulation. Muscle and Nerve. 53(5), 770-778. https://doi.org/10.1002/mus.24926
Tofari, P. J., Kemp, J. G., & Cormack, S. J. (2018). Self-Paced Team-Sport Match Simulation Results in Reductions in Voluntary Activation and Modifications to Biological, Perceptual, and Performance Measures at Halftime and for up to 96 Hours Post match. The Journal of Strength & Conditioning Research, 32(12), 3552-3563. https://doi.org/10.1519/JSC.0000000000001875
Projects
The Impact of Mental Fatigue on Strength and Power Performance
The Use of GPS-Imbedded Triaxial Accelerometers for Measuring Stride Parameters and Vertical Stiffness
Assessing Central and Peripheral Neural Function of The Hamstrings Using Transcranial Magnetic Stimulation
Neural consequences of hamstring strain injury and rehabilitation
Accolades and awards
DSTO Divisional Award for Best Research – Physical Employment Standards project (2013)
Australian Catholic University Post-Graduate Award (2013-2015)
Appointments and affiliations
Applied experience/roles
Human Performance Scientist – Defence Science Group (2009 – 2013)
Sports Scientist (Cycling) – Victorian Institute of Sport (2007 – 2008)
Current and prior consultancy roles
AirServices Australia (2021 – ongoing)
Victoria Police – Special Operation Group (2019 – 2020)
Strength and power profiling (ongoing)

Tennis Australia
Motorsport

Malaysian Track Cycling Team - Sports Science Consulting and Resistance Training Programming (2015 – 2018)