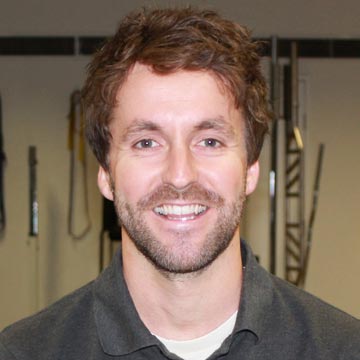 Dr Jack Hickey
Lecturer, School of Behavioural and Health Sciences, SPRINT Research Centre
Areas of expertise: hamstring strain injury; exercise rehabilitation; clinical assessment; objective strength testing; return to sport
Phone: +61 03 9953 3038
Email: jack.hickey@acu.edu.au
Location: ACU Melbourne Campus
HDR Supervisor accreditation status: Provisional
ORCID ID: 0000-0003-2764-698X
Dr Jack Hickey is a member of the SPRINT Research Centre Injury Program and lecturer in exercise science/exercise physiology at ACU, Melbourne. Between 2015 and 2018, Dr Hickey completed his PhD thesis, Hamstring strain injury: objective assessment tools and exercise-specific progression criteria during pain-threshold rehabilitation, at ACU under the supervision of Dr David Opar. He was awarded the Exercise and Sports Science Australia (ESSA) Medal in 2018 for the most outstanding PhD thesis in the field of exercise and sports science and his research has received several other awards, including the prestigious ASICS medal for the best overall paper at the 2017 Sports Medicine Australia Conference.
In addition to research, Dr Hickey has been an ESSA Accredited Exercise Physiologist (AEP) since 2012, working in a range of private practice settings, specialising in musculoskeletal and sports injury assessment and rehabilitation. Dr Hickey continues to practice as an AEP through the ACU Exercise Lifestyle Clinic, consulting to athletes with sports injuries and patients recovering from surgery. This consultancy compliments his ongoing research interests, which are focussed on developing clinically relevant assessment tools and optimising exercise rehabilitation strategies to improve outcomes for injured individuals.
Select publications
Opar DA, Timmins RG, Behan FP, Hickey JT, van Dyk N, Price K, Maniar N. Is pre-season eccentric strength testing during the Nordic hamstring exercise associated with future hamstring strain injury? A systematic review and meta-analysis. Sports Med. 2021. DOI: 10.1007/s40279-021-01474-1.
Hickey JT, Timmins RG, Maniar N, Rio E, Hickey PF, Pitcher CA, Williams, Opar DA. Pain-free versus pain-threshold rehabilitation following acute hamstring strain injury: a randomized controlled trial. Journal of Orthopaedic and Sports Physical Therapy. 2020;50(2):91-103
Hickey JT, Hickey PF, Maniar N, Timmins RG, Williams MD, Pitcher CA, Opar DA. A novel apparatus measuring knee flexor strength during various hamstring exercises: A reliability and retrospective injury study. Journal of Orthopaedic and Sports Physical Therapy. 2018;46(2):72-80
Hickey JT, Timmins RG, Maniar N, Williams MD, Opar DA. Criteria for progressing rehabilitation and determining return-to-play clearance following hamstring strain injury: A systematic review. Sports Medicine. 2017;47(7):1375-87
Opar DA, Williams MD, Timmins RG, Hickey J, Duhig SJ, Shield AJ. Eccentric Hamstring Strength and Hamstring Injury Risk in Australian Footballers. Medicine & Science in Sports & Exercise. 2015; 47(4):857-65
Hickey J, Shield AJ, Williams MD, Opar DA. The financial cost of hamstring strain injuries in the Australian Football League. British Journal of Sports Medicine. 2014;48(8):729-730.
Projects
2019 to present: Investigator and co-recipient of a $10,000 ACU Faculty of Health Science project grant titled "Hamstring neuromechanics during rehabilitation exercises".
Accolades and awards
2018 ESSA Medal Winner for the most outstanding PhD thesis submitted by an ESSA member in the field of exercise and sports science
2018 Young Investigator Award for Sports Science at the ESSA Research to Practice Conference
2017 ASICS Medal Winner for best overall paper at the Sports Medicine Australia Conference
2017 Best New Investigator in Clinical Sports Medicine at the Sports Medicine Australia Conference
2015 – 2018 Research Training Scholarship recipient from the Australian Government
2008, 2009 and 2010 Top Student in the Bachelor of Applied Science (Human Movement) program at RMIT University.
Appointments and affiliations
Applied experience/roles
Clinical experience as an AEP working across a variety of private practice settings since 2012, specialising in assessment and exercise rehabilitation for individuals with musculoskeletal conditions, sports injuries and recovering from orthopaedic surgery.
Current and prior consultancy roles
Hamstring injury assessment, rehabilitation and prevention consultancy to elite athletes from various sporting teams/organisations including the AFL, Australian Winter Olympic Institute, Cricket Australia and the NRL.