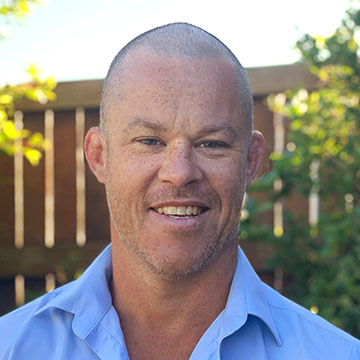 Dr Grant Duthie
Senior Lecturer
Sports Performance, Recovery, Injury and New Technologies (SPRINT) Research Centre
Areas of expertise: micro-technology in team sport; athlete assessment; data analytics; sports analytics; team sport player tracking
HDR Supervisor accreditation status: Full
Phone: +61 2 9701 4750
Email: grant.duthie@acu.edu.au
Location: ACU Strathfield Campus
ORCID ID: 0000-0001-5920-0363
Dr Grant Duthie is a senior lecturer at ACU Strathfield, joining the School of Behavioural and Health Sciences in 2016 after a 15-year career in elite sport. He has held numerous roles across a range of sports, and consults to several sporting organisations. Dr Duthie specialises in the analysis of team sport player tracking data. He completed his PhD in Exercise Physiology at the University of Queensland (UQ) in 2004; prior to this undertaking his undergraduate Bachelor of Applied Science (Human Movement) at The University of Ballarat.
Dr Duthie teaches sport and exercise science in the undergraduate program, specifically coordinating functional anatomy and the science and practice of resistance training at ACU's Strathfield Campus. In addition, he also coordinates the Contemporary Issues in Sport Science, and the Data Analysis for High Performance Sport units within the Master of High Performance Sport course. Dr Duthie is currently supervising five PhD Students undertaking research in a wide variety of sport science and strength and conditioning projects.
Dr Duthie has previously worked in strength and conditioning roles within elite sport. Most notable was being a strength and conditioning coach at the 2000 Sydney Olympics and later working in both professional Rugby League and Rugby Union at a national and international level. More recently, he has provided athletic performance guidance for the Japan Rugby Union. He is also the lead data analysis for the Federation Internationale de Football Association (FIFA) Electronic Player Tracking System validation project. Further, Dr Duthie also consults to several sporting organisations, national and international, to provide assistance in the analysis, management, and visualisation of data.
Select publications
Delves, R. I. M., Duthie, G. M., Ball, K. A., Aughey, R. J. (2022). Applying common filtering processes to Global Navigation Satellite System-derived acceleration during team sport locomotion. Journal of Sports Sciences
Gregory. S., Robertson, S., Aughey, R., & Duthie, G. M. (2022). The influence of tactical and match context on player movement in football. Journal of Sports Sciences.
Delves, R. I. M., Thornton, H. R., Hodges, J., Cupples, B., Ball, K., Aughey, R., & Duthie. G. M. (2022). The introduction of the six-again rule has increased acceleration intensity across all positions in National Rugby League competition. Science and Medicine in Football.
Aughey, R. J., Ball, K., Robertson, S. J., Duthie, G. M., Serpiello, F. R., Evans, N., Spencer, B., Ellens, S., Cust, E., Haycraft, J., & Billingham, J. (2022). Comparison of a computer vision system against three‑dimensional motion capture for tracking football movements in a stadium environment. Sports Engineering 25:2
Delaney, J. A., McKay, B. A., Radcliffe, J., Benton, D. T., Samozino, P., Morin, J. B., & Duthie, G. M. (2021). Uphill sprinting load and force velocity profiling assessment and potential applications. Journal of Sports Science.
Duthie, G. M., Thornton, H. R., Robertson, S. J. (2021). A GNSS-based method to define athlete manoeuvrability in field-based team sports. Plos One
Delves, R. I. M., Aughey, R. J., Ball, K., Duthie, G. M. (2021). The Quantification of Acceleration Events in Elite Team Sport: a Systematic Review. Sports Med - Open 7, 45
Crang, Z.L., Duthie, G. M, Cole, M.H., Weakley, J., Hewitt, A., Johnston, R. J. (2021). The Validity and Reliability of Wearable Microtechnology for Intermittent Team Sports: A Systematic Review. Sports Med 51, 549–565
Thornton, H. R., Armstrong, C. R., Rigby, A., Minahan, C. L., Johnston, R. D., & Duthie, G. M. (2020). Preparing for an Australian Football League Women's League Season. Frontiers in Sports and Active Living, 2, 216.
Thornton, H. R., Armstrong, C. R., Gamble, T., Rigby, A., Johnston, R. D., & Duthie, G. M. (2020). Quantifying the Movement Characteristics of Australian Football League Women's Competition. Journal of Strength and Conditioning Research.
Blair, S., Robertson, S., Duthie, G. M., & Ball, K. (2020). Biomechanics of accurate and inaccurate goal-kicking in Australian football: Group-based analysis. Plos one, 15(11)
Duthie, G. M., Delaney, J. A., Thornton, H. R., McMahon, J, A., Benton, D. T. (2020). Relationship between physical performance testing results and peak running intensity during professional rugby league match play. Journal of Strength and Conditioning Research
Johnston, R. D., Thornton, H. R., Wade, J. A., Devlin, P., Duthie, G. M. (2020). The distribution of match activities relative to the maximal mean intensities in professional rugby league and Australian football. The Journal of Strength and Conditioning Research.
Graham, S., Zois, J., Aughey, R., Duthie, G. M. (2020). The peak player load™ of state-level netball matches. Journal of Science and Medicine in Sport. 23(2). 189-193
Johnston, R. D., Hewitt, A., Duthie, G. M. (2020). Validity of real-time ultra-wideband global navigation satellite system data generated by a wearable microtechnology unit. The Journal of Strength and Conditioning Research.
Duthie, G. M., Thomas, E. J., Bahnisch, J., Thornton, H. R., Ball, K. (2019). Using small-sided games in field hockey: can they be used to reach match intensity? Journal of Strength and Conditioning Research.
Thornton, H. R., Nelson, A. R., Delaney, J. A., Serpiello, F. R., Duthie, G. M. (2019). Interunit reliability and effect of data-processing methods of global positioning systems. International Journal of Sports Physiology and Performance. 14(4). 432-438
Johnston, R. D., Murray, N. B., Austin, D. J., Duthie, G. M. (2019). Peak movement and technical demands of professional Australian Football competition. Journal of Strength and Conditioning Research.
Thornton, H. R., Delaney, J. A., Duthie, G. M., Dascombe, B. J. (2019). Developing athlete monitoring systems in team sports: data analysis and visualization. International Journal of Sports Physiology and Performance. 14(6). 698-705
Johnston, R. D., Weaving, D., Hulin, B. T., Till, K., Jones, B., Duthie, G. M. (2019). Peak movement and collision demands of professional rugby league competition. Journal of Sports Sciences. 37(18). 2144-2151.
Johnston, R., Devlin, P., Wade, J., Duthie, G. M. (2019). There is little difference in the peak movement demands of professional and semi-professional rugby league competition. Frontiers in Physiology. 10. 1285
Graham, S., Duthie, G. M., Aughey, R., Zois, J. (2019). Comparison of physical profiles of state-level netball players by position. Journal of Strength and Conditioning Research.
Delves, R., Bahnisch, J., Ball, K., Duthie, G. M. (2019). Quantifying mean peak running intensities in elite field hockey. Journal of Strength and Conditioning Research.
Delaney, J. A., Wileman, T. M., Perry, N. J., Thornton, H. R., Moresi, M. P., Duthie, G. M. (2019). The validity of a global navigation satellite system for quantifying small-area team-sport movements. The Journal of Strength and Conditioning Research. 33(6). 1463-1466
Serpiello, F. R., Duthie, G. M., Moran, C., Kovacevic, D., Selimi, E., Varley, M. C. (2018). The occurrence of repeated high acceleration ability (RHAA) in elite youth football. International Journal of Sports Medicine. 39(7). 502-507
Thornton, H.R., Delaney, J.A., Duthie, G.M., Dascombe, B.J. (2018). Effects of pre-season training on the sleep characteristics of professional rugby league players. International Journal of Sports Physiology and Performance. 13(2). 176-182
Serpiello, F. R., Hopkins, W. G, Barnes, S., Tavrou, J., Duthie, G. M., Aughey, R. J., & Ball, K. (2018). Validity of an ultra-wideband local positioning system to measure locomotion in indoor sports, Journal of Sports Sciences, 36:15, 1727-1733
Scott, T. J., Thornton, H. R., Scott, M. T. U., Dascombe, B. J., Duthie, G. M. (2018). Differences between relative and absolute speed and metabolic thresholds in rugby league. International Journal of Sports Physiology and Performance. 13(3). 298-304
McLean, B. D., Cummins, C., Conlan, G., Duthie, G. M., Coutts, A. J. (2018). The fit matters: influence of accelerometer fitting and training drill demands on load measures in rugby league players. International Journal of Sports Physiology and Performance. 13(8). 1083-1089
Blair, S., Ball, K., Robertson, S., Duthie, G. M., & Hopkins, W. (2017). Concurrent validation of an inertial measurement system to quantify kicking biomechanics in four football codes. Journal of Biomechanics. 73, 24-32
Duthie, G. M., Thornton, H. R., Delaney, J. A., Connolly, D. R., Serpiello, F. R. (2018). Running intensities in elite youth soccer by age and position. The Journal of Strength and Conditioning Research. 32(10). 2918-2924
Young, W. B., Duthie, G. M., James, L. P., Talpey, S. W., Benton, D. B., Kilfoyle, A. K. (2018). Gradual vs. maximal acceleration: their influence on the prescription of maximal speed sprinting in team sport athletes, Sports 6(3), 66
Delaney, J. A., Duthie, G. M., Thornton, H. R., Pyne, D. B. (2018). Quantifying the relationship between internal and external work in team sports: development of a novel training efficiency index. Science and Medicine in Football. 2(2). 149-156
Blair, S., Ball, K., Robertson, S., Duthie, G. M., & Hopkins, W. (2017). Concurrent validation of an inertial measurement system to quantify kicking biomechanics in four football codes. Journal of Biomechanics. 73, 24-32
Projects
2016 – 2020, Federation Internationale de Football Association: Aughey R., Ball, K., Robertson, S., & Duthie G. Safety, validity, and reproducibility of performance and tracking systems. $1,250,000
Accolades and awards
Professional affiliations
Exercise and Sport Science Australia (ESSA)
Australian Strength and Conditioning Association (ASCA)
Appointments and affiliations
Applied experience/roles
Athletic Performance Coach, Newcastle Knights Rugby League
Director of Athletic Performance, South Sydney Rugby League
Préparateur Physique, Stade Français Rugby Union
Strength and Conditioning Coach, NSW Rugby Union
Strength and Conditioning Coach, Australian Rugby Union
Strength and Conditioning Coach, ACT Rugby Union
Strength Scientist, Queensland Academy of Sport
Current and prior consultancy roles
National Testing Consultant, Rugby Australia
Data Analyst for the Validation of Electronic Player Tracking Systems Project, FIFA
Sport Science Consultant, English Rugby Union
Physical Preparation Specialist, Japan Rugby Union
Sport Science Consultant, The Football Association (England)
GPS Data Processing Consultancy, Catapult
Sport Science Consultant, Fiji Rugby Union