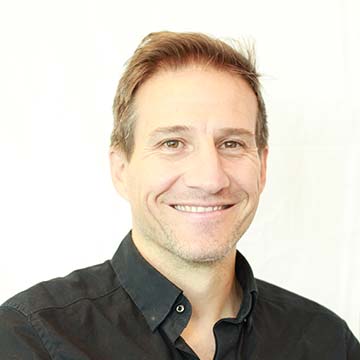 Professor Leonidas Karagounis
Professor, Research Translation & Enterprise
Areas of expertise: nutrition; integrative physiology; metabolic health; aging; physical activity; chrono-nutrition.
ORCID ID: 0000-0003-2403-3387
Phone: (+61) 497 459 279
Email: Leonidas.Karagounis@acu.edu.au
Location:ACU Melbourne Campus
Dr Karagounis is Professor of Research Translation & Enterprise and member of the Executive team within the Mary MacKillop Institute for Health Research (MMIHR) at the Australian Catholic University (ACU). He trained as a Nutritional Biochemist (BSc, Hons) and holds a Ph.D. in Molecular Nutrition and Physiology from the University of Nottingham Medical School in the UK. In 2008, he carried out postdoctoral training and was appointed as a lecturer and course coordinator in exercise prescription and programming at the Royal Melbourne Institute of Technology (RMIT) in Australia after which he received a Fellowship at the Chinese Academy of Sciences, within the Institute of Biochemistry and Cell Biology, in Shanghai.
In 2012, he was appointed as a senior scientist at the global Nestlé Research Headquarters in Switzerland, where he developed and lead research into dietary needs and physical activity in both child and adult populations in both health and disease. In 2018 he was appointed as the Translation Research Global Science Lead in Muscle Metabolism and Metabolic Health within the Nestlé Health Science business unit, responsible for defining and leading multiple large-scale projects from discovery to translation. He has co-authored several books and scientific papers in the field of human nutrition and physiology across the life course and is an active reviewer for several major journals in human nutrition and physiology
Dr Karagounis is a member of the Mediterranean Lifestyle Medicine Institute (MLMI) in Greece, holds an Adjunct Professor position at the Institute of Social and Preventive Medicine (ISPM) at the University of Bern in Switzerland, and is currently on the board of directors of a start-up company utilising AI systems to accelerate discovery in health science, based in Lausanne, Switzerland.
Select publications
A meta-analysis comparing the effectiveness of alternate day fasting, the 5:2 diet, and time-restricted eating for weight loss.
Elortegui Pascual P, Rolands MR, Eldridge AL, Kassis A, Mainardi F, Lê KA, Karagounis LG, Gut P, Varady KA.
A Randomized Controlled Clinical Trial in Healthy Older Adults to Determine Efficacy of Glycine and N-Acetylcysteine Supplementation on Glutathione Redox Status and Oxidative Damage
Lizzo G, Migliavacca E, Lamers D, Frézal D, Corthesy J, Vinyes-Parès G, Bosco N, Karagounis LG, Hövelmann U, Heise T, Eynatten M, Gut P
Low-Grade Systemic Inflammation Interferes with Anabolic and Catabolic Characteristics of the Aged Human Skeletal Muscle.
Draganidis D, Jamurtas AZ, Chondrogianni N, Mastorakos G, Jung T, Grune T, Papadopoulos C, Papanikolaou K, Papassotiriou I, Papaevgeniou N, Poulios A, Batrakoulis A, Deli CK, Georgakouli K, Chatzinikolaou A, Karagounis LG, Fatouros IG.
A randomized controlled trial to isolate the effects of fasting and energy restriction on weight loss and metabolic health in lean adults
Templeman I, Smith H.A, Chowdhury E, Chen Y.C, Carroll H, Johnson-Bonson D, Hengist A, Smith R, Creighton J, Clayton D, Varley I, Karagounis LG, Wilhelmsen A, Tsintzas K, Reeves S, Walhin JP, Gonzalez JT, Thompson D, Betts JA
Unacylated ghrelin, leptin, and appetite display diurnal rhythmicity in lean adults.
Templeman I, Smith HA, Walhin JP, Middleton B, Gonzalez JT, Karagounis LG, Johnston JD, Betts JA.
Ingestion of a pre-bedtime protein containing beverage prevents overnight induced negative whole-body protein balance in healthy elderly men
Karagounis LG, Beaumont M, Donato-Capel L, Godin JP, Kapp AF, Draganidis D, Pinaud S, Vuichoud J, Shevlyakova M, Rade-Kukic K, Breuille D
Systemic and Metabolic Signature of Sarcopenia in Community-Dwelling Older Adults.
Lu Y, Karagounis LG, Ng TP, Carre C, Narang V, Wong G, Ying Tan CT, Zin Nyunt MS, Gao Q, Abel B, Poidinger M, Fulop T, Bosco N, Larbi A.
J Gerontol
Chronotype: Implications for Epidemiologic Studies on Chrono-Nutrition and Cardiometabolic Health.
Almoosawi S, Vingeliene S, Gachon F, Voortman T, Palla L, Johnston JD, Van Dam RM, Darimont C, Karagounis LG.
Protein Intake at Breakfast Promotes a Positive Whole-Body Protein Balance in a Dose-Response Manner in Healthy Children: A Randomized Trial.
Karagounis LG, Volterman KA, Breuillé D, Offord EA, Emady-Azar S, Moore DR.
Dietary protein intake in school-age children and detailed measures of body composition: the Generation R Study.
Jen V, Karagounis LG, Jaddoe VWV, Franco OH, Voortman T.
Appointments and affiliations
Adjunct Professor, Institute for Social and Preventive Medicine (ISPM), University of Bern
Member of the Mediterranean Lifestyle Medicine Institute (MLMI)
Medical Advisory Board Member, Vital Proteins
Board of Directors, Siftlink
Public engagement