Bachelor of Occupational Therapy
Course information for - 2024 entry
Offered at 4 locations
Duration

4 years full-time or 8 years part-time

CRICOS Code

078172B

IELTS

7.0 overall score (with a minimum score of 7.0 in all bands)

Fees (first year)*

$41472

Start dates

February 2024
This is a four year course with an embedded Honours program.
Please note that PDHPE will be accepted as a science prerequisite for 2024 entry to the Bachelor of Occupational Therapy in NSW as a transitional year. From 2025 entry and beyond, as stipulated in UAC guides, only Biology, Chemistry and Physics will be accepted as a science prerequisite. ACU acknowledges its course browser may have been misleading.
Occupational therapists play an important role in the lives of individuals and communities enabling participation in occupations of self-care, productivity and leisure. To do this, occupational therapists need to know how humans function, and need the skills to practice competently and safely. You will learn how to analyse and assess occupational performance; apply and evaluate interventions to enable occupational performance; and collaborate and communicate effectively with clients and their families and colleagues.
High achieving Bachelor of Occupational Therapy students can undertake honours in the third and fourth years, provided they meet admission requirements.
ACU strongly encourages students to be fully vaccinated. With our industry and community placement partners requiring vaccination, and with public health orders regularly changing - students can avoid interruption to their studies, placement and graduation requirements by becoming fully vaccinated.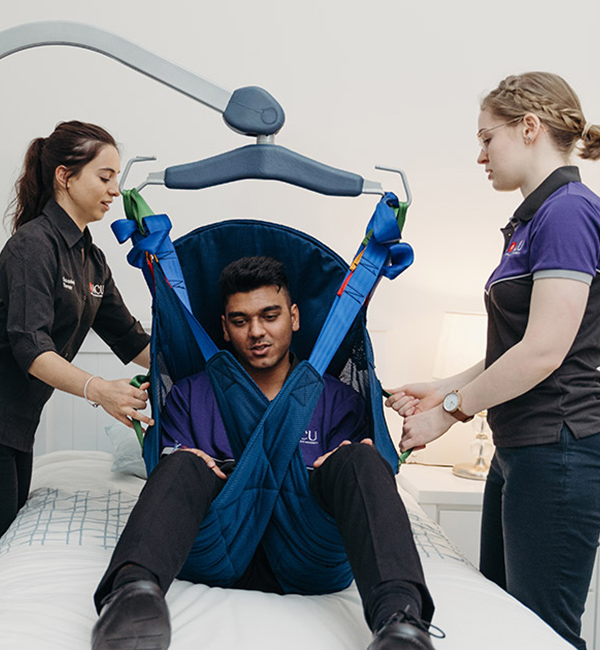 Professional experience
You will undertake 1,000 hours of professional practice education as part of your degree. Each semester, starting in Semester 1 of your first year, you will undertake industry placements. These supervised placements are designed to help you apply and contextualise theoretical knowledge gained in your course work, into professional practice.
Work placement
Fieldwork and clinical placements are undertaken throughout the course, working with people across the life-span to help them overcome physical, cognitive or societal barriers to participation.
ACU has strong industry ties with a range of health and community services for placements and significant stakeholder engagement with many health partners. We endeavour to place students in a variety of different locations to give students experience in various settings. Students should expect to benefit by a rural/remote placement during their course. Locations and settings of placements include:
• a range of private hospitals
• community health
• private sector and private practices
• non-government and charitable organisations
• aged care sector
• disability sector
Your placements start in first year:
• Year 1: Semester 1: ½ day placement;
• Year 1: Semester 2: 2-week full-time block (80 hours)
• Year 2: Semester 2: 40 hours simulated placement (one week).
• Year 3: 2 x 5-week blocks. These are scheduled after the end of traditional semesters in the inter-semester break, so you'll need to check placement dates before making other commitments.
• Year 4: Semester 1: a 9-week block;
Year 4: Semester 2: 2 weeks (1 day per week for 10 weeks).
As part of your course, you will be placed in a range of organisations to integrate the theory you learn with practical workplace experiences (placements). As part of your enrolment, you must complete the Faculty of Health Sciences pre-placement requirements. To ensure you meet these requirements you need to start as soon as possible. Visit ACU's Work Integrated Learning (WIL) website to view your Pre-Placement Requirements checklist.
Community engagement
Year 2: Semester 1: 25 hours
Year 2: Semester 2 – 25 hours
Year 4: Semester 2: 30 hours
Professional recognition
The ACU Bachelor of Occupational Therapy has been developed to ensure new graduates will meet the competency standards of the World Federation of Occupational Therapists (WFOT) and Occupational Therapy Council (OTC). ACU is adhering to accreditation requirements of WFOT and OTC in the implementation of the program. Full accreditation has been granted in Victoria, NSW and Queensland. Graduates will be eligible for registration as practicing Occupational Therapists with the Allied Health Practitioner Regulation Agency (AHPRA) and for membership of Occupational Therapy Australia (OTA). Please refer to the Registration Standards for Occupational Therapy on the AHPRA website.
Course details
AQF framework
Bachelor - AQF Level 7
Exit Points
A student who has successfully completed 230 cp from units, and 10 cp from Core Curriculum units may exit from the course with following qualification:
Bachelor of Allied Health
Additional course information
Classes
Class sizes
In 2021 we welcomed 89 new students to our Brisbane campus, 106 to our Melbourne campus, and 112 to our North Sydney campus. You can expect tutorial class sizes of approximately 25 – 30 students.
Contact hours
You can expect to have about 16–20 hours of face-to-face contact each week for 12 weeks of the semester in first, second, third and fourth years (on a full-time load). In addition, you will be required to attend professional practice placements full-time, for example, 40 hours a week for two weeks in first year and two x 5-week placements in third year. See more details under placement.
We understand the need for flexibility when it comes to your studies. For many of our undergraduate programs, lectures and tutorials are delivered face to face. Lectures provide an opportunity to engage with the lecturer and the occasional guest lecturers will provide specialist insights into the course content. Tutorials are where critical exploration of key concepts and development of attributes takes place. This is achieved through activities including group work, debate and role play.
Lectures are recorded and are made available online for students who cannot attend in person. Most tutorials and practical classes are held on campus.
Sample Assessments
Occupational Therapy sample assessment examples: online quiz, written reflective journal, oral presentation, poster, written examination, written assignment.
Sample unit assessment criteria:
OTHY204 Occupational Participation and Disability
• Assessment 1 (20%)
Case-based group presentation: students will, in groups of three, deliver a 15 minute oral presentation to demonstrate skills in gathering and presenting material related to evaluating the impact of the physical, social and technological environment on occupational participation and communication for a client with a disability.
• Assessment 2 (50%): written assignment (2,000 word essay)
Students will write on the National Disability Insurance Scheme to develop skills to synthesise and analyse societal, political, environmental and other factors impacting the community participation and inclusion of individuals with disabilities.
• Assessment 3 (30%): post community engagement critical reflection
Students will write a 1,500 word reflection on their preparation for community engagement and the community engagement experience.
Meritorious students may apply to undertake Honours in the third and fourth years of the course, subject to meeting the admission requirements and achieving a grade point average of 5.5 on the ACU seven point scale.
Determination of students who meet the requirements to enrol in the honours program, and will be offered a place, will be the responsibility of the undergraduate course coordinator in collaboration with the Head of School.
Overseas study available
Each year ACU's Faculty of Health Sciences offers a number of destinations where students can undertake a community engagement unit or professional practice placement abroad as part of their studies. These include in Vietnam, Vanuatu and Timor Leste. These activities are facilitated through our ACU overseas partners. Most of these experiences are offered to students enrolled in their third or final year of study at ACU.
You might also choose to study an Occupational Therapy unit at ACU's Rome Campus over the June - July or December - January breaks.
To find out more, visit: acu.edu.au/study-at-acu/study-overseas/study-tours-and-short-programs/study-health-sciences-overseas/short-term-international-study-experience
Please note: overseas travel opportunities are subject to public health restrictions in place at the planned time of travel.
Entry requirements
View transparency admission information
International applicants
Applicants require the equivalent of an Australian Year 12 Certificate, including studies in science. Applicants must also comply with the Admission to Coursework Programs Policy and require an academic IELTS minimum overall score of 7.0 (with a minimum score of 7.0 in all bands), or an equivalent acceptable test score as outlined in the Admission to Coursework Programs Policy (Schedule 3).
Honours
The Bachelor of Occupational Therapy (Honours) program is embedded into years 3 and 4 of the Bachelor of Occupational Therapy (Pass) program. To be eligible to apply for admission to the Honours program, a student must have completed 160 cp from years 1 and 2 of the Bachelor of Occupational Therapy pass degree, with a grade point average of at least 5.50.
English language requirements
Applicants require an academic IELTS minimum overall score of 7.0 (with a minimum score of 7.0 in all bands), or an equivalent acceptable test score as outlined in the Admission to Coursework Programs Policy (see English Language Proficiency).
Adjustment factors
If you're currently completing Year 12 you may be eligible for adjustment factors that can boost your rank and help you get into your desired course.
Adjustment factors may be applied to your TAC application if you study particular subjects, attend schools geographically close to our campuses or in certain regional areas, apply as an elite athlete or performer or meet certain other criteria.
Fees
Course costs
Unit fee: $5184
Average first year fee: $41472
Estimate total cost: $165888
The tuition fees quoted above are for commencing students in the current year who undertake a normal full-time load. The Unit Fee is based on a 10cp unit. Fees are reviewed annually.
Tuition fees for continuing students may increase by up to 3 percent each year for the minimum duration of the course as provided on your electronic Confirmation of Enrolment (eCOE). Students who continue to study beyond the minimum duration will have the relevant annual commencing rate applied to their fees for subsequent study periods.
Payment options
You should be able to concentrate on getting good marks instead of worrying about how you'll pay your fees. We have a number of options that can help you ease the financial burden, including government assistance, scholarships and income support.
Scholarships
You could be eligible for one of the hundreds of scholarships we award each year to help students from across the university with the cost of studying, accommodation or overseas study opportunities. Some of our scholarships are awarded on the basis of merit, but these aren't just for the academically gifted; ACU also recognises excellence in community engagement and leadership. We also offer a range of scholarships for those who may be struggling financially or who have faced other barriers to accessing education.
How to apply
Additional application information
This is a four year course with an embedded honours program.
Deferment
Yes. See Defer your offer.
Students with a Student Visa will need to complete the program in minimum duration, study at least one subject on-campus each semester and must not undertake more than 33% of the program online.
Testimonial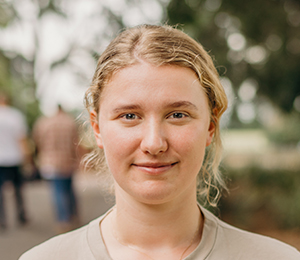 I like that it is very personable, every tutor knows my name and knows a bit about me, and I know most students within my year and course. I think I enjoyed placement the most though because I love hands-on learning and I'm grateful we get to do it so early in our course.
Angela
Occupational Therapy student