Bachelor of Exercise and Sports Science
Course information for - 2024 entry
Offered at 4 locations
Duration

3 years full-time or equivalent part-time

CRICOS Code

069051G

IELTS

6.5 overall score (with a minimum score of 6.0 in all bands)

Fees (first year)*

$25568

Start dates

February 2024, July 2024, February 2025, July 2025, February 2026, July 2026
Through our nationally recognised degree you will learn how to improve the health, performance and participation of individuals, teams and athletes through exercise programming and delivery, athlete training, and health advice. We're connected to a huge range of sporting organisations – from the Australian Institute of Sport to the AFL, NRL, A-League clubs, Tennis Australia and America's NBA. With us you will get the best opportunities for industry placements and future employment in Australia and around the world.
ACU strongly encourages students to be fully vaccinated. With our industry and community placement partners requiring vaccination, and with public health orders regularly changing - students can avoid interruption to their studies, placement and graduation requirements by becoming fully vaccinated.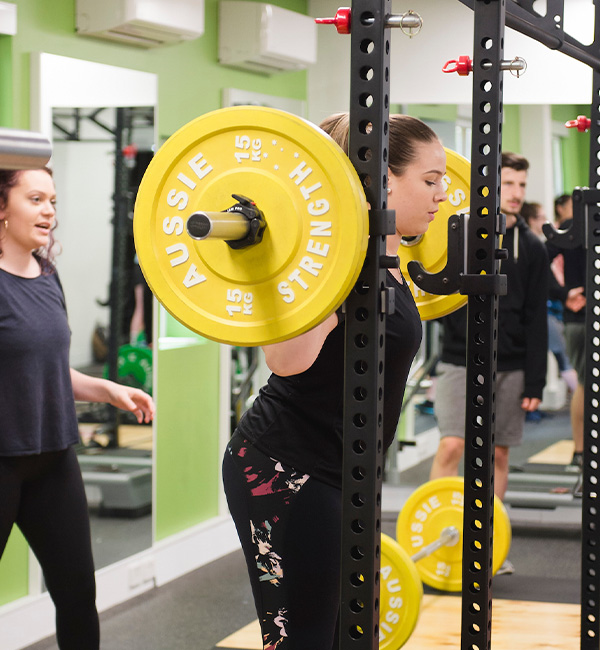 Professional experience
Bachelor of Exercise and Sports Science students must complete 40 hours of community engagement and 140 hours of appropriate professional experience (practicum) as part of course accreditation requirements.
Work placement
You'll have the opportunity to get real-world experience during the two units of compulsory professional experience you'll complete throughout your degree. You'll spend time in organisations integrating the theory you've learnt with practical skills, giving you a chance to reflect on possible career paths and meet the Exercise and Sports Science Australia (ESSA) requirements for exercise science accreditation.
We're connected to a huge range of sporting organisations including the Australian Institute of Sport; AFL, NRL and A-League clubs; Tennis Australia; and America's NBA. With us you'll get outstanding opportunities for industry placement and future employment in Australia and around the world.
Students have recently completed internships at AFL clubs, Tennis Australia and the National Ageing Research Institute. Students have completed tasks such as assisting in coaching athletes in gym sessions, prescribing exercises for athletes and monitoring their technique, managing and operating specific performance analysis equipment, testing, assessing and collecting data from elite athletes to create reports for athletes and coaches.
Visit the faculty's Work Integrated Learning (WIL) webpage to view opportunities in exercise and sport science.
Accreditation
This degree is accredited by Exercise and Sports Science Australia (ESSA) at the exercise science level. Please note that ESSA requires all individuals seeking initial accreditation to meet ESSA's English Language requirements. Depending on elective units chosen, graduates may be eligible to apply for Level 1 accreditation with the Australian Strength and Conditioning Association.
The Bachelor of Exercise and Sports Science offered at our Blacktown Campus is identical to the accredited program at our other campuses and accreditation is expected for Blacktown in 2023, once the first cohort is in its final year.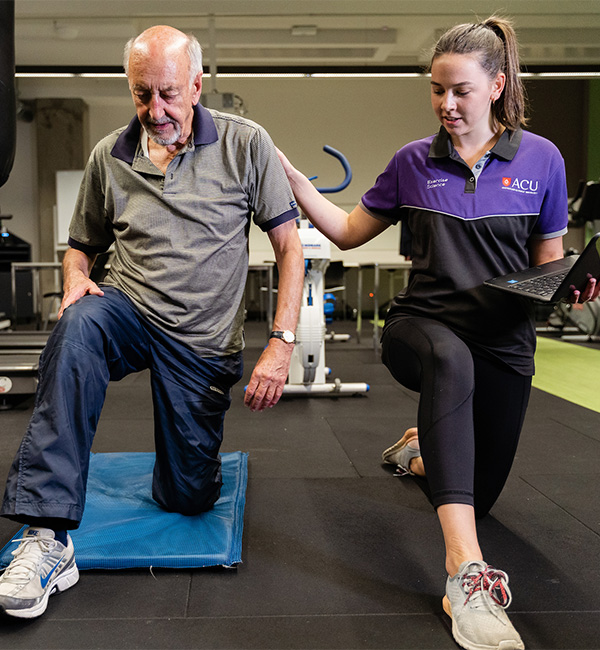 Careers
Our graduates have pursued careers in:
AFL
NRL
Super Rugby
A-league
professional sporting organisations
national sporting organisations
national institutes of sport
state institutes or academies of sport
state sporting organisations
in the health, fitness and recreation industries, including community health settings, corporate health and wellness and injury prevention or as small business owners.
academia
Industry partnerships
ACU works with a variety of industry partners:
Tennis Australia
Baseball Queensland
Wests Tigers Rugby League Football Club
Paddle Australia, Canoe Slalom High-Performance Team
Brisbane Roar Football Club
Queensland Reds
Norths Devils
North Melbourne Football Club
Core Advantage
Course details
AQF framework
Bachelor - AQF Level 7
Additional course information
Classes
Class sizes: Your class size will depend on the unit you are studying and if that unit is taught across different degrees. Most of the time units that are core to your degree will have smaller classes. The tutorial, lab and workshop class sizes are normally capped at 20 students. When content delivery needs to be monitored more closely, a teaching assistant will be present in the classroom.
Contact hours: Most units will require you to attend two to four hours of classes each week in the form of a lecture, tutorial, lab or workshop on campus. Some of these may be online and you will be required to watch, read, listen and interact with the materials provided as an alternative to attending face-to-face classes. Therefore, if you are a full-time student taking four units in a semester that will add up to four x units by four hours (maximum) = approximately 16 hours required on campus or engaging in content. Per semester each unit requires approximately 150 hours of work which includes scheduled classes and/or online engagement with learning activities, self-study and preparation of assessment tasks.
Sample assessments
Exercise and sports science sample assessment examples:
Each unit has three assessments per semester.
Assessment 1 (30 per cent): Laboratory report
Assessment 2 (30 per cent): Practical assessment task
Assessment 3 (40 per cent): Exam
If the unit has a final exam it is counted as part of the three assessments. Assessments have different weighting percentages towards your overall mark. A single assessment cannot be worth more than 50 per cent of your assessment total. The format of assessments is different for every unit and will be explained by your lecturer in the unit outline and at the start of the semester.
Overseas study available
There are several international study opportunities within sport and exercise science.
Community engagement and Professional practice
Location: Timor Leste – Baucau and/or Vanuatu – Port Villa
Travel dates: mid June – end July (each trip is approximately three weeks)
Grants/Funding: New Colombo Plan grants for travel to Timor Leste and Vanuatu are valued at $3,000 each.
High performance study tour
Location: USA
Travel dates: September – October
Rome Campus
Intensive unit delivery of Motor Control and Learning
Travel dates: June – July (during winter semester break)
Rome semester
Four units delivered through a condensed eight-week schedule to eligible second- and third-year students.
Travel dates: August – October (dates and times may vary each year).
Learn more about faculty-based Short-Term International Study Experiences (STISE) in sport and exercise science.
** These experiences are all subject to travel restrictions.
Entry requirements
View transparency admission information
International applicants
Applicants require the equivalent of an Australian Year 12 Certificate. Applicants must also comply with the Admission to Coursework Programs Policy and require an academic IELTS minimum overall score of 6.5 (with a minimum score of 6.0 in all bands), or an equivalent acceptable test score as outlined in the Admission to Coursework Programs Policy (see English Language Proficiency).
English language requirements
Applicants require an academic IELTS minimum overall score of 6.5 (with a minimum score of 6.0 in all bands), or an equivalent acceptable test score as outlined in the Admission to Coursework Programs Policy (see English Language Proficiency).
Adjustment factors
If you're currently completing Year 12 you may be eligible for adjustment factors that can boost your rank and help you get into your desired course.
Adjustment factors may be applied to your TAC application if you study particular subjects, attend schools geographically close to our campuses or in certain regional areas, apply as an elite athlete or performer or meet certain other criteria.
Fees
Course costs
Unit fee: $3196
Average first year fee: $25568
Estimate total cost: $76704
The Tuition fees quoted above are for commencing students in the current year who undertake a normal full-time load. The Unit Fee is based on a 10cp unit. Fees are reviewed annually.
Tuition fees for continuing students may increase by up to 3 percent each year for the minimum duration of the course as provided on your electronic Confirmation of Enrolment (eCOE). Students who continue to study beyond the minimum duration will have the relevant annual commencing rate applied to their fees for subsequent study periods.
Payment options
You should be able to concentrate on getting good marks instead of worrying about how you'll pay your fees. We have a number of options that can help you ease the financial burden, including government assistance, scholarships and income support.
Scholarships
You could be eligible for one of the hundreds of scholarships we award each year to help students from across the university with the cost of studying, accommodation or overseas study opportunities. Some of our scholarships are awarded on the basis of merit, but these aren't just for the academically gifted; ACU also recognises excellence in community engagement and leadership. We also offer a range of scholarships for those who may be struggling financially or who have faced other barriers to accessing education.
How to apply
Deferment
Yes. See Defer your offer.
Students with a Student Visa will need to complete the program in minimum duration, study at least one subject on-campus each semester and must not undertake more than 33% of the program online.
Staff Profile
Shona Halson
Professor in the School of Behavioural and Health Science
Professor Halson has been a mainstay of Australia's high-performance sport network. She was the Head Recovery Physiologist at the Australian Institute of Sport from 2002 to 2018 and has been a part of three Olympic campaigns with the national team. Professor Halson was named as one of Exercise and Sport Science Australia's three Female Leaders in Exercise and Sports Science on International Women's Day 2019. Her research focuses on recovery, fatigue and sleep and she has been a trusted advisor to countless elite coaches and athletes.
Dr Doug Whyte
Senior Lecturer and National Course Coordinator for Sport and Exercise Science, School of Behavioural and Health Sciences.  
Dr Whyte originally studied physiology at Otago University and then gained his PhD in Physiology and Biophysics at the University of Iowa where he investigated the role specific brain regions play in modulating the cardiovascular response to heat stress. After moving to Australia he took up a position as an Australian Heart Foundation Postdoctoral Research Fellow at the Florey Neuroscience Institute before taking a teaching role in the School of Biomedical Sciences, Charles Sturt University.
Dr Whyte's current research focuses on how environmental factors such as heat stress, dehydration and hypoxia influence the nervous system. His particular interests are in how dehydration impacts cognitive function and skill performance in a range of athletic and non-athletic populations.
Testimonial
"I chose to study exercise and sports science because I aspire to help people become the healthiest and best version of themselves. I hope to spread the knowledge of exercise physiology on a worldwide scale, particularly to countries not as advantaged as Australia."
Isabelle
Exercise and sports science graduate