Bachelor of Education (Secondary)
Course information for - 2024 entry
Offered at 5 locations
Duration

4 years full-time or equivalent part-time

UAC code

101233

ATAR

65.00 for Blacktown

Fees (first year)*

$6874 CSP

Start dates

Semester 1 intake: Beginning February 2024

Applications open August 2023

Midyear (Semester 2) intake: to be advised
Step into our classroom, with world-leading experts, to become a leader in your own right. You will learn the craft of teaching from mentors across a wide range of educational contexts. Gain the confidence, skills, and practical experience to teach across all stages of secondary school in two teaching areas. These teaching areas enable the development of deep knowledge and highly effective classroom teaching. Build strength in your skills over time, from observing your mentor teacher, to co-teaching, through to planning for and teaching multiple classes a day. Studies may be extended by pairing this course with other degrees allowing you to graduate with diverse career options.
ACU strongly encourages students to be fully vaccinated. With our industry and community placement partners requiring vaccination, and with public health orders regularly changing - students can avoid interruption to their studies, placement and graduation requirements by becoming fully vaccinated.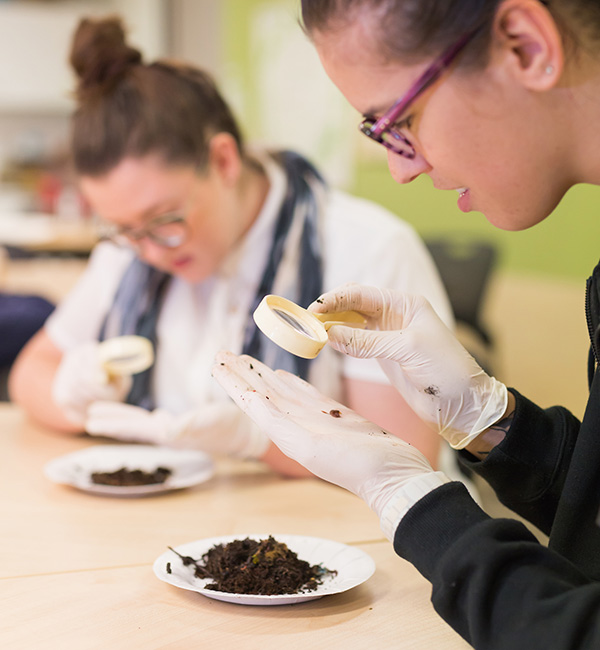 Professional experience
Gain expertise in your practicums over a total of 80 days in schools. Year 1: Community engagement in an educational setting, minimum of 35 hours. Year 2: 15 days, 15 days. Year 3: 15 days. Year 4: 5 days, 30 days.
Work placement
All initial teacher education programs must include a defined period of professional experience, where pre-service teachers practise teaching in a school under the direct supervision and guidance of an appropriately qualified teacher.
Supervised professional experience is at the heart of all our pre-service teacher education courses and the faculty will find appropriate placements to suit the needs of your course.
Professional recognition
Graduates are eligible for registration as secondary teachers in government, independent, Catholic, and other faith-based schools. This program has been listed on the Australian Institute for Teaching and School Leadership (AITSL) accredited programs list and meets the teacher education component of the qualification requirement for registration (accreditation) as a secondary school teacher in all states and territories.
Careers
Our graduates have pursued careers in:
secondary school education
community centre education
private colleges
inclusive education settings
policy development
Course details
AQF framework
Bachelor - AQF Level 7
Exit Points
A student who has successfully completed the requirements of a course listed below may exit from the course with that qualification. Note that none of these qualifications qualify a student to teach in Australia.
Non-Award Certificate in Educational Studies
Diploma in Educational Studies (Tertiary Preparation)
Bachelor of Educational Studies
Diploma in Liberal Arts
Certificate in Liberal Arts
A student who does not meet the LANTITE requirements may access an appropriate exit point if they meet the requirements of that award.
Overseas study available
Our undergraduate education students can undertake professional experience and community engagement in locations like Kiribati and Solomon Islands. Students work with communities to raise the level of student engagement and offer professional development to local teachers. This intensive professional learning for teachers increases flexibility and adaptability as an educator and provides a global perspective for a better understanding of differences within classrooms.
Entry requirements
An applicant must also comply with the Admission to Coursework Programs Policy that includes meeting a minimum ATAR requirement.
In addition, applicants will be required to demonstrate suitability for teaching.
All applicants need to meet the English Language Proficiency requirements as defined in the Admission to Coursework Programs Policy.
To be eligible for admission to the course, an applicant must have completed:
the following prerequisites at year 12 level or equivalent:
State
Prerequisites

Australian Capital Territory

Prerequisites: Nil

Assumed Knowledge: Studies in English (T); Studies in Mathematics (T)

To study a major or minor in Mathematics: Studies in Mathematics (T)

New South Wales

Prerequisites: Nil

Assumed Knowledge: A minimum of three Band 5 HSC results, including one in English




To study a major or minor in Mathematics: Mathematics Advanced or Mathematics Extension 1 or 2

Note: This course is structured to allow applicants to meet the three Band 5 entry requirements within the degree program by including a full year of discipline studies before applicants study how to teach

Queensland

Prerequisites: English (Units 3 & 4, C); General Mathematics, Mathematical Methods or Specialist Mathematics (Units 3 & 4, C);

Assumed Knowledge: To study a major or minor in Mathematics: Mathematical Methods C

Victoria

Prerequisites: English: Units 3 and 4 – a study score of at least 30 in English (EAL) or 25 in any other English; Mathematics: Units 1 and 2: satisfactory completion of two units (any study combination) of General Mathematics, Mathematical Methods or Specialist Mathematics OR Units 3 and 4: any Mathematics.

To study a major or minor in Mathematics: Units 3 and 4: Mathematical Methods
OR
b. Aboriginal and/or Torres Strait Islander applicants may be selected following an interview with the course coordinator and staff of the campus Indigenous Higher Education Unit. They should have:
minimum of three years' work experience; or
completion of year 12 or equivalent; or
demonstrated relevant tertiary study skills or successful completion of a Tertiary Communication Skills program.
Disclaimer: The course entry requirements above are for 2024 Admission. Refer to your relevant Tertiary Admission Centre website for future years' entry requirements.
View transparency admission information
Applicants with recent secondary education
You'll need to meet the minimum entry requirements and subject prerequisites for your chosen course. 
If your school result was affected by circumstances outside of your control, such as financial hardship, illness, disability or a challenging home environment, you may qualify for an access scheme. You can apply through your TAC as part of your application process. 
Applicants with vocational education and training (VET) study
You'll need to meet the minimum entry requirements and subject prerequisites for your chosen course. 
For current year 12 students 
If you're a current Year 12 applicant you can be given a selection rank separate from, and in addition to, your ATAR if you've completed a competency-based and graded AQF Certificate III or above. 
For non-school leavers
If you've completed, or are completing a competency-based AQF Certificate IV or AQF diploma you will be assigned a selection rank by your local Tertiary Admission Centre (TAC). This is an entry score based on your individual qualifications and achievements.
ACU has partnerships with ACU College, TAFE, and many private education providers. If you have completed a qualification with one of these partners, you may be eligible for guaranteed entry and/or credit into a related ACU degree. Please apply through your local TAC and then submit a credit application for your previous study. 
Applicants with higher education study
You'll need to meet the minimum entry requirements and subject prerequisites for your chosen course.
If you have completed at least two units of AQF-recognised study at bachelor level or above, you'll be assigned a selection rank based on your study level, duration and grade point average that will be applied during the admission process.
If your previous study has equipped you with knowledge, skills or experiences that align with the learning outcomes of units in your new course you may be able to apply for recognition of prior learning and you may be able to complete your course sooner.
Applicants with work and life experience
You'll need to meet the minimum entry requirements and subject prerequisites for your chosen course.
If you have no formal education qualifications you may be eligible for a selection rank based on your work, life or service experience.
If you've been in paid employment, relevant to the course you're applying for, for a minimum of six months full-time (or equivalent), this work may be assessed for your selection rank.
If you're 21 years or older you can sit the Special Tertiary Admissions Test (STAT) through your local TAC.
You can apply for an ACU bridging course. Our bridging courses allow you to transition back into studying and can give you a head start on the relevant undergraduate degree.
If you have served in the defence force, your rank and time in service may contribute to your selection rank.
English language requirements
A minimum of 7.0 in Reading and Writing and a minimum of 7.5 in listening and speaking.
Adjustment factors
If you're currently completing Year 12 you may be eligible for adjustment factors that can boost your rank and help you get into your desired course.
Adjustment factors may be applied to your TAC application if you study particular subjects, attend schools geographically close to our campuses or in certain regional areas, apply as an elite athlete or performer or meet certain other criteria.
Pathways
Pathways into course for current or recent Year 12 students
If you can't meet the ATAR requirement for your choice of course and you're currently completing Year 12 or finished Year 12 in the two years previously, we have entry programs to get you where you want to be.
Alternatively, you may be able to complete a diploma or bridging course relevant to your desired course:
Pathways into course for applicants with previous study and/or life experience
Are you applying to ACU as a non-school leaver?
By that we mean, you're not currently completing Year 12 and haven't completed it in the two years previously. If the answer is yes and your selection rank isn't enough to meet the requirements for your desired course you still have a number of options to help you achieve your study goals.
If you're over 21, you can sit the Special Tertiary Admissions Test (STAT) , or you can complete a diploma or bridging course relevant to your desired course.
Work experience - A selection rank can be calculated based on your work experience - you need to document all of your experience and provide supporting documentation.
Further study
ACU offers further opportunities to advance your education career.
Master of Education/Graduate Certificate in Education
Enhances career advancement opportunities for teachers and other professionals engaged in lead educational roles such as education administrators, researchers, policy makers, career counsellors, psychologists, members of the defence forces, youth ministers and family/parish educators.
Master of Educational Leadership/Graduate Certificate in Educational Leadership
Participants explore theories of educational leadership, management and administration, and learn to apply them appropriately to their own contexts including Catholic and faith-based educational organisations defined as those organisations affiliated with a religious group or established Church.
Graduate Certificate in Religious Education
For primary and secondary school teachers who want to teach religion.
Fees
Course costs
Average first year fee*
$6874 CSP
All costs are calculated using current rates and are based on a full-time study load of 40 credit points (normally 4 units) per semester.
A student's annual fee may vary in accordance with:
the number of units studied per semester;
the choice of major or specialisation; and
elective units.
The University reviews fees annually.
Payment options
You should be able to concentrate on getting good marks instead of worrying about how you'll pay your fees. We have a number of options that can help you ease the financial burden, including government assistance, scholarships and income support.
Scholarships
You could be eligible for one of the hundreds of scholarships we award each year to help students from across the university with the cost of studying, accommodation or overseas study opportunities. Some of our scholarships are awarded on the basis of merit, but these aren't just for the academically gifted; ACU also recognises excellence in community engagement and leadership. We also offer a range of scholarships for those who may be struggling financially or who have faced other barriers to accessing education.
How to apply
Domestic applicants
Staff Profile
Dr Melissa Cain
National Head of Discipline for Secondary Education, School of Education
Dr Melissa Cain (SHFEA) is a senior lecturer in the School of Education at Australian Catholic University, Brisbane teaching units on Inclusive Education and Arts education. She is National Head of Discipline for Secondary Education and Course Coordinator for the suite of secondary teaching courses in Queensland. Melissa's doctorial research centred on the challenges teachers in Australia and Singapore face when implementing culturally diverse Arts education. Melissa's current research examines the voices of students with vision impairment at mainstream schools, learning the creative arts online, and the impact of teaching and learning in modern global times. Melissa has received several higher education teaching awards and is the recipient of the Callaway Doctoral Award.
Dr Kylie Kerr
First Year Course Coordinator (Melbourne), School of Education
Dr Kylie Kerr is a Lecturer in the Faculty of Education at Australian Catholic University, Melbourne. Her research interests include the aims of education, Humanities education, and the role of education in human flourishing. Having taught Philosophy, English and the Humanities, Dr Kerr began her research career with an exploration of a Deweyan contribution to positive education. Her PhD work used qualitative methods to critically examine the philosophical underpinnings of positive education practices, including adolescent beliefs about success, the good life, and the purposes of schooling. Dr Kerr has subsequently explored the value of Humanities education and its contribution to flourishing, the nature of resilience, the teaching of controversial issues in schools, and the transformative role of education in nurturing global flourishing.
Testimonial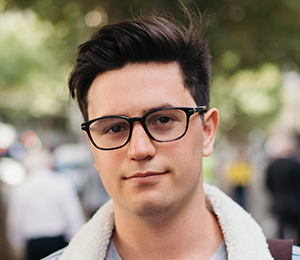 "I enjoy the freedom of university and ACU has given me the opportunity to be responsible for my own learning. I have also loved studying what I love. In comparison to high school, where your schooling is quite structured, ACU allows you to invest your time in subjects that you enjoy. My course also provided me with great communication skills due to the increase in classroom engagement in my teaching classes."
Gerard
Education (secondary) student