Author: Kristy Porter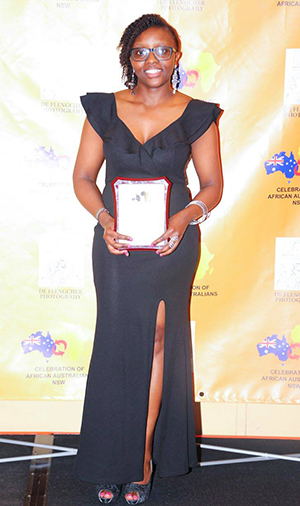 In her early 20s Consolata Njoki Muthee (Consoh Kijo) travelled alone from Kenya to Australia, a place she knew no one, and succeeded despite uncertainty and a new environment. She now inspires others by sharing her experiences and how she overcame challenges.
ACU's International Contribution Alumni Award winner Consolata began a business career before finding her true calling in social work.
She grew up as the oldest in her family with two brothers, a sister, and a niece. After completing school in Kenya, Consolata decided she didn't want to go to university because student and teacher strikes were disrupting learning. Instead, she completed a diploma in business and worked in various roles before an email about studying in Australia appeared in her inbox.
"My journey to ACU was really a dream come true. I grew up a staunch Catholic, however, I never studied in any Catholic schools. I always wondered what that looked like, and I reckon in my subconscious I desired that experience. So, when the opportunity to study in Australia at ACU presented itself, I didn't think twice about it," Consolata said.
"My most memorable day was when I first saw Strathfield Campus as an aspiring student. I was initially meant to study business at the North Sydney Campus, but my heart was drifting towards community work. I did my due diligence and learned that social work was offered at Strathfield. I woke up one day and googled how to get there with the hope of speaking to someone in the social work department. As I arrived, I remember feeling so happy. There is something about Strathfield Campus, the beautiful landscape, the historic buildings with modern amenities, the peaceful chapel, the awesomely equipped library, just everything made me feel safe and through grace it became my home for four years."
A life with meaning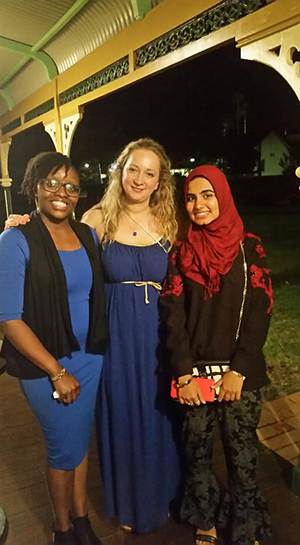 Serving others has been the cornerstone of Consolata's life. As a child she wanted to grow up to be a nun.
"I grew up around people who cherished a religious lifestyle. I loved how peaceful and serene those vocational spaces felt whenever I visited. I value peace of mind and at the time it felt like a life I would cherish. As I grew older, I realised my desire for social justice was strong and I felt compelled to use my voice against injustices. I also grew to love traveling the world and trusting God on the journey. So, I chose to pursue a different career that embodied servitude," she said.
"I also had always admired how both my parents worked and seemed to enjoy their work in the health industry. It was probably inevitable that I would have some sort of a career that involved helping people."
Caring and compassion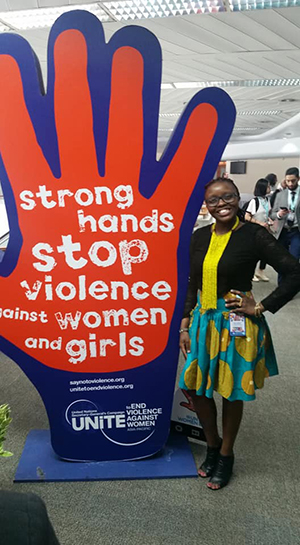 Consolata works now as a lifestyle coordinator in aged care, a role that never crossed her mind in Kenya.
"I have to admit it was somewhat of a culture shock when I arrived in Australia because in Kenya, if you have any elderly family needing support, unless its medical, most families look after them in their homes. However, the idea of being in a place where every corner I looked there was a senior person was just awesome," she said.
"While in Kenya I was involved in a lot of community outreach programs. Most of the places we visited were in senior citizens or children's homes. I have a soft spot for seniors and young people, in life they are both at the extreme end of the spectrum and I learn a lot from them.
"My paternal grandmother lived with dementia and even though I didn't understand the illness then, I felt her love the same. I love bringing joy to the seniors I care for, especially the ones living with dementia, because viewing life from their lens has made me embrace the joy of living in the moment. Being in their presence and serving them, I get to acquire wisdom daily and feel love unmatched.
"I have worked in the aged-care industry for eight years now in different capacities and it has been one of my life's most incredible experiences."
Inspiring others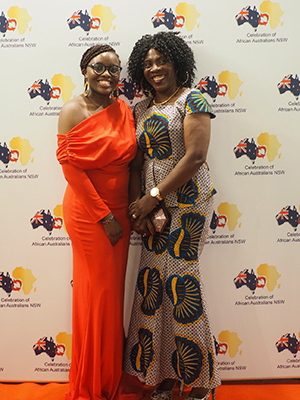 As if caring for elderly was not enough, Consolata is also passionate about entrepreneurship, social justice, advocacy, gender equity and empowerment. She founded Inspire.Y.G.(Young Generation) an initiative that aims to inspire young people globally to pursue their dreams, especially quality education.
"After winning the NSW Young African Achiever award in 2017, I was honoured and challenged at the same time. I have struggled with imposter syndrome for a while and at the time, it was hard to believe I deserved to win as I felt that I had not given back to society well enough to warrant recognition. This weighed heavily on my heart and I started thinking of ways I could support other international students by sharing my experiences and encouraging them. I had a dream and as I was reminiscing on it, Inspire Y.G. (Young Generation) came to me and I decided to use the same title for my initiative.
"I share my personal journey and aspirations as an international student through different social media platforms and motivational speaking. One of the main objectives is to empower and inspire other students to be confident in themselves and share their innate gifts and talents with the community while studying. I encourage young people to go after their dreams, realise their maximum potential and pursue their passion and purpose for themselves and the people around them.
"I have many sources of inspiration for my advocacy work. My own journey and experiences of discrimination in both Kenya and Sydney, accommodation challenges, experiences while volunteering for the Council of International Students Australia and my attendance at the University Scholar Leadership Symposium at the United Nations Centre in Bangkok in 2018. I believe in people getting a fair go and fair justice for humanity, that is the only world I desire to live in."
Changing attitudes
Consolata is recognised as a changemaker, recently she was the recipient of three Celebrate African Australian Inc. Awards for her service and impact across African communities in Australia, and she is determined to address racism and discrimination.
"It begins at home, I think if a nation really needs to address racism and discrimination issues, they should start in their homes with parents teaching their children that this world belongs to all humans regardless of their appearance, language and everything else that makes them uniquely diverse.
"I think institutions could offer more cultural safety and cultural competency programs to everyone. There needs to be ample support for international students and migrants, especially the ones who are less vocal and don't necessarily ask for help. There were times I felt less supported, especially in my first years at school, and I didn't feel like there was a safe space to seek help.
"I wish the government would hire an international student to understand what their experiences are like and see how they can best support the cohort that brings billions of dollars to the Australian economy.
"I think that othering, bullying, discrimination, racism and any other type of ism, should be considered unlawful and everyone with the privilege of not going through these experiences, should consider using their voice and resources to defend humanity by standing up for others."
Consolata is the winner of the International Contribution Award in ACU's Alumni Awards 2021