ACU's 2022 Ethos series kicked off on 15 March with a panel discussion exploring the impact and ethics of social media and what needs to change.
Ethos stimulates discussion of public ethics and the future of Australia by bringing together university-based and external speakers on topics of contemporary relevance.
This first discussion, 'Making Social Media Accountable', was held at NSW Parliament and featured Walkley Award-winning journalist Ms Helen Dalley, Loreto Kirribilli Principal Ms Anna Dickinson, Editor-at-Large of The Australian Mr Paul Kelly, Loreto student Miss Gemma Chittendon and ACU's Dianoia Institute for Philosophy Director Professor Stephen Finlay.
After a short video about the challenges and opportunities that social media presents, Ms Dalley led a conversation on four key topics.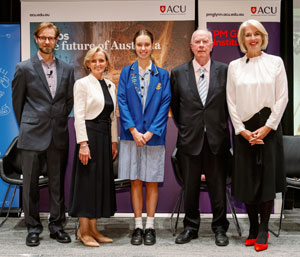 (L-R): ACU's Dianoia Institute for Philosophy Director Stephen Finlay, Loreto Kirribilli Principal Anna Dickinson, Loreto Year 12 student Gemma Chittendon, Editor-at-Large of The Australian Paul Kelly, and Walkley Award-winning journalist Helen Dalley.
First, the panel discussed if social media is a force for good. Ms Dickinson said it could be, referencing the way it helped young people through a very trying time: "Social media is a communication platform, and they're communicating in ways that have never been done before."
Year 12 student Miss Chittendon agreed, saying that during lockdowns social media showcased "the power of just how connected we can be".
Next, the conversation turned to the challenges presented by the algorithms, age of children online and the anonymity of the internet. Miss Chittendon noted how children as young as 10 can view harmful material by signing up to platforms like TikTok because there are no ID checks.
The third topic was the threat social media poses for major institutions. Mr Kelly said this is "revolutionary technology" and that "the fundamental challenge is whether democracy, and how it functions now in the West, can survive in its current form".
Finally, the panel considered possible reforms to address challenges posed by social media. ACU's Professor Stephen Finlay said, "There's no going back. We have to learn how to live with it."
He argued this means "imposing order and rules" on an essentially unregulated world.
In addition to regulation, Ms Dickinson said the onus is on parents who "need to engage with these social media platforms to understand them so that they can have those rich conversations and really support their children."
You can read Christian Bergmann's summary of the key points raised in Melbourne Catholic, the website of the Catholic Archdiocese of Melbourne.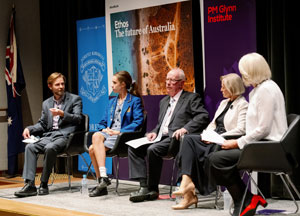 ACU's Deputy Vice-Chancellor (Ethics) Professor Hayden Ramsay expressed his pride at the university's leading role in public discourse.
"As a Catholic university, ACU is explicit in its commitment to ethics as an area of study, reflection, debate and practice," he said.
"Our first Ethos event for 2022, presented in collaboration with Loreto Kirribilli, brought together leading thinkers and figures shaping public discussion to tackle current and emerging challenges when harnessing social media for the common good.
"ACU is proud to be leading public discussion about the role of social media in Australian society, the ethical challenges it poses for politics, debate and wellbeing, and what social accountability means for social media."
6 April 2022