Rev Professor Paul F Bradshaw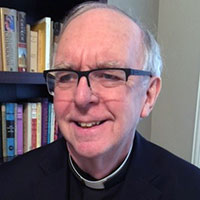 Emeritus Members of the Board of Advisors
Emeritus Professor of Liturgical Studies, University of Notre Dame, USA
Rev Professor Paul F Bradshaw is Emeritus Professor of Liturgical Studies at the University of Notre Dame, South Bend Indiana, USA. After completing his BA in 1966 and MA in 1970 at Cambridge University, Bradshaw was awarded a PhD in 1971 from London University. He was awarded a DD in 1994 from Oxford University, and received a DD honoris causa in 2005 from General Theological Seminary, New York. He was elected a Fellow of the Royal Historical Society in 1991.
Bradshaw was ordained an Anglican priest in 1970. In 1990 he was made an honorary canon of the Episcopal Diocese of Northern Indiana and in 1995 he was appointed a priest-vicar of Westminster Abbey. He was a member of the Church of England Liturgical Commission from 1981 to 1985 and from 2001–2010.
Bradshaw is a specialist in the early history of Christian liturgy and has taught at the University of Notre Dame since 1985. He has written or edited over twenty books and has contributed more than one hundred articles or essays. For eighteen years he was chief editor of the international journal, Studia Liturgica, and he is also a former President both of Societas Liturgica and of the North American Academy of Liturgy, which awarded him its highest honour, the Berakah Award in 2008. His book, The Search for the Origins of Christian Liturgy, has become a standard textbook. It has gone through two editions (New York: Oxford University Press 1992, 2002), and has been translated into French, Italian, Japanese, Polish and Russian.