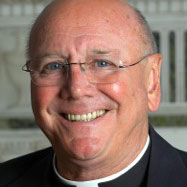 Rev. Professor John Baldovin S.J.
John Baldovin, S.J. is a priest of the Northeast Province of the Society of Jesus and Professor of Historical & Liturgical Theology at the Boston College School of Theology & Ministry. He has also taught at Fordham University and the Jesuit School of Theology at Berkeley. He has a PhD from Yale University (1982). He has published widely in journals like Worship, Theological Studies and Studia Liturgica. His entry "Prozession" has recently been published in the Reällexikon für Antike u. Christentu. His most recent monograph is Reforming the Liturgy: A Response to the Critics (Liturgical Press, 2008). His writing have been translated into French, German, Italian, Japanese and Albanian.
He is also past president of the North American Academy of Liturgy, the Jungmann Society for Jesuits and Liturgy, and Societas Liturgica. He has served on the advisory committee of the USCCB Committee on Divine Worship and the advisory and translations committees of the International Commission on English in the Liturgy (Icel).