Ms. Josie Ryan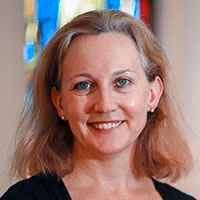 Liturgy Coordinator, Loreto Kirribilli
Josie Ryan is a graduate of ACU in both Religious Education and Liturgy. This specialisation builds on her earlier studies in Historical Performance Practice in solo voice at the Royal Conservatory, The Hague and in Music Education at Sydney Conservatorium. Josie has extensive experience at school, parish and cathedral level in choral and solo singing and conducting. She is responsible for a rich liturgical calendar at a K-12 Sydney independent girls' school, Loreto Kirribilli. Josie was initially inspired by singing for Pope John Paul II at Randwick Racecourse as a school student, and has tried to inspire her students in the same way.
Josie has made several recordings including her most recent release on the Tall Poppies label with the eponymous Josie and the Emeralds. She has been featured in promotional material for ACU's Graduate courses. Currently Josie serves as the NSW Catholic representative for the Royal Schools of Church Music (Australia) and as a committee member for the Australian Pastoral Musicians Network.
As an alumna of ACU, Josie has volunteered to be a Centre contact point for students of post-grad programs in liturgy/sacraments. Her email is josie.ryan@acu.edu.au.