Bishop Paul Bird CSsR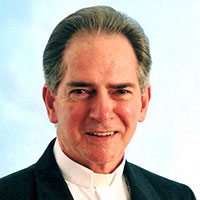 Member, Bishops' Commission for Liturgy, Bishop of Ballarat, VIC
Bishop Paul Bird was born in Newcastle, NSW, Australia, in 1949. After completing high school studies in 1965 he joined the formation program with the Redemptorists and made his profession as a member of the Congregation in 1968.
He studied at the Redemptorist seminary in Ballarat, Victoria, and at Yarra Theological Union in Melbourne and was ordained to the priesthood in 1975. As a member of the Redemptorist community in Perth and then in Sydney, he travelled to many parishes around Australia, conducting parish mission programs of prayer and preaching.
Paul completed a MA (Liturgy) at the Catholic University of America, returning to Australia in 1981 to resume parish mission apostolate and teach in the liturgy field. He served for three years as Director of the Institute of Pastoral Liturgy in Brisbane. In 1987 he was appointed Superior of the Redemptorist community in Brighton, Melbourne, and worked as an editor with Majellan Publications until 2007. From 2008 to 2012 he served as Redemptorist Provincial for Australia, New Zealand, Singapore and Malaysia, and the Vice-Province of Manila in the Philippines. He was ordained as Bishop of Ballarat on October 16 2012.
He is currently a member of the Bishops' Commission for Liturgy.