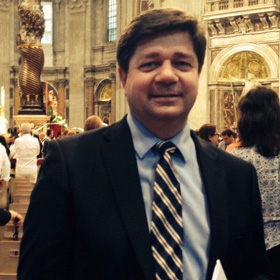 Mr Patrick Quirk
Associate Professor
Patrick Quirk is Associate Professor at Australian Catholic University Melbourne Campus, and a former tenured Associate Professor and Academic Dean at Ave Maria School of Law in Naples, Florida, USA. He holds degrees in law and arts from the University of Queensland, as well as a Master of Civil Laws (Magister Legum) from the University of Tübingen, Germany, which he completed by coursework and thesis (in German).
Following graduation, he was admitted to the Queensland Bar and later practised as a solicitor at a large firm in Sydney, NSW. Patrick has also taught at Bond University Law School and the Columbus School of Law at The Catholic University of America (CUA) in Washington, D.C. He teaches and writes on various commercial and civil law areas, including the U.S. Uniform Commercial Code, the law of electronic commerce, and law & religion.
Patrick has taught or given presentations in many countries including Italy, Great Britain, Hong Kong, Germany, the United States, and Poland as part of CUA's summer program in Krakow.
Patrick is also a scholar-in-residence at
St Mary's College at the University of Melbourne.