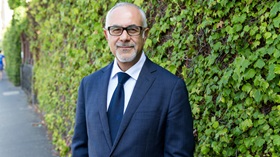 Dr Michael Longo
Associate Professor
Michael Longo is an Associate Professor in Law in the Faculty of Law and Business.
Michael's teaching and research interests include Legal Writing and Research, Comparative Constitutional Systems, Human Rights Law, International Law and European Union Law. His current teaching covers Legal Reading, Writing and Research, Law of the European Union and Comparative Legal Systems. Michael's work is comparative and interdisciplinary. He has drawn on theories and empirical research in both law and political science to understand phenomena such as globalism, regionalism and European Integration. He has supervised undergraduate and postgraduate research projects including doctoral theses.
Michael's publications include a peer reviewed monograph,
Constitutionalising Europe: Processes and Practices (Ashgate, 2006)
, for which he was awarded the CERC
Jean Monnet Centre of Excellence Publishing Prize 2007
for best book or article published in 2005-2007 that makes the most substantial and original contribution to knowledge in the area of European Studies. He is the co-author of three further books including the LexisNexis
Constitutional Law Study Guide
, (LexisNexis Butterworths, 2nd ed, 2015). Michael has also published in highly ranked Australian and international journals.
Michael has held visiting appointments or fellowships at the European University Institute, Florence, Italy, Australian National University (ANU Europe Centre, now the Centre for European Studies), The University of Melbourne (CERC), The University of Trento, Italy and Masaryk University, Brno, Czech Republic. He was the recipient of the
Victoria University Vice Chancellor's Peak Award for Outstanding Contribution to Student Learning in 2007.

Before his academic career Michael was a Senior Solicitor with the Australian Government Solicitor, Attorney-General's Department (Cth). He is a Barrister and Solicitor of the Supreme Court of Victoria. Michael has held academic positions in Victoria since 1990.