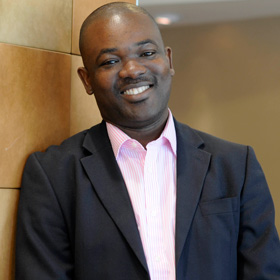 Dr Kunle Ola
Lecturer
Kunle is a Lawyer with an academic, legal, regulatory, enforcement and administrative background. He started off his formal legal experience at the Corporate Affairs Commission in Nigeria and then joined a private law firm as a partner. In 2005 he joined the Nigerian Copyright Commission and worked as the Personal Assistant on legal matters to the Director General of the Commission. Kunle has represented Nigeria on several UN specialised committees including the Standing Committee for Copyright and Related Rights (SCCR), the WIPO General Assembly and the WIPO Committee for Development in Intellectual Property (CDIP).
Kunle has been exposed to extensive private, national and international issues and has vast experience in the administration and regulation of collective management organisations and on a broader perspective, Intellectual Property matters. Kunle is actively involved in research and has been involved with several research organisations including the Ford Foundation, United Nations Conference on Trade & Development (UNCTAD), Australian Research Council (ARC) and Canada's International Development Research Council (IDRC). He has published articles, book chapters and a book in areas including Copyright, collective administration, intellectual property, access to knowledge and open access to knowledge.
Kunle is passionate about teaching and has taught at the Latrobe University. He currently teaches Intellectual Property Law, Consumer Protection Law, Business Organisation (Company) Law and Laws of Contract at ACU in Australia. He holds an LL.B(Nigeria), LL.M(South Africa) and PhD(ACU Australia) as well as several post-graduate diplomas in the varied fields of Intellectual Property.