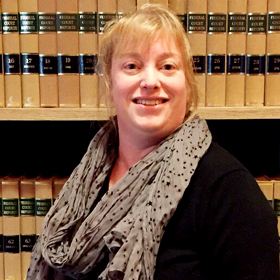 Miss Kate Freedman
Senior Librarian
Kate Freedman is the Senior Librarian with liaison responsibilities for Law and Business at the Melbourne Campus.
Kate has been a Librarian for 12 years with six of those being as a Law Librarian, and 8 as a business librarian.
Kate has a degree in Commerce (Information Management and Marketing) as well as postgraduate degrees in Business Information Systems and Library Information Science.
Kate's research interests are in social media and the law, especially the impact it has on juror's and the trial process and the way social media can impact governmental policy. Her other main research interest is legal information literacy.
She is an active member of the Australian Law Librarian Association (ALLA) and is currently the Vice President of the organisation, with the role transitioning to President in 2020.
She has previously worked at La Trobe University, Murdoch University and State Library of Western Australia.