The Peter Faber Business School seeks to develop reflective business leaders and independent learners who are global in their outlook, ethical in their actions and practical in the application of their professional skills
It does this by:
Engaging in business practices which strive to contribute to the common good, uphold the dignity of work and create goods and services which meet authentic needs.
Fostering an appreciation of the dignity of all people and the interconnectedness of different nations as a global community.
Developing the skills to connect diverse experiences and knowledge into new insights.
Ensuring an appropriate balance of theoretical, practical and research engaged learning experiences.
St Peter Faber SJ: A Life Well-Lived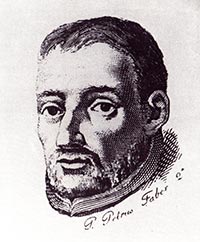 Who is Peter Faber?
St Peter Faber SJ was one of the founding members of the Society of Jesus, also known as the Jesuits. He was born in 1506, died in 1546 and was declared a saint by Pope Francis in 2013.
Following in his footsteps
Some say Peter Faber was before his time. He recognised the "flair" of business people; those characteristics such as the imagination to identify unmet needs, the willingness to take risks and the ability to inspire team members.
He recognised that while charity is essential, business has a unique role in creating positive, systemic and sustainable change.
Business can provide the means of allowing people to support themselves and their families with dignity.
Inspired by this understanding, the Peter Faber Business School strives to enact the vision of St Peter Faber in the design and delivery of its programs and the education of its students.