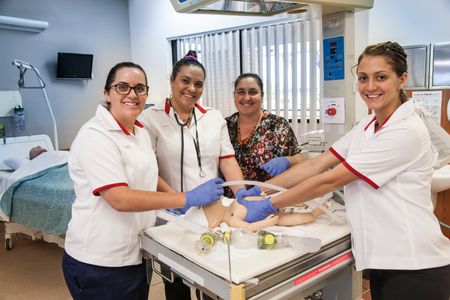 Machellee's story
Pictured right: Away From Base Students with Midwifery Lecturer Machellee Kosiak
Midwifery Lecturer Machellee assists Indigenous students to participate in higher education from within their own community, through ACU's Away From Base program. Machellee is a Wiradjuri woman, with ties to country NSW, and she is a registered nurse and midwife with more than 20 years of experience.
She believes the flexibility of the Away From Base program and the dedication of its students will be instrumental to making more essential health services accessible to Indigenous Australians. Away From Base is a mixed-mode program which is delivered primarily online, with more than 20 students travelling from all over Australia four times a year to attend week-long intensive residential blocks on the Brisbane campus. The students comprise a diverse group - from school-leavers to current health professionals who have realised the need to become midwives to better serve their community's needs.
"They are really strong women and they really want to do this course, but a lot of family issues and obligations get in the way," Machellee said.
"I try to support them through that, which can be hard. But it's like being their advocate and helping them to get to that big picture at the end, which is that their study will help to reduce the mortality rates for Indigenous babies, and help improve health outcomes for communities," she said.
"It's about closing the gap. Indigenous life expectancy is 10 to 17 years less than for other Australians, and babies born to Aboriginal mothers die at more than twice the rate of other babies."
Last year, the Away from Base team were awarded an ACU Teaching Award for excellence in student engagement. Machellee believes the family-friendly community at ACU helps to overcome the challenge of distance learning, and says connections made though the Weemala Indigenous Higher Education Unit help students to stay engaged and to succeed.
"Also, if you come to ACU, you'll get me to nag you. You're really lucky!" Machellee laughs.
Machellee says she is really proud of the persistence and achievements of the Away from Base students, who complete exactly the same workload as any on-campus student.
A highlight of her career was seeing Away From Base student Cherisse Buzzacott win a scholarship to assist with her studies. Cherisse is now a practicing midwife and last weekend she was a presented with a prestigious NT Young Achievers Award for her accomplishments.
Pride and change
Machellee says although there is a long way to go to improve health outcomes for Indigenous Australians, a lot has changed since the days when she was a student and Indigenous health was not even discussed.
"I also think today's Indigenous students are more willing to show that they are strong Indigenous women or men. When I was a student, I didn't tell anyone that my mother was Indigenous. It was an era where you were a bit afraid to say who you were. It probably wasn't until I had my children that I realised, 'You know what, you have to be proud to be Indigenous.' And why shouldn't you be?"
Going the distance
Machellee knows well the challenges of distance learning and juggling priorities, as most of her own studies were completed by correspondence. She also found she needed to put her masters' study on hold last year in order to be able to contribute to a pioneering textbook, Yatdjuligin: Aboriginal and Torres Strait Islander Nursing and Midwifery Care. The book is the first of its kind to be authored entirely by Indigenous health professionals. Machellee's chapter draws on her experiences from her previous work at Mater Mother's Hospital providing outreach health services to homeless people in the streets and the parklands of inner city Brisbane.
"I thought it was really important to share this experience of urban midwifery and how cultural issues can be addressed in a big city hospital when approached appropriately. It's a book that's useful for anybody who is studying a health discipline, it's not just written for midwives and it's not just written for Indigenous people."
She believes finding ways to take services to both Indigenous and non-Indigenous women in regional areas will be important in improving Australia's maternal health outcomes.
"They're out there in rural areas without any maternity care and their babies are at risk. You find that they come into town and have inductions and other interventions - which they may not have needed if they had a midwife in their community. These are all things that can affect the birth weight and the outcomes for their babies," she said.