Author: Christina Sexton
There are so many career pathways to pursue in the health industry, it can be hard to decide which one is for you. While nursing is usually top of everyone's mind, allied health careers in occupational therapy, speech pathology, social work and physiotherapy are also fantastic options – offering just as much variety and career satisfaction.
If you're looking for a job that makes a difference, read on to determine which one is for you.
Occupational therapy
It's not uncommon to be a bit unsure about what occupational therapy (OT) really involves.
"We're about so much more than just workplace health and safety and getting people back to work," said Associate Professor Elspeth Froude.
"For occupational therapists, 'occupation' is referring to any activity you do in daily life. We're about helping people get back to their lives and helping them participate in any activity that's meaningful to them. This applies to babies and children, the elderly and everyone in-between."
If you're looking for a career that counts, Associate Professor Froude confirms OT delivers.
"I absolutely believe OT is a good career for those who want to give back to others," she said.
"People working in OT are usually very invested in and connected to the profession. They can see how important their skills are to the people they're helping and it's so rewarding.
Plus, our students are out on placement from Semester 1 in their first year – right from the start, you'll be in the field learning what OT is all about." For OT student Danielle Arcidiacono, her placements have been the highlight of the degree.
"I enjoyed my first placement at a children's muscular dystrophy camp so much that I have volunteered with them every year since," she said. "I then completed a remote placement at a community health centre in Griffith in rural NSW and a pediatric developmental milestone placement for the NSW Northern Health District."
Speech pathology
Speech pathology is another profession with an incredibly broad scope.
"The biggest misconception about speech pathologists is we just help people with speech difficulties, like lisps and stutters," said Associate Professor Jane McCormack. "The reality is very different. Our work could include assisting teachers or sport coaches who are having voice difficulties, supporting neonates with feeding trouble, or helping elderly people in aged care with progressive conditions, and so much more.
"Communication and swallowing difficulties can have such a big impact on people's ability to participate in everyday life activities. Supporting people with these difficulties is really important – and very fulfilling."
Another advantage to working as a speech pathologist is not only having a huge variety in the kind of work you can do, but how you do it.
"There are team-based opportunities where you might be working for clients who have multiple needs and require an entire team of health professionals to support them, or you can work independently with people one-on-one," said Associate Professor McCormack. "We've also seen a move into telehealth now too where we're supporting people from a distance."
For speech pathology student Rhys Daher, entering the profession was inspired by his family.
"My parents both work in the health care system and the idea that I too could contribute to someone's life in a positive way was extremely appealing to me," he said.
"Communication is a fundamental human right, as is being able to swallow without any issues.
My long-term plan is to open up my own clinic and recruit a team that is dedicated to providing young people with the communication and/or swallowing intervention that they need."
Social work
"If your passion and interest lies in working with individuals, families, groups and communities from all walks of life, then social work may be the profession for you," said Dr Parveen Kalliath, a senior lecturer with more than 20 years' experience as a social work practitioner.
"You will be challenged right from the start about your judgements, your world views and how you view others. You need to be open and honest about yourself, you have to be willing to work through your own personal biases and you need to be self-aware of where you're positioned in regard to the people you're helping."
And while this is a profession for people who want to help others, social work students are asked to think introspectively about where this desire comes from.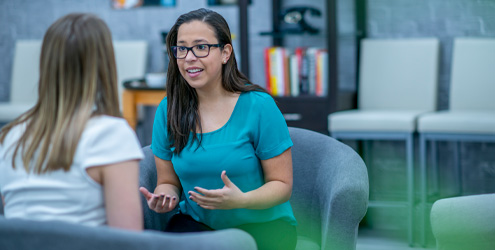 "Saying 'I just want to help people' can be a very vague statement in social work," said Dr Kalliath. "We will ask you what drew you to this profession.
Do you want to help people for altruistic reasons and because it makes you feel good, or are you genuinely invested in making a difference in someone else's life?"
Beyond the benefits of a career that is meaningful and impactful, social work has excellent employment prospects for graduates.
"There is a growing need for social workers in the community," Dr Kalliath said. "Often our students get hired soon after they complete their placement. For others, they will mostly find full-time employment within a few months of graduation."
Social work student Matahaere Patuaka said choosing this career path was driven by his passion to support young people.
"My aim is to empower young people to achieve their full potential," he said. "I know it's a bit of a cliché, but if the youth of today are going to be the leaders of tomorrow, then we should be investing a lot more time and effort into helping young people discover their passions and potential."
Physiotherapy
Physiotherapy is a popular degree, and like other areas of allied health, the scope of where it can take you is where the real benefits lie.
"Many of our students do move into clinical practice with a focus on musculoskeletal injuries," said Associate Professor Jane Butler. "But this is also one of the biggest misconceptions – there is so much more to physiotherapy and there are many different career paths graduates can pursue."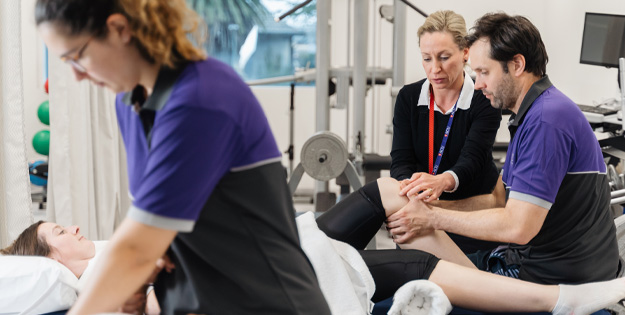 While employment prospects are high for physiotherapy graduates, for those looking for a different path, Associate Professor Butler emphasises there are many opportunities in rural and remote communities.
"There are financial and other support incentives for graduates considering leaving metropolitan areas behind where competition for jobs is high. And moving somewhere unexpected out of the city can be incredibly rewarding," she said.
Matthew Viola is one such physio student who's still weighing up his career options.
"I know I want to utilise the skills I'm learning to help people get back to their best as soon as possible," he said. "Whether it's helping an elite athlete on the sporting field or a group of elderly patients in a balance class, I just hope I can contribute to the community as best as I can to make a difference in people's lives."
Think a career in occupational therapy, speech pathology, social work or physiotherapy might be for you? Explore your options in allied health.