Author: Jennifer Chandler
Photographer: All images used with permission
Our North Sydney campus is in the middle of one of the city's major business districts and just a few minutes from the iconic Sydney Harbour Bridge. So, is it all tall buildings and fast-paced commuting? Or is there something altogether more relaxing going on?
Law student Preet Kaur, and international development student Bridget Barber shared their thoughts on why ACU North Sydney is like a country retreat in the heart of the city.
Step in and chill out
Despite being surrounded by tall buildings, cafes and shops, Preet has discovered a pocket of peacefulness at the North Sydney Campus.
"I am in my fourth year of study at ACU and have loved my experience so far. The campus is located in a quiet area near the harbour. It's filled with greenery and is very relaxing.
"One of the best places to study is at the top level of Champagnat House. It has beautiful views over North Sydney and is a peaceful place to revise," said Preet.
Bridget is a fan of the outdoor space, "There are plenty of quiet areas, with banana lounges and tables to enjoy lunch or study outside. And because the campus is small I'm constantly running into mates."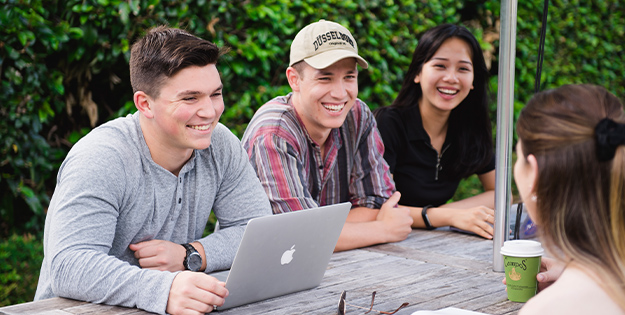 Location, location, location
While it's nice enjoying your own peaceful pocket of Sydney, Bridget loves that there's plenty of transport connections, shopping and big city services.
"It's right in the middle of everything. It's so easy to get to campus no matter where you're coming from and if you want to head out for lunch with mates you can walk a couple of hundred metres to Greenwood Plaza and enjoy the food court."
There's always something to do
Preet says if you've got a competitive itch you want to scratch, there's plenty on offer.

"The University has many sporting clubs and societies varying from cheerleading to chess club.

"For students that wish to engage in sporting activities, but not compete, there are also the ACU games, where students travel with their peers to ACU Ballarat for sporting activities and fun over three days.

"There are also clubs for fields of study, so students who wish to engage in activities with their peers in a certain discipline are provided with a platform to do so.

"Students can also join the North Sydney Mackillop Student Association which is made of students from a variety of different fields of study which come together and unite as a member of the campus."

For Bridget, it's not just the formal activities, but the informal activities that she appreciates.

"An unexpected highlight for me has been the regular 'stress less days' where dogs are brought to campus, there are games, music and a bunch of free food (sausage sizzles, snacks, and the best donuts I have ever eaten!). Similar events with food and music are almost weekly occurrences that make the campus so exciting and fun."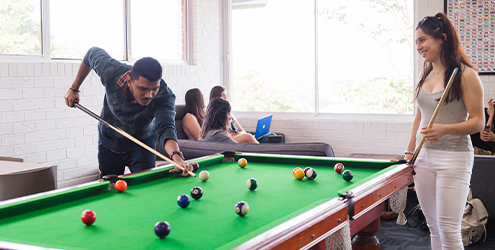 Not just another face
"There's a variety of services available to students, from academic skills workshops to counselling and community engagement projects," said Preet. But more importantly, students don't feel like just another face in the crowd.
"Everyone seems to know everyone," she said. And that means a supportive environment no matter what you're going through. "People on campus look out for one another and support one another."
Want to get a taste of life on campus? Experience uni before you start with one of our free tours and events.