Author: Kristy Porter
Photographer: All images used with permission.
David Orr was the first Indigenous law graduate from Australian Catholic University (ACU). An ambitious agent of change, David went on to win a position at the Department of Foreign Affairs and Trade (DFAT) in Canberra, often described as Australia's most competitive graduate program.
David always had an interest in law.
"I had enrolled in a law degree straight after high school at another university, but after two years I thought that law was not right for me. So, I dropped out and went on to have a ten-year career in the aviation industry," said David.
"My boss told me that without a degree it was unlikely I would advance my career. That is when I started looking for universities in Sydney. I came across ACU by accident, I think it was a press release about a law degree they were offering in Melbourne that would start in Sydney the following year.
"After meeting with the Deputy Dean of ACU's Thomas More Law School and the head of the Yalbalinga Indigenous Higher Education Unit, I decided to enrol in ACU's Bachelor of Laws/Bachelor of Global Studies."
The rest is history. David thrived during his law studies at ACU, graduated, and went on to land an impressive role with DFAT.
Creating sustainable changes
David is now the Third Secretary (Economic and Trade) at the Australian Embassy in Dili, Timor-Leste. He brings his passion for creating positive change to a young country still developing after achieving independence from Indonesia only 20 years ago.
"I was drawn to be a lawyer from a young age. I think most law students at one stage of their journey to law imagine themselves as a defence barrister or international human rights lawyer. I was attracted to these areas of law originally, but soon I realised the power lawyers have to make positive changes in their client's lives. This is the real attraction I have to the law," said David.
"Now I get to live in an amazing country full of beautiful people. Having worked on the historic maritime boundary treaty between our two countries and seeing the reset of our bilateral relations has a great feeling attached to it.
"One of my responsibilities is to manage an aid program that works with Timorese businesses to analyse and stimulate markets in strategic economic areas to achieve pro-poor and sustainable growth. As of December 2017, US$61.3m of additional income has been generated for 97,970 disadvantaged and vulnerable individuals in Timor-Leste and the four other countries where this program operates.
"All of my days are pretty remarkable. There is never a day that I regret becoming a diplomat. Despite meeting with heads of state and other distinguished leaders one of my favourite moments has been attending a dinner to welcome home 25 Timorese who had just finished their studies in Australia. There was singing and dancing and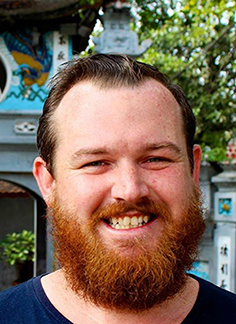 even the Public Works Minister was singing and playing the guitar with the band.
"I know Australia, through our work here, is making a difference to the lives of the Timorese and to Timor-Leste's national development. Every day I am reminded of the positive work my colleagues and I are doing."
Law with a difference
It was during his studies at ACU that David was able to hone his skills as a change-maker. ACU makes pro bono work compulsory, and students can also take advantage of a range of international study programs.
"I don't think any other law school is like ACU. The smaller lecture and tutorial sizes are a benefit. The opportunities my cohort were given at ACU simply would not have been available to people at larger law schools," said David.
"As a student I spent six months as an intern in a Timorese law firm. I travelled to Vanuatu to develop a mooting competition between ACU and the University of the South Pacific. I undertook pro bono legal work in an inner-city law firm that specialised in reuniting Aboriginal and Torres Strait Islander children and their families that had been wrongly placed in state care."
Moments that matter
As a student committed not only to academics, but also to building a community on campus, David experienced many stand-out moments during his degree.
"I was lucky enough to be elected president of both the Strathfield and North Sydney campus Student Associations, and president of the Law Student's Society. To be trusted by the student cohort to represent them was definitely a stand out moment, as were the ways we could work with the University to improve the student experience," said David.
"I was able to start the George Reid Lecture that brings high-level political figures to engage with ACU students on issues of the day. I was also able to work on developing The Barry O'Keefe Memorial Lecture, including the naming of the moot court after Barry O'Keefe – a leading Australian jurist.
"But of all the stand-out moments the one that stays with me most was sitting with the Bangladeshi student population on the North Sydney Campus just after devastating earthquakes destroyed most of that country.
"The sense of community at ACU in times of need is one of its greatest strengths."
Interested in making a difference like David? Explore law at ACU.