Author: Kristy Porter
Photographer: All images used with permission.
Just 14km west of the city in one of Sydney's oldest suburbs, our Strathfield Campus is steeped in history but comes with all the modern perks. Nearby is beautiful Bicentennial Park, Olympic Park Aquatic Centre, Sydney markets and DFO Homebush for when class is over.
We spoke to Mount Saint Mary Student Association President and Bachelor of Early Childhood Education student Jacqui Richards about life outside the lecture theatre at ACU Strathfield. They gave us 10 things they love about the campus.
1.It's social and a great place to hang after hours
"There are groups that stay late, have dinner and hang around campus. The campus is really a community and very social. People play sport during break times and there is usually someone playing music on most days. When you get to campus it has such a great vibe there is really no reason to rush off."
2.It's a gorgeous space with a fun vibe
"The campus is so beautiful and such a relaxed place to be. The vibe is really fun, everyone knows everyone, and staff interact with students."
3.You will be supported
"Studying is great and you are working towards your future, but it isn't always easy. We are lucky enough to have counsellors, a team of academic skills developers, career development services, legal and financial aid, student advocacy staff, disability support, and more. These support systems are there for all students to access. No matter your background or your needs, the staff here will help you find the right services to best support you."
4.It's city central, but not too close
"I really enjoy coming to Strathfield as it's beautiful and although it's in Sydney it's not a very busy suburb. It's safe and central to many things including the city and all that has to offer. It's even an easy train trip to the Central Coast and other beaches."
5.Transport is no issue
"Strathfield is great for transport in general with access to all major arteries. We have a great train station and bus service. ACU has just opened a new carpark for students which is brilliant if you drive. There is also a shuttle bus from Strathfield Station to campus throughout the day and major bike and walking routes also pass close to the campus gates."
6.Eating out is easy
"This is the place to be for cafés or restaurants. CCs in Strathfield is a favourite of mine and the myriad of other food options are easily accessible via the shuttle bus. Ryde is less than a 10-minute drive and some students also go to Homebush for food."
7.You never have to struggle academically
"Lecturers, tutors and course advisers are always contactable if you need assistance from them and they are unfailingly friendly and helpful. There is also a team of ACU staff dedicated to academic skills. There are daily drop-in sessions that you can attend, which are small group sessions focusing on different skills needed by all university students. Or, you can book individual sessions where you can address your personal worries and get the support you need."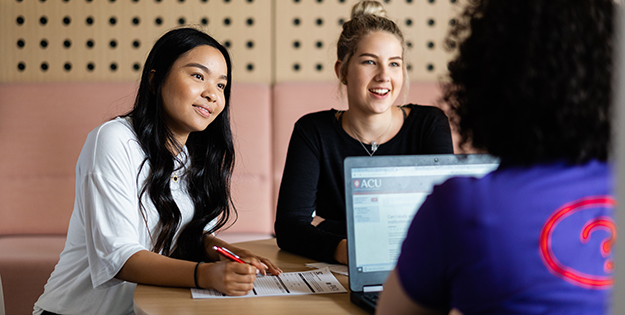 8.There is always a team to join
"If sport is your thing, you'll be able to join a sports club or start one. We have our very own synthetic soccer pitch. We also have access to the brand new gym just opened up on the North Sydney Campus so you can enjoy state of the art equipment and fitness classes."
9.You can enjoy the historic surrounds
"Strathfield is renowned for its built and natural heritage. Our streets have large nature strips and trees, many of which have been around since the 19th century. We also have beautiful architecture with examples of many styles dating from the 1870s."
10.There is always someone to talk to
"I enjoy hanging out in the main quad and the Student Association Office. There is always someone around to chat with or grab a quick bite between classes.
"Coming to ACU was the best decision I have made. I have found somewhere I fit in, with so many amazing people on campus it's easy to make friends and it's your friends who help you through the tough times all students have."
Want to get a taste of life on campus? Experience uni before you start with one of our free tours and events.