Study Catholic Education – Mission, Culture and Spirituality in Rome
The Faculty of Education and Arts offers the postgraduate unit Catholic Education – Mission, Culture and Spirituality (EDCE600) at the ACU Rome Centre. This 20 credit point unit can be taken as an elective in one of ACU's suite of Postgraduate Master's level courses. This unit is not currently on offer, please express your interest using the link below.
---
Course Overview
As places of learning and believing, Catholic schools contribute to the evangelising mission of the Church. School communities have deep theological foundations and spiritual traditions and charisms that can assist in realising the ecclesial identity and mission of schools. In various ways, the Vatican documents on Catholic education and schooling express the mission of these Catholic institutions in terms of integrating faith, life and culture.
The unit EDCE600, taught by ACU staff at the Rome Campus of ACU, focuses on key documents concerning Catholic education and schooling, the role of schools in realising the mission of the Church, and how spiritualties and charisms can contribute to the culture of Catholic schools and communion. The learning outcomes of the unit have been mapped to the Australian Professional Standards for Teachers (APST) and the leadership profile for Principals.
The unit consists of three modules: Mission and Purpose of Catholic Schools; Realising Mission; and Schools as Communities of Faith.In addition to lectures and workshops, participants will take part in excursions to the Vatican Museum, Gardens and Crypt, the Basilicas of St Peter, St John Lateran, St Paul Outside the Walls and St Mary Major, the town of Assisi and other places of religious significance to Catholic education and schooling.
---
Learning Outcomes
On successful completion of this unit, students should be able to:
Critically analyse the development of understandings related to the purpose and mission of Catholic education and schools (APST 6.2L)
Critique contrasting and contesting understandings of the mission and identity of Catholic schools in various cultural contexts (APST 6.2L)
Appraise and critique the ecclesial identity of Catholic schools and implications for building schools as communities of faith (APST 1.3 L)
Explore how spiritualties and charisms may help realise the mission of Catholic schools and inform their identity (APST6.3 HA)
Analyse and report on issues of substantial importance for Catholic education internationally (APST 1, 3, 4 & 5).
Please visit www.aitsl.edu.au to access the Australian Professional Standards for Teachers and leadership profile for Principals.
---
Eligibility
To be eligible to undertake this elective unit students must be enrolled in an ACU Postgraduate Master's level course in any of the following:
Cross-institution credit arrangements may be applicable.
---
Assessment
There are three assessment tasks in this 20cp unit, including: a task focusing on Church documents related to Catholic education; an analytical essay; and a case study or report.
---
Approximate Cost for 2020
Costs include tuition fees, site fees, transportation and some meals. (Exclusive of airline fares, accommodation, airport transfers).
---
About the centre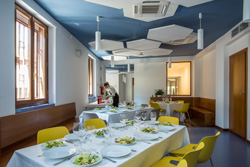 Located on Rome's famous Janiculum Hill, the five-storey property is just a 10-minute drive from Vatican City and is the design work of Gio Ponti, one of the most famous and influential architects of the 20th century. The facilities at the Centre include residential accommodation, catering facilities, well-equipped teaching spaces, a library and chapel and two large external terraces.
---
Contact Us
If you have any queries or would like to know more about this study tour, please contact:
Professor Peta Goldburg rsm
Australian Catholic University
Email: FTP.PG@acu.edu.au